Columbia student appears in new WB web series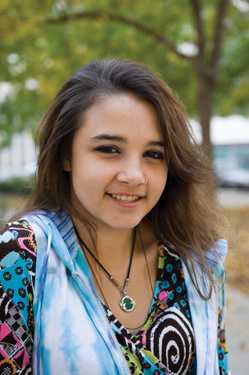 In a town far away from the glitz of Hollywood, 249 miles from the bright lights of Broadway, a high school is getting its 15 minutes of fame.
Barnstable High School in Cape Cod, Mass., is shooting for the stars by being featured in the TheWB.com's newest documentary-style webisode series, "High Drama: Against All Oz," that follows the drama club's production of "The Wizard of Oz" last school year.
The show features Kimberly Cahoon, an 18-year-old freshman theater major at Columbia, who played a munchkin in the Barnstable production and also shot footage that is used in the show.
Filming began earlier this year, following the auditions at the end of January through the production's debut in April.
John Sullivan, faculty director of Barnstable High School's drama club, was sitting at his desk when he got a call from the creator of "High Drama," James Parcalay, asking Sullivan a couple questions about their past and upcoming productions.
Sullivan said Parcalay heard about the drama club's productions from Tams Witmark, who owns the rights to "The Wizard of Oz."
"We have a very hands-on drama club," Cahoon said. "They liked our school best because we are the best [in drama] in the U.S.-the most talent."
The show was completely run by students. From the sets, scene changes, costumes and everything else, the students were in charge of the whole production, having to put in at least 15 hours of work in preparation for the show, Sullivan said.
"I choose who goes and does what, but I always say, 'I just kick the rock at the top of the hill, and they've got to make sure it rolls straight,'" Sullivan said.
The drama club does not have a budget. Instead, it is fully supported by the ticket sales of its productions. This year's production played to a packed auditorium-the largest high school auditorium in New England-of 1,400 audience members.
"The reason why everything turns out as nice as it does is because we have kids that are just so dedicated," Sullivan said. "Kim is one of them. Kim has been in every single production that we've done."
Cahoon began acting in elementary school, starring in her first school play in fifth grade, "Charlotte's Webpage."
A part of the Harwich Junior Theater in Harwich, Mass., Cahoon was active in theater productions in and out of school.
"I actually started out singing and taking voice lessons in elementary school. That led me to playing guitar, piano and bass, which led me to theater, which led me to photography, which led me to film," Cahoon said. "I was also musical director and director for the film department in my high school and was actually handed a camera while [The] WB was there."
Sullivan said Cahoon was an accomplished student of television and broadcasting at the school-extremely involved with BHSToday, the high school's TV station.
WB gave cameras to five students during the filming of "High Drama," to see what they could do with video.
"A lot of Kim's footage was used," Sullivan said. "She has a good eye."
Cahoon said she would love a career in film, music or theater.
"My goal isn't necessarily to be famous, I want some sort of contact with the arts in my future," Cahoon said. "It's a passion for me that will probably never go away."
Attending a school 1,000 miles away from home was the last thing she thought she would do. But last November, Cahoon's good friend from high school, Jordan Cooper, visited Columbia and told her the school would fit her.
"I was looking at schools in the New England area, but I thought [to myself], 'I can't go anywhere else while thinking about this school,'" Cahoon said. "[Cooper] ended up staying on the Cape and leaving me at a school halfway across the country … but I'm having fun."
Kevin Caby, a junior film major at Columbia, said he met Cahoon in the cafeteria at the University Center, 525 S. State St., and after only knowing her a month, took a road trip with her and some other friends to Auburn, N.Y.
"She is such an open person, very open to all kinds of people," Caby said.
Cahoon said working and talking to the people who were filming enabled her to learn some ins and outs of the TV and film business and said it was an interesting part of her life.
As far as being in Chicago and attending Columbia, Cahoon said, "City life is cool. I have been trying; I've been auditioning for anything that has come my way. I've been in some student films so far, but that's basically it."
Catch a front row seat to see Kim Cahoon in Barnstable High School's portrayal of "The Wizard of Oz" on TheWB.com.