Bernie Sanders in support of CTU: 'I am demanding a change in national priorities.'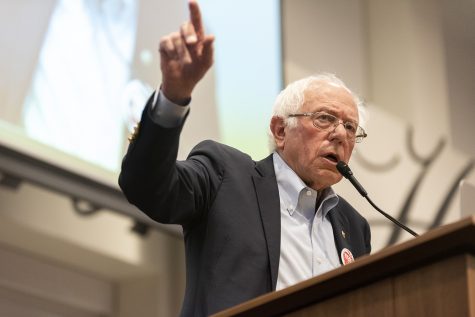 Update 09/27/19 at 9:30 a.m.: The Chicago Teachers Union voted 94% in favor of a walkout on Thursday, Sept. 26. The earliest a strike could occur is Oct. 7, as CTU needs to announce a walkout with 10 days notice. 
Hours after U.S. Speaker of the House Nancy Pelosi announced an official impeachment inquiry into President Donald Trump, 2020 presidential candidate Sen. Bernie Sanders (I-Vt.) called for an end to "Trumpism" and highlighted the importance of the education system.
"Not only are we going to beat Trump, we're going to decimate Trumpism," Sanders said at the Sept. 24 rally for the Chicago Teachers Union strike authorization vote held at CTU headquarters, 1901 W. Carroll Ave. "We're going to end the racism, and the sexism, and the homophobia, and the xenophobia and the religious bigotry that comes out of that administration. We're going to put all of that behind us and create a nation that brings all of our people together."
Sanders' address came on the first of a three-day strike vote by CTU. On Sept. 27, CTU announced members voted 94% in favor of a walkout. The earliest a strike can now occur is Oct. 7. The potential walkout is in response to ongoing negotiations with Mayor Lori Lightfoot's administration. The contract,  among other things, would make Chicago public school teachers the highest paid in the country, Lightfoot said.
James Ruml, a substitute teacher with CPS, pointed to Sanders' campaign support for raises for teachers, limits on charter schools and making school lunch free for all students as key reasons for supporting Sanders for president.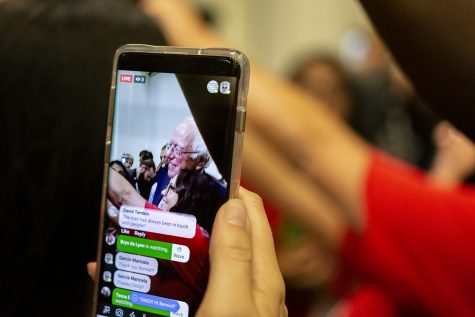 "He has the most detailed and robust plan of any of the presidential candidates by far, as far as K–12 education," Ruml said.
Many rally-goers were energized by Sanders' presence and his ideas as an influential figure wholeheartedly supporting a potential strike.
"He's an international figure. With him coming here to support the union, [he] might just make our mayor start bargaining in good faith and give us a good contract that actually gives the students what they need," said Marquiette Criswell, a teacher at Duke Ellington Elementary School and self-proclaimed "Bernie supporter."
Criswell said she does not think Lightfoot has done a good job thus far with CTU because she is using the same bargaining representatives as former mayors Richard M. Daley and Rahm Emanuel, the latter of whom is still widely criticized by union members for cutting CPS resources while in office.
"I don't think she's living up to what she said she would do as a candidate," Criswell said, adding that she hopes to see improved resources for students, including nurses and counselors.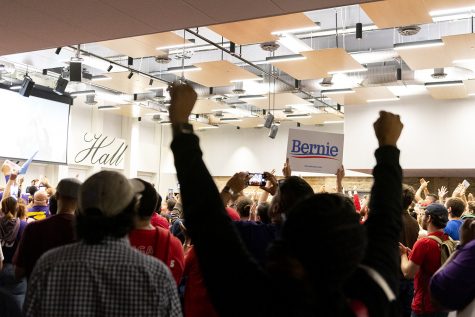 Lightfoot vowed to work with CTU more closely than her predecessors, according to WGN-TV.
Both Sanders and other officials at the rally highlighted the importance of bettering education, which has a trickle effect on other major issues facing the country.
Ald. Byron Sigcho-Lopez (25th Ward) said during the rally that remedying the education system is more important in today's "darkest chapter" because of family separation, "children terrorized, encaged" and children "brutalized in our own backyard." In response, Sigcho-Lopez called for more nurses, social workers, librarians and resources in Chicago public schools.
Sanders also pointed to the parallel between a poor educational system and economic disparity in the U.S.
"What we are seeing is teachers standing up and fighting for justice," Sanders said. "Every problem in society—hunger, domestic violence, poverty—it walks into your doors, doesn't it? You see it every day and at a time when we, in the wealthiest country in the history of the world, have the highest rate of childhood poverty of almost any major country on Earth. … I am demanding a change in national priorities."
Reiterating his hallmark campaign promises, Sanders promised tripling funding for schools, increasing pay for teachers and school-workers and making college more affordable.
"How many of you are dealing with student debt?" Sanders asked, to which both Sigcho-Lopez and Ald. Rossana Rodríguez Sánchez (33rd Ward), a former  Columbia internship and
career adviser, raised their hands. As president, Sanders said he would not only make public colleges and universities tuition-free, but he would also cancel all student debt—and pay for it through taxes on Wall Street.
"I do not want one kid in this country … to not think that he or she cannot get a higher education because their family lacks the funds," Sanders said. "If we look to the future of this country, the children are the future, and we have a moral responsibility  to make sure that those kids get the very best education that we can provide them."
Additional reporting by Mike Rundle.