Beloved educator, friend and husband Elliott Scott remembered as a 'giver'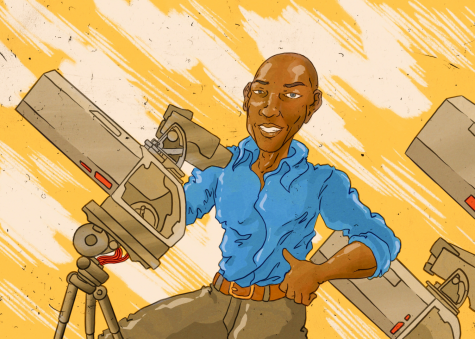 Elliott Scott, who recently served as an adjunct faculty member in Columbia's Cinema and Television Arts Department, is remembered as a giver.
"He always was willing to share his knowledge," said Sonija Dewberry, Scott's close friend and former secretary. "There was never a question too big or too small [with him]."
Scott died on Tuesday, May 11 from cardiovascular disease in the comfort of his home. The former assistant to the chair of the Audio Arts and Acoustics Department was with Columbia for nearly 20 years.
Donell Bonaparte, Scott's husband of 17 1/2 years, said Scott was his biggest cheerleader.
"Once he figured out you're [interested] in something, he would help champion that," Bonaparte said.
Bonaparte fondly recalls when Scott helped him obtain his bachelor of fine arts in creative writing. Around the time when Bonaparte and Scott had started dating in 2005, Scott asked Bonaparte to proofread a letter he had to send to his boss.
Scott was astonished by Bonaparte's talent. When Scott asked Bonaparte what he majored in during college, he informed Scott that he dropped out. Scott could not "abide" by that and encouraged him to go back to school, particularly to Columbia since he could get free classes as Scott's domestic partner.
Bonaparte started with a fiction writing class. One class became a few more until Bonaparte decided to become a degree-seeking student. In June 2010, Bonaparte walked across the college stage and received his bachelor of fine arts in creative writing.
"I look back and I wonder how I did it. In the middle of all that, [Scott] was patient," Bonaparte said.
In his role as adjunct faculty member, Scott, who obtained a bachelor of arts from Columbia in 2000 and his master of arts in 2004, taught courses at the college such as "Culture, Race, and Media," "Aesthetics and Storytelling," "Gay and Lesbian Studies II" and "Black Portrayal on Television."
Eric Scholl, previous interim chair of the Cinema and Television Arts department, said he will remember Scott's impact on students when creating and teaching the "Black Portrayal on Television" course, previously taught at the college.
"He was really good at pointing out the ways that stereotypes and tropes are easy to use but need to be examined, how those can become part of the language of television without any thought and how you need to be actively engaging with interpreting them, especially for the next generation of TV makers," Scholl said.
Scott also worked as a freelance videographer, producer, director and teaching artist for the Urban Missions Program and its community-based partners, including Duncan YMCA, Street-Level Youth Media, Gallery 37, the Cambodian Association of Illinois and the West Pullman Park Youth Project, according to a May 14 collegewide announcement.
The email from Eric Freedman, dean of the School of Media Arts, said Scott often employed Columbia students "while developing several after-school and summer high school service-learning programs in collaboration with local community-based organizations such as Young Chicago Authors and Snow City Arts Foundation."
Harold Reeves, a previous student of Scott's in the Audio Arts and Acoustics Department, recalls when he did not have enough money to pay tuition for that school year. He received assistance from financial aid, but it was not enough.
After Dewberry informed Scott of Reeves' situation, he gave Reeves money to pay the rest of his tuition that year. In return, he allowed Reeves to paint his apartment walls.
"Rather than just give me money because I wouldn't accept it like that, he let me work for it," Reeves said. "He was always doing stuff like that. If he saw there was a need, he would step in."
Dewberry said she remembers Scott's thoughtfulness.
"He was that type of person that made everyone feel important because that's the way he viewed you," Dewberry said. " [He] extended himself way beyond what was expected."
Scott is survived by his husband, Donell Bonaparte.