Behind the sign: One protestor's ICE story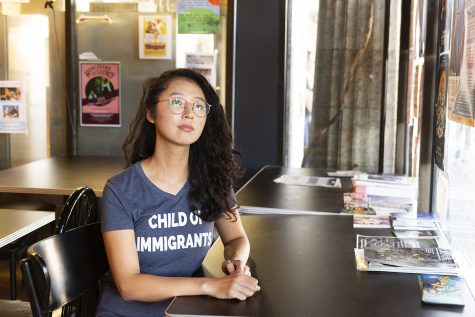 Editor's Note: This article is part of the Chronicle's ongoing coverage of immigration issues under the Trump administration. The issue continues to impact Chicago, with officials detaining five people Sept. 23 at a pizzeria on Chicago's East Side. In doing so, the Chronicle hopes to bring to light the faces and families behind the larger immigration debate.
After the Trump administration announced citywide raids by U.S. Immigration and Customs Enforcement officials this summer, thousands of Chicagoans took to Daley Plaza to protest, with Hyon Lee joining the crowds.
Donned in a Statue of Liberty crown and "Child of Immigrants" T-shirt, Lee held a sign that read "Give me your tired, your poor, your yearning to breathe free … so that we can keep them in cages" at the July 13 rally.
The Chronicle's Senior Photo Editor Mike Rundle snapped a photograph of Lee—who, at the time, told Rundle her name was Annie Lee. A few days later, Lee messaged Rundle on Instagram and told him she wanted to tell him her story.
Here is what Lee, a Chicago-based pastry chef from South Korea, had to say, in her own words: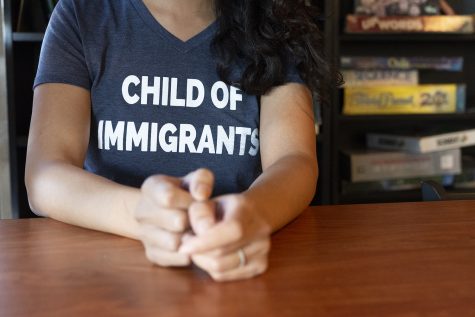 I can't remember the year, but it was Christmastime and I was visiting my family in Detroit, and it was the same time where there was that [attempted] terrorist attack on the plane where [there] was a shoe bomber [in the Miami International Airport in 2001]. This was post-college and we were riding the Greyhound.
We're waiting to get on the bus and then all of a sudden, a bunch of cops go through the entire line, they're picking out all the people of color—which includes me and my then-boyfriend. They start asking us if we're citizens or not. My [now-] husband was a citizen. I was not, but I did have my Green Card on me.
It was funny because a couple weeks prior, I was thinking, "Man, I should keep my Green Card at home because if I lose this, it's going to cost another $1,500," because that's how much it cost to replace it last time. So I was like, "I don't want to lose that again."
So, I showed them [the card] and they kind of pushed us through. … And then the guy behind us, they asked him about his citizenship. He was Hispanic, and he showed his Green Card. It took a little longer, we noticed, and then the ICE agent was calling his peer over. They started talking a little bit and then he asked for my  Green Card again, and then they started to compare our Green Cards.
Mine was brand new, so I tried to tell them because I could hear [the ICE agent], he was like, "Oh, this one is a darker yellow than his." And I was like, "Mine's brand new, so maybe his is a little bit older because it's faded." We [were] really trying to vouch for him. They just kind of ignored me, and then they started taking him away.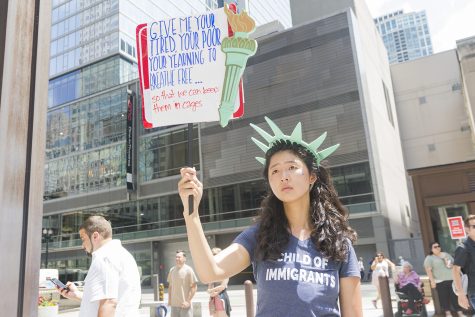 It was the Greyhound station, we're waiting in line, we have all our luggage with us, and all he had was a backpack, a blanket and a six-pack of Gatorade. This was Christmastime, so you could tell this was his gift, this is what he had leftover, this is what someone gave him and he thought [it] was important to take a backpack and blanket with him.
To this day, I [think], "Man, I really wish I could have left [my Green Card] at home." They could have questioned me instead because I would have been fine, and I would have [been a distraction]. I wouldn't be the comparison to other immigrants.
I didn't see him, he was never on the bus. His stuff was still there even when we were loading in after a couple of hours. I never saw him again.
Anyone with any human decency would probably be against ICE. It's tragic what's happening. This is not the America that my family thought of. This is supposed to be the welcoming America that everyone can come [to], work hard and make something out of themselves.
This guy wasn't a threat. He had a blanket on him, that was his Christmas present. He was just trying to work hard, I think. I went to the ICE march because it was really therapeutic for me. … I just hope this ends. I don't think it's going to end well because every day it seems like it's getting worse and worse.
It's weighing very heavily on me. I feel like everybody feels like that, and it's a helpless feeling. The majority of us probably feel like we can't do much other than get angry about it.
This interview has been edited for word count and clarity.