Behind the scenes and keeping it clean: Facilities, janitorial crew perform work essential to college operations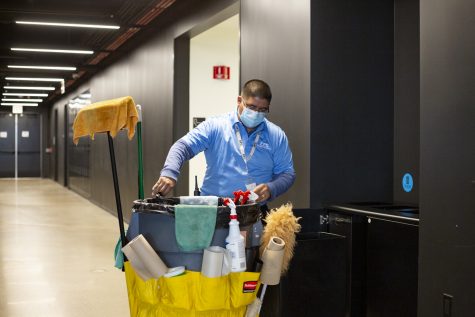 Nelly Bautista works an eight-hour shift at Columbia as a janitorial employee, during which she cleans classrooms, offices, a cafeteria and an auditorium, spanning three separate floors.
You won't see Bautista's name on the staff directory, nor will you see her face in Columbia's marketing materials. But the work she and her colleagues do is essential to college operations, particularly during the ongoing pandemic.
While the work done by Columbia's Facilities and Operations employees and custodial staff may go unseen by some, they offer a critical service to the college community, said Tony Rickabaugh, chief engineer of Facilities and Operations.
"Without facility workers, your buildings would fail," Rickabaugh said. "Your services would fail. So pretty much the ground, your foundation, is now failing. Without facilities, I say catastrophic failure."
The nature of the department's work is such that its invisibility is sometimes necessary, said Ann Kalayil, associate vice president of Facilities and Operations.
"In a way, we want to be invisible," Kalayil said. "If we are invisible, that means everything is going smoothly. We come to the surface when there's a problem, so in some ways that's also the nature of our work."
Still, the pandemic has raised the profile of workers, Rickabaugh said.
In a world that needs to be sanitized, they hold the spray bottle.
Columbia's Facilities and Operations Department suffered employee losses and gained new supervisory personnel during the pandemic.
Kalayil said there are more than 20 employees who are responsible for 15 buildings.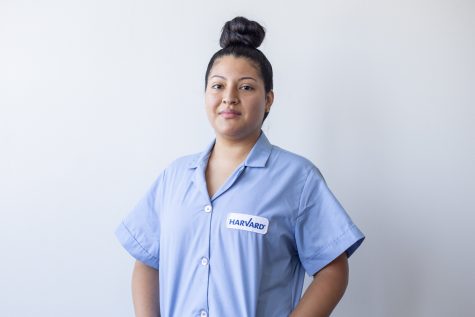 Additionally, Columbia utilizes janitorial staff who are contract workers employed by third-party facility service providers, Harvard Management and Direct Facility Solutions.
Current staff said they were grateful for Kalayil's steadying presence and guidance as the new associate vice president during a time that was chaotic. Rickabaugh said she listened to their concerns and cared about them.
Kalayil said the team's primary concern is keeping the college community healthy and safe.
COVID-19 is also a personal concern for the custodial workers whose efforts help keep the campus community healthy, janitorial employee Jose Arroyo said.
"As long as we're [on a] floor, we try to clean the handles, spray the handles and bathrooms — whatever we can to be able to go home safe," Arroyo said.
The workers also appreciate that the community assists by wearing masks, Bautista said.
For the custodial staff, in addition to worrying about their own health and wellbeing and that of their families during the pandemic, the temporary campus closure came with a price for some workers.
"When the pandemic started, we went on layoff, so probably half of us went home. So we didn't have a job. … Some of us depend on this job, like I did, so I struggled a little bit," Bautista said.
For the facilities and custodial staff, a simple acknowledgement and expression of appreciation can mean a lot.
Arroyo said he sees respect and gratitude from many in the Columbia community.
"I do feel that way because they do say 'thank you,'" Arroyo said.
Bautista agreed that students are polite and appreciative of her work, adding that they always greet her and say "good night."
Rickabaugh said it is easy for people to look past the work they do.
"It's tough because we live in a complaint department," Rickabaugh said. "You only see me when you have a problem. So you never will see me. When everything's going perfect, I won't be there. So I don't get to see the good side. So the few emails we get that say, 'Thank you so much,' I have a file where I save them all. And trust me, it's not that big of a file. And we do a lot of really good work. So yeah, it's special when we hear that stuff."
Nathan Santiago, a sophomore creative writing major, said students don't notice facilities workers the same way they would a professor, but the work they do to upkeep the buildings where students learn deserves recognition.
"It's just a matter of showing respect to people, regardless," Santiago said. "You're a student, and they're a worker, and we're all just doing our jobs."
For Rickabaugh, while the expressions of gratitude are appreciated, it is not the reason he is here.
"We understood what we signed up for," Rickabaugh said. "We're here to do a service. We're here to make your life easier so that you can do your job here."