Behind the lens: Ngadi Smart documents cultures, self-identity and intimacy at Museum of Contemporary Photography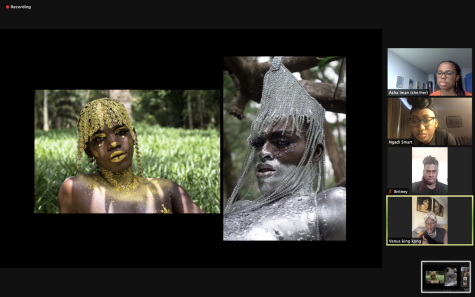 Golden shimmering tones, vibrant collages and nature-themed aesthetics grace Ngadi Smart's photography which promotes themes of cultural identity and African American art.
On Friday, the Museum of Contemporary Photography hosted a virtual Zoom event with Smart, an illustrator and photographer, whose work is included in the museum's exhibition with her "Beautiful Diaspora/You Are Not the Lesser Part" series.
"Beautiful Diaspora/You Are Not the Lesser Part" seeks to advocate for solidarity and uplift experiences of international artists of color and Black diasporic artists. The exhibit includes artwork from 16 different artists. The exhibition name provides evidence of "human spatial wandering" legacies of colonialism and challenges categorizing identities, according to the MoCP exhibition statement.
Smart, based between London and West Africa, is a visual multidisciplinary artist who works with photography, illustration and collages to focus on Black sensuality through an African point of view. She documents cultures and subcultures with a focus on how subjects self-identify and choose to present themselves. 
In Smart's portfolio at MoCP, she aims to show the spectrum of African descent and heritage in as many ways as possible.
"I think a lot has been said for Black people that wasn't by Black people," Smart said. "I'd rather it be said by Black people now, and especially in Africa … African artists are at the forefront really telling their own stories themselves."
Smart talked about her 2020 series "The Queens of Babi," which shows the drag queen community of Abidjan, Côte d'ivoire. The photographs feature models Kesse Ane Assande Elvis Presley, coined as "Britney Spears," and Mohamed, also known as "Baba," dressed in golden and silver maximalist, jewels, body paint and rhinestones posing in a botanical garden. Everything the models wore in the photographs, they created themselves from scratch.
"We went with the theme of royalty, but I think [the models] had their own version of what that meant," Smart said. "Britney was toying with the idea of religion and how religion has repressed sexuality in general."
The Britney Spears persona said they love posing for pictures for "The Queens of Babi" and modeling is their passion.
"I want to be a person through which other people see art," the Britney Spears persona said. "It's very hard in this country because we're in a country where human rights aren't respected, but I'm fighting because I deeply love modeling and fashion."
Asha Iman Veal, associate curator of MoCP, led the interview and said Smart has an interesting multidisciplinary practice, working between two mediums to capture Black identities.
"Some of the things I loved when I was first getting to know [Smart's] work was the way [she] talked about what it is to want to show folks of African descent and heritage in as many different ways and scenes as possible," Veal said.
Smart showed her 2017 series, "The Faces of Abissa" during a festival that celebrates the N'zema community. The festival commemorates forgiveness and rebirth. Taking place at the end of October, attendees adorn themselves with traditional wear, Kaolin clay and food to symbolize wealth.
"There's an element of cross-dressing, which is to mock the person who's wronged you during the year, Men dress like women, and women dress like men," Smart said. "Another element to the festival is people wearing props to show their wealth or their belonging to the symbol."
Throughout her work, Smart highlights West African designers and fashion through her magazine photography collaborations that feature people of all different skin tones and body types who shy away from mainstream markets.
In Smart's editorial photoshoot "Amorphophallus Aphyllus" for Nice Magazine in 2018, she captures a series on African masculinity and femininity and their interchangeable facets. The series was named after the phallic Hermaphrodite African plant to further the inspiration for the photoshoot.
"The hermaphrodite plant looks quite sexual, and it looks like it's got female and male organs," Smart said. "This series was about exploring female and male similarities. […] It was just an exploration of what you can do with playing around with female and male and what society thinks female and male dynamics should be."
Smart ended the talk by saying that the exhibition title "Beautiful Diaspora/You Are Not the Lesser Part" aligned strongly with the themes behind her work.
"I think as members of diaspora, you do feel lesser than," Smart said. "I did grow up sometimes feeling less than, and I think [the MoCP exhibition is] a nice way to put [African artists] at the front, which is basically what all my work is about really putting people who are less represented at the front."
"Beautiful Diaspora / You Are Not the Lesser Part" exhibition is on display at MoCP, 600 S. Michigan Ave., until June 26. For upcoming artist events and "Behind the Lens" events, you can visit the MoCP website for more information. Smart's work can be viewed through her website.