'Be proud of who we are and what we stand for': President Kim gives 'State of the College' address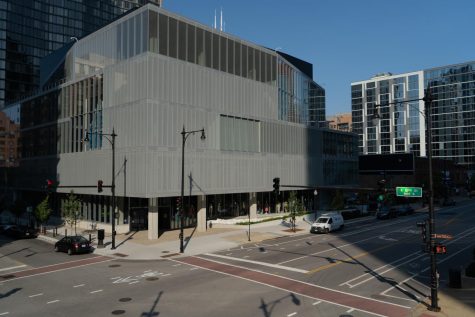 In the first glimpse into his vision of the post-pandemic challenges facing Columbia, President and CEO Kwang-Wu Kim called on the administration, faculty and staff to intensify their efforts in a number of areas, including retention, a focus on improving student skills in business and finance and its effort to create an anti-racist environment on campus.
Kim delivered his latest State of the College address in a pre-recorded video uploaded directly to his page on the Columbia website. Kim's office also sent out an email with a link inviting students and faculty to join in an open Zoom forum to discuss the president's speech on April 16. Kim's position paper on the college's strategic direction will be released publicly April 23.
The Wednesday, April 7 speech highlighted Kim's goals for the future of Columbia and gave a preview of his forthcoming position paper as the college launches a new strategic planning process. During the speech, Kim discussed a wide range of topics, including the future of the curriculum at the college and engagement between Columbia and the city of Chicago.
Kim began the speech by addressing the college's struggle with the pandemic and announcing that Columbia's biggest goal is to return to in-person learning by the Fall 2021 semester.
"I don't think it will surprise any of you when I say that we have been somewhat battered by the realities of the COVID-19 pandemic like everyone else in the world," Kim said. "I am pleased to be able to tell you that we are in relatively good shape as an institution."
Kim said he intended to now focus on core values: continuing to build on Columbia's reputation as a college for creatives and its commitment to Diversity, Equity and Inclusion.

"I want us to celebrate together that we have made great progress over the years in the DEI work at Columbia College Chicago," Kim said. "However, there is a great deal of work yet to be done." He cited the creation of the Antiracism Transformation Team as an important next step.

Student success and curriculum
Kim expressed concerns about student retention, an issue that has been discussed at length by college faculty and staff for years, as reported by the Chronicle in 2019.
He said every student who leaves Columbia without a degree in hand is an indication of "institutional failure."
Kim said he wants to begin working on alternative strategies to increase student retention, including increasing the sense of community for students and developing a more comprehensive first-year experience plan.
He said the college should provide alternative pathways for students who are seeking greater academic freedom and rigor than other students and who may be able to earn their degrees in a shorter amount of time than others.
To further improve the success of students, Kim offered recommendations for collegewide curriculum changes. These changes included teaching practical, real world skills such as basic business skills, like writing business plans from creative concepts and reading and analyzing contracts and budgets, along with enhancing students' multimedia communication skills and encouraging collaboration between students with different perspectives.
Kim said he's willing to raise sensitive issues in order to improve the college's standing.
"At the risk of perhaps touching a nerve, this is something I intend to call out," Kim said. He went on to talk about the "traditional divide" between Student Affairs and Academic Affairs.
"In this way of thinking, it is proposed that the primary experience for students … is the academic experience which is supplemented and enhanced by activities provided by Student Affairs," Kim said. "I think this thinking is old fashioned and wrongheaded."
Kim also proposed a new model of advising students that would provide them with both an academic adviser as well as a career adviser. Kim said this change would help students "understand the professional implications of academic choices."
He said conversations with Senior Vice President and Provost Marcella David will lead to the physical reorganizing of the campus in the campus master plan to promote "a new culture of collaboration and allow faculty and students to focus on new models of content creation."
Engagement and the future of the college
To further the connection between the college and the South Loop community, Kim said he wants to implement several changes to the way the school engages with the neighborhood.
As a part of the campus master plan, Kim said ground floor campus spaces could be used as publicly accessible areas for Chicago residents to engage with the college.
"I would also suggest, this is a moment we should revisit the question of the viability of the Wabash Arts Corridor project as a means of putting a uniquely Columbia stamp on our part of the South Loop," Kim said.
In the past, artists involved with the project erected the murals on Columbia College Chicago's campus buildings.
Kim also said Columbia is "still largely unknown" in the city, which is something he wants to change. He said he would like community leaders to view the college as "part of the city's value proposition," which he said could help with fundraising and student recruitment.
Kim also raised questions about how some of the changes made to adjust courses in the pandemic could continue as in-person classes resume. He recommended the college continue to provide online options, asking if some course content may be better delivered online and suggesting some students may prefer online learning options.
While discussing graduate education at Columbia, Kim said graduate programs are an important component of the school's future, but past experiments with program structure "have not necessarily yielded much in the way of measurable results," such as significant enrollment or faculty satisfaction. Kim asked what role graduate education should play at the school in coming years, such as being a generator of revenue or a driver of innovation.
"How might we have to rethink the traditional delivery models that we use to deliver our education in general in order to accommodate a larger body of graduate students?" Kim asked.
In May 2020, Kim announced the decision to cut Columbia's non-degree-granting online education program, Columbia Online, due to COVID-19 related budget pressures. During the speech, Kim said the college was wrong to try to build the Columbia Online program because it was too difficult and the market for online education was too saturated.
He also said he wants Columbia to invest in more advanced technologies to allow for artistic experimentation to take place.
Kim said the college's goal is to balance the high cost of tuition for students with an investment in college programs.
He said a major focus in balancing costs while generating revenue through increased enrollment would be ensuring the college operates effectively and efficiently and improving "the managerial culture of the institution." Kim said employees at the college should have clearly defined expectations in a culture of accountability and reward.
"I ask each of you, as a member of the Columbia College Chicago community, to do what you have done time and time again: to dig deep, to be proud of who we are and what we stand for, to stand tall, and to surface our collective courage on behalf of our students so that we can do the difficult and challenging and exciting work that lies ahead," Kim said.