Columbia-hosted panel explores Chicago's music history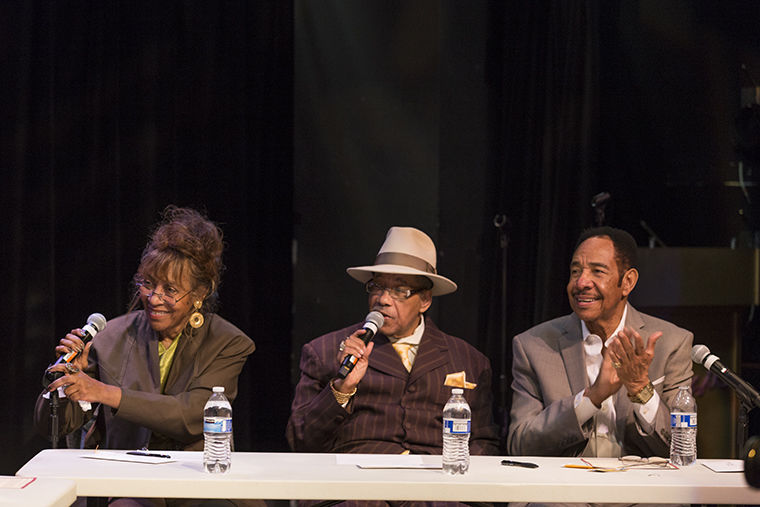 "The Duke of Earl" singer Gene Chandler, Marshall Thompson of musical group Chi-Lites, and Jackie Ross, who released the 1964 hit single "Selfish One," reflected on the city's major musical feats in the 1950s and '60's, including R&B, Doo-Wop, and its famous Record Row.
"The History of Chicagoland Music" panel, organized by The Jay B. Ross Foundation and held March 30 at 1014 S. Michigan Ave., had music historian Greg Moore and authors Robert Pruter and Bill Dahl as moderators.
The foundation has held several other panel discussions and events throughout   the years, but this panel was the first held at Columbia.
Ross, who is celebrating his 50th year as an entertainment and music law attorney in Chicago, said he started his nonprofit to educate the community about the music industry and provide networking opportunities.
"We have these events to try and educate and to be mindful of the history of the Chicago entertainment community," Ross said. "It is those people that do not know their own history that are doomed to make the same mistakes."
During the event, panelists spoke of their experiences with different recording labels on Record Row, a string of recording studios that used to be on South Michigan Avenue, and how it shaped their future endeavors in music and business—all relating back to how Ross has helped their careers as their attorney. 
Ross added that he chose to hold the panel at the college because its students are already interested in music and "made to take advantage" of the information that was presented.
Dahl, co-moderator of the panel who graduated from Columbia in 1977 with a mass communications degree, said it was great to be back 40  years later.
"[Columbia] is certainly arts-oriented, and even back in my day, they always stressed the arts," Dahl said.
The event also featured a Q&A session during which members of the audience asked the guest speakers questions about their past and any advice they have for the future.
Chicago resident Tiffany Lance, 22,  attended the panel to support her late grandfather, R&B singer Major Lance, who had worked with panelists Thompson and Chandler throughout their careers.
Lance said the event offered her great advice because she hopes to also work in the music business someday, adding that she enjoyed hearing stories about her grandfather by artists who worked with him in his prime.
"I have always pictured knowing my grandfather and what advice he would have given me," Lance said. "It was kind of like him speaking through them."
The foundation hopes to hold  additional panels to discuss different musical  genres as well as film the series to create a documentary that will be  submitted to public television channels to be played nationally, according to Ross.
"The music entertainment community has been the way I have earned my living for the last 49 years, and I wanted to pay back the community," Ross said.