Kim: We need to keep pushing forward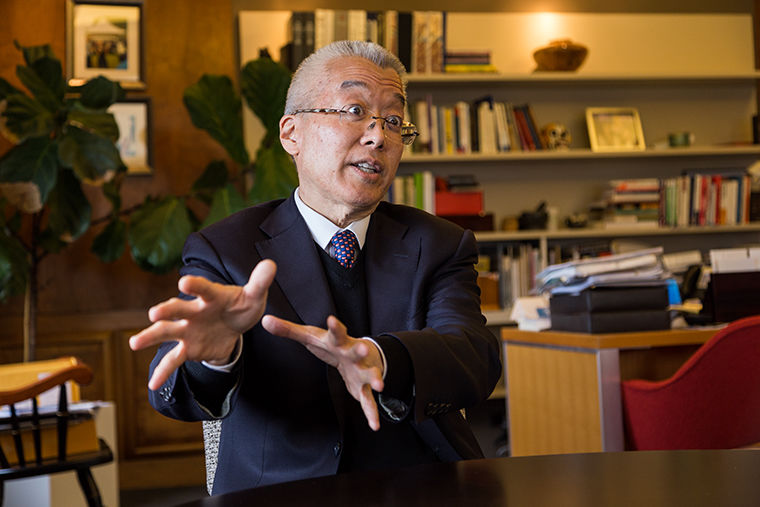 In a final interview of the 2016–2017 academic year, The Chronicle sat down with President and CEO Kwang-Wu Kim to reflect on the year's ups and downs, the college's continuously falling enrollment and Columbia's future in a tense state and national political climate.
THE CHRONICLE: What comes to your mind when thinking of this year's highlights?
KWANG-WU KIM: Overall, this was a year that a lot of people pulled [together] really hard on behalf of the institution. We continue to be challenged by our enrollment, which means our resources are not as rich as we would like. But, I'm impressed, for example, that the faculty accomplished so much with curricular review [and] putting new proposals forward. That takes a lot of time and effort, and it told me how committed particularly our faculty are to moving our school to the next level.
This is a year that has given me a lot of pride in the community, that so many individuals have taken on additional work on behalf of the college because they believe in the college. That's another thing that keeps me very motivated.
What do you wish the college handled differently this year?
We need to do more communicating with each other. Not that I'm this great communicator, but I think a lot of times people want to hear things from me. I've been thinking a lot about how I can put myself out in the community more so people feel like they have more access to knowing what things are happening [and] why.
My fundamental role in all of that is to keep reminding people what we're trying to achieve and why it's important. The challenge with communication is that you can't guarantee that people hear it or read it, and that's sometimes frustrating—knowing what's the most effective way.
I talked to some faculty and they said big town hall events aren't necessarily the most effective. They were suggesting that I go back to hosting ongoing breakfasts, so it's smaller groups of people, so it's more of a conversation.
Students experienced a year of tumultuous state and national political climates with the election and the ongoing state budget impasse. What would you say to them about their future and higher education overall?
The key is we as a school, or schools in general, have to be able to clarify the value proposition of the education, [which] has to be practical. We have to be able to be convincing when we tell our students that a degree and an education at Columbia is directly helping students get set up for successful careers.
We've made a big piece of progress this year with building up the Career Center and making that a more robust piece of the college.
To me, particularly at times like now when a lot of things seem uncertain, the ability to think independently is really important, and that's one of the fundamental roles of education.
How do you stay confident and keep the college community confident through another year of enrollment and revenue decline?
What keeps me the most positive is our students. I try as much as I can to directly spend as much time as I can with students, hearing from students [and] understanding what their experiences are. Our students are different. They are very authentic, have something to say and inspire me. That is what keeps me motivated: This idea that as challenging as things may be, we have to keep pushing forward because our students deserve to have the best possible education.
What would you say to faculty and staff as you reflect on their major changes from this year, including the staff union receiving its long-awaited contract but also the faculty and staff buyout program?
The fact of the matter is we cannot move forward without the people that we have. I keep trying to bring people back to the value of their work. I'm trying to spend a lot of time being honest about my understanding that things are challenging right now. I don't want to pretend because that's the worst thing. I know and am constantly thinking of ways to make improvements that will help.
This year has also seen different approaches to addressing diversity, equity and inclusion with the Undoing Racism Workshops and hiring Associate Professor Matt Shenoda as the Dean of DEI. Is the college's progress moving quickly enough?
I do think it's moving quickly enough. We've started to create a theoretical framework in how we talk about diversity where we have some sense of what we mean. Otherwise, the conversation can go all over the place. That's the whole thing of the workshop. We've brought them back in various configurations, and we're trying to figure out ways to expand it.
In terms of making things happen, the [DEI] committee realized there has to be someone in charge. It happened more organically. I was really happy we were able to put Matthew in that position because he was already here, and he has that recognized expertise. He's got a lot of plans already [for when he begins June 1], so a lot of things are going to happen next year in terms of looking at policy changes [and] group hiring in various areas.
What major projects are you envisioning for the summer and fall?
The student center is now ongoing, and I'm trying to make sure we don't lose our focus on getting that done in a timely fashion. The summer in general is a time for a lot of planning. We're in a stage right now where we need to ask ourselves, "What are the things we do that are most valuable [and] what things do we need to do to make other programs stronger?" I'm always pushing people with the question, "How do we know that we're being effective?" We do a lot of that thinking over the summer. For the fall, I'm looking into rolling out some of these new opportunities for more conversation. That's in the forefront of my mind today.