Columbia improv group to compete in College Improv Tournament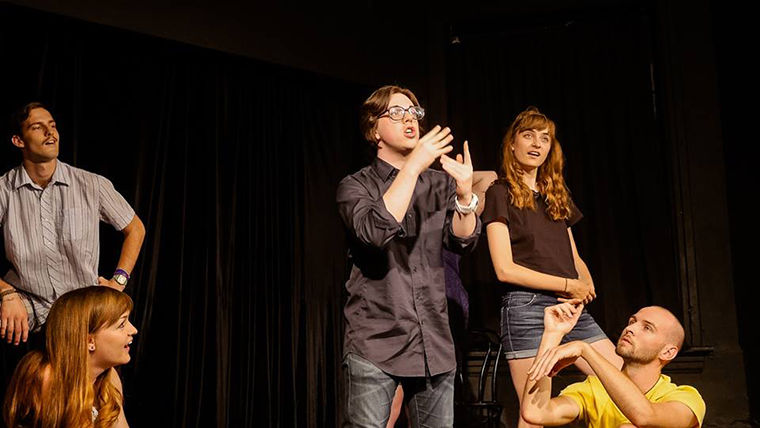 Columbia improv group Cat Booty will be competing against 15 other student groups at the 10th Annual College Improv Tournament Feb. 25.
Columbia students and Cat Booty members Tom Spooner, senior theatre major, Glo Chitwood, junior theatre major, Will Nicholson, junior theatre major, and Alan Giles, 2016 theatre alumnus, will be competing in the tournament, which will be held at The Vittum Theatre, 1012 N. Noble St.
Giles said the group is excited to be competing in the tournament again after previously tying second place with another group at the regional level last year. Another Columbia improv group, Droppin' $cience, ultimately advanced to the national level of the competition last year.
"It's exciting to know this will be the second year in a row that a team from Columbia is going to nationals," Giles said. "We're excited to [potentially] win regionals this year and go on to nationals and just represent Columbia."
Chicago improviser Alison Luhrs and Buzzfeed's Keith Habersberger are scheduled to host the tournament. Local improviser Saurabh Pande will be a sideline reporter for the tournament. His team won the College Improv Tournament in 2013 with his University of Houston team, Glaundor.
Pande said it is exciting to see the new teams as well as how the up-and-coming improvisers are "pushing the boundaries" of the craft.
"These teams are sometimes isolated wherever they are," Pande said. "[They] get to meet other young improvisers and chat and network in ways that you only get to at the College Improv Tournament."
The group will performing an improv performance called "Shot Guns," in which the entire scene on stage takes place in a car. The winners of the first five matches in the tournament will be declared Super-Regional Champions and will move on to compete for the title of College Improv Tournament National Champion.
To prepare, Cat Booty rehearses and performs at venues across the city to get as much practice under their belts before the tournament. They start their shows huddling together and sending a quick "prayer to the booty," according to Cat Booty member Spooner.
"It's just fun to be in that environment," Spooner said. "I feel like we've all done some really good stuff and we are all in our last semester here, so it's a nice way to cap off our career at Columbia."
Spooner said his favorite part of the tournament is being able to meet other performers.
"You don't want to think of an art form as competitive, but everybody still has this killer instinct that we want to win," Spooner said. "We want to be friends with everybody here. We want to be very cordial but we also want to be considered the best team here."
____________________________________________________
Updated 11:10 a.m., March 15 
Columbia improv group Cat Booty won the national title of the College Improv Tournament on Feb. 25.
The group won the tournament after performing two shows based off the audience's suggestion of, "Disney World" and "St. Paul, Minnesota," according to Giles.
"As soon as we won and we knew we were advancing on to the finals that night, the show was just so much fun to perform in and to watch the other teams," said Giles. "By that time, all the nerves had worn off and it was just like 'we're here to have fun' and that ended up really paying off which was really cool."
Cat Booty has shows lined up for the future as well as plans compete in the Chicago Improv Festival, according to Spooner.
Another Columbia improv group, Droppin' $cience, previously won the CIT, making Cat Booty the second Columbia College Chicago team to be National Champions, according to Giles.
"I hope that is a tradition that continues on at Columbia," said Giles. "Columbia is full of great improvisers and I know that's not going anywhere."