Bay Ledges hits Beat Kitchen stage, talks inspiration, life changes and debut album
Zach Hurd, who performs under the stage name Bay Ledges, makes music with experimental sounds, using different instruments and mixers to create while paying tribute to the artists he looks up to.
The Chronicle spoke with Hurd before the Bay Ledges show at Beat Kitchen earlier this month.
At age 13, Hurd started to navigate his sound, experimenting with grunge and hip-hop, leading to his interest in producing and behind-the-scenes work. He continues to be inspired by artists like Beck, the Neptunes, Outkast and Andre 3000.
"Learning about how these songs were made and who made them, I became interested in Beck and his whole way of making sort of 'sound collages,'" Hurd said. "I just really loved the way these artists weren't afraid to take different types of music and sort of blend them. I try to bring some of that spirit to the music I make."
Hurd started writing and recording in his bedroom in Maine but went on to move around the country, leading him from the East to the West Coast to pursue his music career further.
After hitting a personal low point, Hurd said he wanted a change, so he lived with his sister for two weeks in Los Angeles and never looked back. Once in Los Angeles, Hurd's creativity grew, and he began to take his music seriously and started releasing music under the name Bay Ledges.
"[Bay Ledges] was an attempt to find the joy in life again," Hurd said, regarding his alter ego.
Since finding his rhythm and happiness, Hurd has continued to make music and is currently promoting "The Feb Tour" and traveling the U.S., wowing the crowds by playing with experimental sounds created by a mixer and midi controller.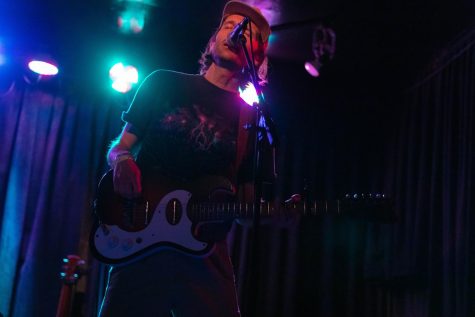 Hurd is also gearing up for his first LP, set to be released in June. Until then, he is performing his hits "Safe," "I Wonder" and "Straight Jacket," as well as newer tunes such as "Waterfalls" and "Changing."
While Hurd's move to Los Angeles helped spark a creative burst, the pandemic has been a time of further reflection and a search for a more permanent home, ultimately leading him back to Maine.
"[The upcoming album] was all made in transition … I was moving from Los Angeles to Maine, so the whole album was made in so many different places, like Airbnbs, as my fiancé and I were trying to figure out where to live permanently," Hurd said. "Some of the themes are just about like new chapters in life, the ideas of death and rebirth … and laying to rest a chapter of my life."
Listen to Bay Ledges on Spotify and follow him on Instagram for the latest news.