Graduate student gallops to fellowship award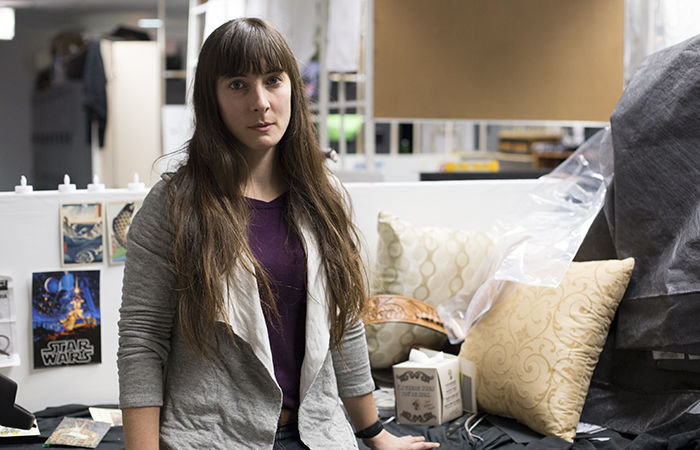 Valentina Vella, a third-year interdisciplinary arts + media graduate student, was one of five visual arts graduate scholars across the United States to be awarded a College Art Association Professional-Development Fellowship.
The fellowship is only available  to students pursuing their master's or doctorate degrees who are in their final year of study at any college or university across the country. In the 21 years the fellowship has been offered, only one other Columbia student has been chosen—Jonathan Gitelson, a graduate photography alumnus, in 2003.
Vella has been awarded $5,000 for her thesis submission. She said her thesis is what won her the fellowship—a video project that detailed her ambitions to ride a horse from Chicago to California during the summer of 2013.
Vella's thesis consists of a video installation that will open in the Book and Paper gallery during Manifest. Her journey can be viewed on ValentinaVella.net.
"I was determined to see America and expose it as the myth of what foreigners see it as," Vella said. "I wanted to become a pioneer of the frontier and it was difficult because of the landscape. I wanted to set out to the unknown and had no idea I could possibly put myself in danger."
Although Vella did not complete the journey on horseback due to the lack of care before she purchased the horse, Vella plans to use the fellowship money to continue her thesis and make additions to her studio.
"The idea would be to use the money for my studio material and it will go [toward] my production of work," Vella said. "Hopefully this will give me more visibility so more people are interested in seeing my work and talking about it."
Paul Catanese, associate professor in the Interdisciplinary Arts Department, said Vella's artwork is exemplary of what the department is trying to teach.
"Vella's work is extremely interdisciplinary as a hybrid project that involves video, performance and installation, and it's a mixture of storytelling and media," Catanese said.
Vella said she came to the United States from Italy five years ago in search of a new beginning, and the thesis helped her find meaningful relationships with people across the country.
"I wanted to find a connection with an animal and it was proven very difficult," Vella said. "People told me it was going to be dangerous moving throughout the United States without a weapon, but that was proven false as well."
Vella said although she will not be able to finish the book by the end of the year, she will continue to work on it this summer.
"The way I work is through writing, then I see the movement through my writing, which turns into a performance," Vella said.
Vella graduated in 2010 with a degree in English Literature at Roma Tre University in Italy before she came to Columbia in 2011. She said she wanted to explore the notion of the Wild West in her thesis.
"To me, the United States already represents a frontier," Vella said. "It's where you go to become a different person, so my thesis was [about] that, but just a further level of a journey of initiation [and] discovery."
Clifton Meador, interim chair of the Interdisciplinary Arts Department, said the award is an honor for Vella and the program.
"It is an extremely competitive award and we are extremely proud of her," Meador said.
Vella's thesis project will be displayed during Manifest, Columbia's end of the year urban arts festival, in May.