Hitting the polls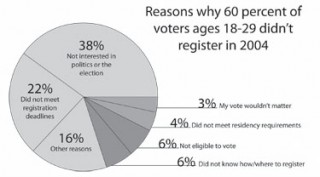 While more young people are voting, the process seems to get more confusing once they get to college.
There are more legal and administrative barriers occur as well as questions of where to register or whether or not to cast an absentee ballot in one's home state.
"After your first year of college—you kind of see the light and want to vote," said Eira Corral, Illinois Field Coordinator for the United States Hispanic Leadership Institute. "But it's easy to withdraw from politics because it has a tendency to be confusing and almost mystical."
In the 2000 presidential election, 36 percent of 18 to 24 year olds cast a ballot. In 2004 the numbers increased to 47 percent, according to a poll by the New Voters Project, a non-partisan public interest research group.
Florida Legislature recently passed a law entitled "No match, No vote"—wherein the student, in order to cast an absentee ballot, is only required to provide written information such as address and license number. The Secretary of State then matches the information to what the state has on file. If they do not match, they have the right to reject the voter's ballot.
"The process of it all is such a hassle," said Michael Peshkin, a professor at Northwestern University and the creator of VoteBackHome.com,  a website dedicated to recording out-of-state college voters. "But young people have the power to effect a change."
In 1972, young people over the age of 18 were allowed to vote. According to the Center for Information and Research on Civic Learning and Engagement, 55 percent of voters between the ages of 18 and 21 cast a ballot in 1972.
Before 1979, college students were required to vote in the state they were from. Currently, however, they can vote from the state where they attend college.
Illinois views dorms as places of residence, so as long as a student has lived in the residence for more than 30 days, he or she is able to vote, according to the Chicago Board of Election Commissioners.
Many college students living away from home in the United States have the option of voting at either voting residencies. According to Columbia's office of Research, Evaluations and Planning, 20.5 percent of Columbia's student population hails from swing states, so the absentee ballot plays an important role.
"I am registered to vote, but I don't know if I trust the absentee ballot program," said Nate Morken, a graphic design major at Columbia and a registered voter in Indiana.
"I'd rather I [vote] and get it right, than have somebody else do it and have the potential chance of messing it up," Morken said.
In closely contested presidential elections,
voting absentee in a swing state can make the vote more meaningful. Voting Republican in a blue state, such as Illinois for example, will have less impact than casting an absentee ballot in a swing state, like Indiana.
According to the Federal Election Commission, filling out an absentee ballot does require a photocopy of a state ID in many states.
"When sending off an absentee ballot, people can see who you are and they know who you're voting for," Morken said. "I am more concerned with being anonymous."
Other students are more exuberant about the upcoming election.
"I'm just excited to vote," said Allisha Miller, freshman fashion design major at Columbia. "I want to make a difference in my generation."