Annual security survey: more reports or more crime?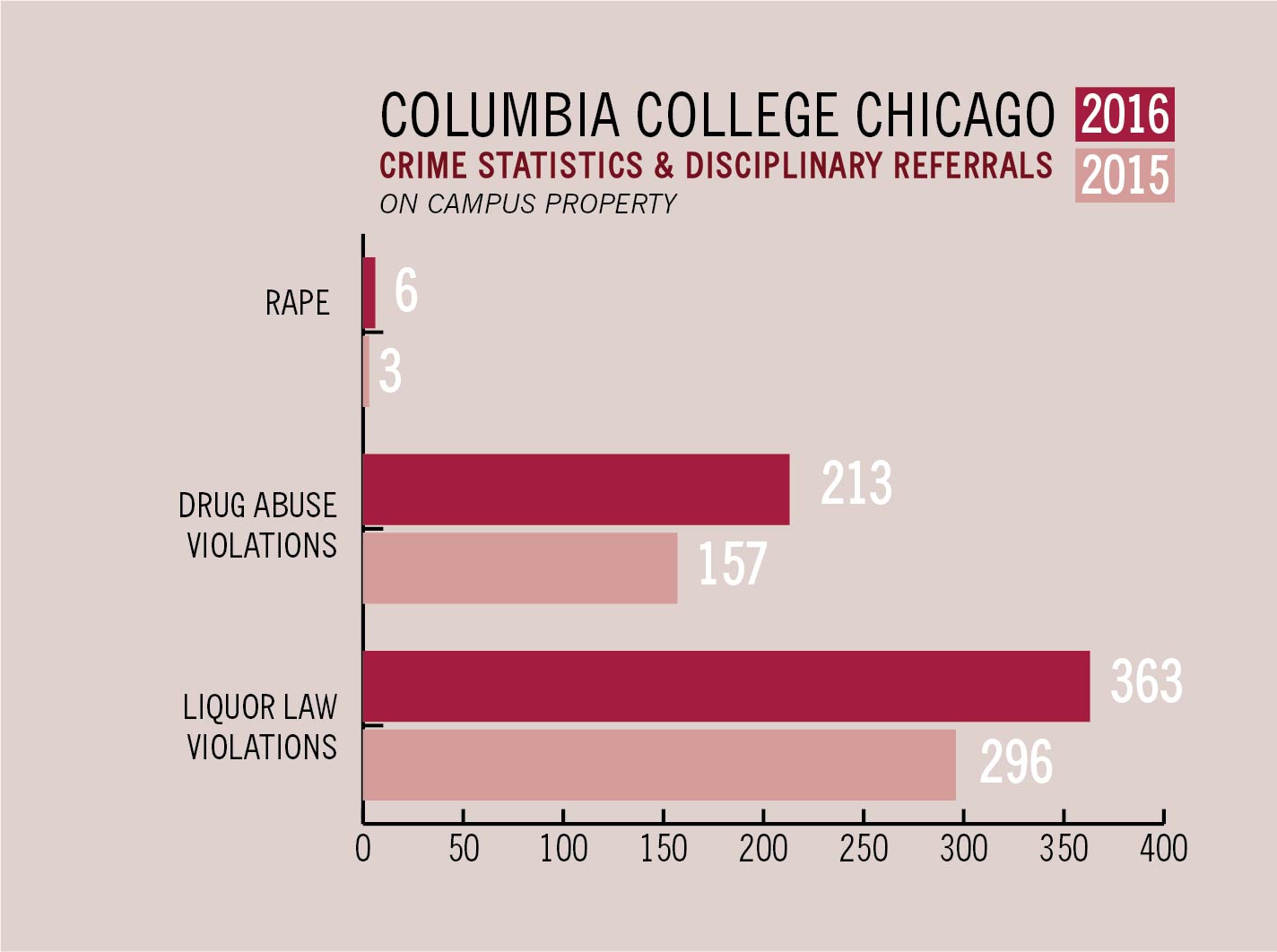 On-campus rapes doubled last year while drug and liquor disciplinary referrals also increased, according to Columbia's 2017 Annual Security and Fire Safety Report.
Gathered during the 2016 calendar year reporting period and released Sept. 29 in a collegewide email, it listed six on-campus rape reports, twice as many as in 2015. Disciplinary referrals for drug abuse also increased from 157 in 2015 to 213 in 2016 while referrals for liquor law violations rose from 296 in 2015 to 363 in 2016.
Other increases in the report  include complaints of fondling, up from three to four, robbery from two to three, burglary from four to five and disciplinary referrals for on-campus weapon possession from one to five.
Ronald Sodini, associate vice president of Campus Safety and Security, said any crime on campus, especially involving violence, is a concern to the college.
Sodini said the rising crime statistics in the report this year  are due to more students responding to crime and reporting incidents, rather than an actual increase in crimes.
"We are seeing the fruits of efforts to reach out and get students aware of the resources that are available to them and to encourage more reporting," Sodini said.
Junior theatre major Michael Klatt, who read the crime statistics from the report when it was released, said he does not think Columbia has prepared him to do anything if he  were in danger, and thinks campus security is ill-prepared.
"I like our security guards, but if there were an actual threat, I feel they wouldn't be able to do much of anything," Klatt said. "None of them are armed, and I don't know if anyone had training. They are just there to check students in and check students out."
Sodini said the Safety and Security Office increased the number of watch commanders patrolling campus, all of whom are retired law enforcement officers with decades of police experience.
Rabia Khan Harvey, director of Equity Issues and Title IX coordinator, said many incidents, particularly those involving sexual misconduct, go unreported because victims encounter obstacles that make them feel uncomfortable with being vulnerable.
"There are many cases out there that are often not reported, which is unfortunate for us because we'd rather know who to offer some assistance to," Khan Harvey said. "They are unsure of what is going to happen, they fear retaliation [and] they don't necessarily want to get the other person in trouble because it's often someone that they know and trust."
Khan Harvey said rape culture is prevalent in society, and education on the subject and decreasing shame contributes to an increase of reported incidents.
The college's Sexual Assault Awareness Education Committee creates workshops and events to help students cope and find resources if they have experienced any sexual misconduct, Khan Harvey said. SAAEC holds programs and campaigns
such as the Blue Ribbon Campaign for Sexual Assault Awareness Month in April and multiple open-mic events throughout the school year.
According to the National Institute on Drug Abuse, college students are at a significantly higher risk of using marijuana and drinking alcohol than people not enrolled in college.
In a 2016 NIDA report, 32.4 percent of college students participated in binge drinking over two weeks compared to 28.7 percent of non-college peers. Marijuana use is also at its highest level since the 1980s for college-aged people.
Sodini said college security has adopted new measures to increase safety and security, including exercising greater control over who is allowed to enter campus buildings, installing new cameras and telephone systems across campus, and hiring more watch commanders.
As a result, interaction between officers and students has increased, which creates more opportunities for students to respond and report crime, Sodini said.
The report also shows a decrease in arrests, which Sodini attributed to the University Center handling more incidents of crime, such as alcohol and drug use, in-house rather than informing the police.
Columbia offers multiple resources and educational workshops, listed on the college's website and in the recently released report, that help students cope with violence and sexual misconduct, according to Khan Harvey. "Think About it: Campus Save" is an online training program that is made available to all students in the Columbia community and provides safe options on how to intervene in dangerous situations on campus.
Sodini said The Campus Security Department encourages students to take advantage of  the classes, workshops and other resources  that the college has available to students in order to enhance the safety and security on Columbia's campus.
"If you see something, say something. Safety on campus is everybody's responsibility," Sodini said. "All of us have the ability to be alert, be aware of our surroundings and to share with security when something does not seem right. When they do that, we can go there and check on that and hopefully prevent any incident from occurring."