'Unemployed' artist inspires young women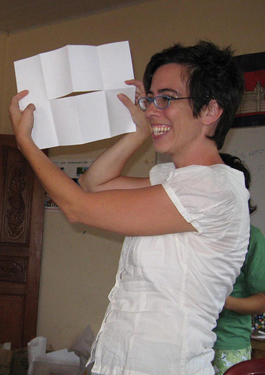 By Bertha Serrano
October 13, 2008
Twenty-five years ago, Anne Elizabeth Moore realized what she wanted to do with her life after asking a woman she was interviewing what her job title was. The woman had told her, "I don't have a job, I just do stuff."
Although she said she doesn't have a job, Moore writes, publishes, makes visual arts, performs and enjoys traveling. She is also one of the 12 featured artists for this year's Chicago Artists Month, celebrated annually in October.
"The easiest way to describe my work is that I see myself as an embedded reporter who doesn't necessarily just do journalism," she said. "I get involved in crazy situations, and then I write about them."
She realized that she was being influenced by TV shows and magazines she subscribed to or books she read. It became clear to her that there was a great difference between her personal experiences and how the media was representing her.
"Media operates in a whole different level," she said. "It's about self-censorship and knowing what's available to the writer."
Her work has been published in The Onion, the Chicago Reader, the Progressive and Punk Planet, a now-defunct Chicago-based magazine about music, art and politics that she co-published.
Daniel Sinker, journalism faculty member at Columbia, was friends with her after working together at the School of the Art Institute of Chicago's campus newspaper. Years later, when he founded Punk Planet in 1994, he hired her.
"She wanted advice on self-publishing, and I told her she should work with me," he said. "She brought a new perspective and new avenues to pursue for the magazine."
While working with Punk Planet, she was able to reach out to those who disagreed with the standards society placed on them. She worked more than 60 hours a week editing and focusing on media criticism, corporate influence of independent culture, contemporary feminist figures, comic artists and legal issues.
Now, she writes about individuals who interest her and who represent an impact on society-like 32 Cambodian girls whom she recently worked on a project with.
"I mostly write about young people, gender and media access issues they face," she said.
She spent two months in Cambodia working and living with a group of girls in the Harpswell Foundation Dormitory in Phnom Penh, Cambodia.
She worked with Kathryn Lucatelli, executive director of the nonprofit Build Cambodia. The Chicago-based organization aims to raise awareness about issues and opportunities in Cambodia by traveling there and offering services to young women.
"The girls who live in this dormitory are selected because they show interest in pursuing an education," Lucatelli said. "Many students don't get a chance to go to college, so this project helps them get there."
Moore was selected to go to Cambodia as a leadership resident for her experience with travel and journalism. The group of girls she worked with were the first in their country to live in dorms and represent women leadership.
"She is very accomplished in her own field," Lucatelli said. "She had a very strong interest of working in Cambodia so it felt like a good fit to send her there."
During the two months she was there, she taught the aspiring journalists to create a magazine. The dormitory where they lived served as their newsroom, where they started the production from scratch because there are only three publishers in Cambodia. Everything they worked on had to be in English because being a journalist in Cambodia is dangerous-many have been killed and kidnapped.
"One of the things that surprised me the most was when one of the girls created and illustrated the history of her city and translated everything into English all by herself without me telling her to," she said.
She still keeps in touch with them and is currently working on promoting her book, New Girl Law, that she wrote with the girls.  The book is a remake of Girls Law, a book that damaged women's rights in countries like Cambodia because of the negative stereotypes it gave to young women.
"I want to help them [Cambodian girls] create magazines because they live in a culture that does have a future in magazines and helping them publish is vital," she said.
Moore's project about her Cambodia experience is featured in Art of Democracy at Loyola University Museum of Art (LUMA), 820 N. Michigan Ave., through Nov.  9.
bserrano@chroniclemail.com