College complies with Illinois Firearm Concealed Carry Act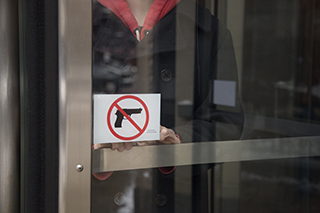 In compliance with the new Illinois Firearm Concealed Carry Act, Columbia has placed signs on the doors of all campus buildings indicating that guns are prohibited on the college's campus.
Robert Koverman, associate vice president of the Office of Safety and Security, said the college is required by law to display signs that indicate guns are prohibited in the college's buildings.
"There was some question when the law first came out," Koverman said. "Ultimately the decision from the state police was, 'Yes, you still have to post the signs even though the statute specifically prohibits individuals from carrying a concealed weapon.'"
According to Koverman, the only doors without signs are steel doors, because the signs' adhesive does not work on steel in extremely cold weather. He said the college is currently looking for a new coating that will fix the problem.
Koverman said the college has always had a no-weapons policy and has discouraged building visitors from bringing weapons.
"Our policy includes all kinds of weapons, not just those prohibited by the concealed carry law," Koverman said. "Any kind of weapon, whether it's offensive or defensive, is prohibited in our policy."
Koverman said he has never witnessed an incident that has caused him to think the campus was unsafe.
Colleen Daley, executive director at the Illinois Council Against Handgun Violence, said students should not fear walking on campus despite the possibility that someone on the public sidewalks could have a firearm.
"I think everyone just needs to be aware of the fact that [there] are people carrying concealed weapons," Daley said. "I don't think people should live in fear, but [people] should definitely not walk around thinking this isn't happening."
Daley said she does not think the new law will negatively impact Chicago and is interested to see if the law will help curb gun violence in the city. She said the signs on campus buildings should be effective in keeping weapons out of the buildings because it indicates that people who violate the law will be penalized.
"If [people] are going to be carrying a concealed weapon and they are law-abiding citizens, we hope they recognize and pay attention to the laws," Daley said.
Rosie Schultz, a freshman arts, entertainment & media management major, said she feels safe on campus and is comfortable with the new signs.
"I assume that the people who have guns probably have them for more of a safety reason than a 'I'm just going to hurt people' reason," Schultz said. "I'm definitely not pro-guns [so] any place where they are banned is good for me."