Students follow election night results at Presidential Party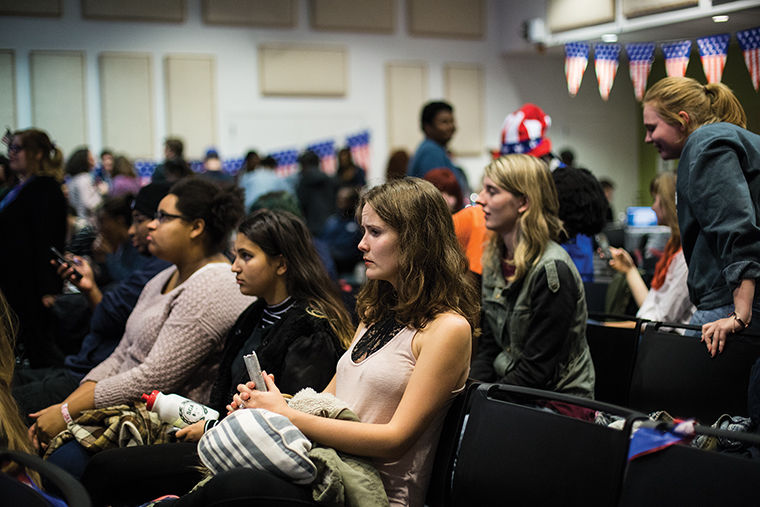 Students anxiously watched the tight race between Democratic candidate Hillary Clinton and Republican President-elect Donald Trump during the Student Government Association's Presidential Party Nov. 8, cheering Democratic wins and booing when states went to Trump.
When the event at the 618 S. Michigan Ave. Building ended at 11 p.m., the reality of Trump's impending victory set in as students watched the electoral votes slip away from Clinton.
Following Trump's win, several students described their worries for the next four years.
"I was honestly in shock," said Kaela Ritter, president of the Student Government Association and senior business & entrepreneurship major. "My eyes were big, my mouth was open, just staring [and] trying to process it all."
After Trump reached the requisite number of electoral votes, many students were left questioning what his presidency would mean for America's future.
Nick Shinners, a sophomore television major and president of the Columbia College Democrats, said he may have been overly confident about Clinton's chances and did not expect the results to be so close. He added that Trump's rhetoric makes him nervous.
"The kind of language he uses, the kinds of divides he creates, the hate he spreads, really make me nervous for what kind of country we'll be," Shinners said. "I wish my first experience in voting would have been one with a little less hate and divide."
Marquise Davion, SGA's vice president of Finance and junior cinema art + science major, said Clinton's loss shocked him.
"I knew the votes were so close, but I kind of started to realize as I was watching CNN, it didn't seem that she had a chance," Davion said.
Shinners said this year's election and political climate have changed U.S. politics in a way that is still unknown.
"It seems to have totally changed the game," Shinners said. "I don't know if the Republican Party is going to look the same, I don't know if third parties are going to be more popular, but I really think this was an end of an era as far as what we know to expect."
As reported on Page 6, several students expressed distress after the election results, leading various department chairs to send emails to students encouraging them to reach out for support or referring them to Student Health and Support to cope with the election results.
Amoraye' Hannah, a sophomore business & entrepreneurship major, predicted earlier in the evening that the election would change people's outlooks and                       increase voting.
"This is the one year where we have more people being active and voting than ever," Hannah said.
Ritter said while she is glad this election garnered more involvement from her peers, the election season changed the way other countries view the U.S.
"Throughout the campaigning process, it's made our country look like a joke," Ritter said. "It's a bittersweet situation."
Ritter said she hopes Trump takes the time to dig deeper to find solutions to the issues he wants to address.
"I hope a lot of his initiatives don't stem from his own personal agenda, that he actually uses the facts, and he digs deeper into the research of things," Ritter said.
Davion said the results call for a different perspective on Trump.
"We have to adjust. You just have to come together, stay in a positive mindset, and just work with him," Davion said. "I'm looking forward to seeing how that turns out."