Awkward: How should you approach phone sex? Picking up the phone is a start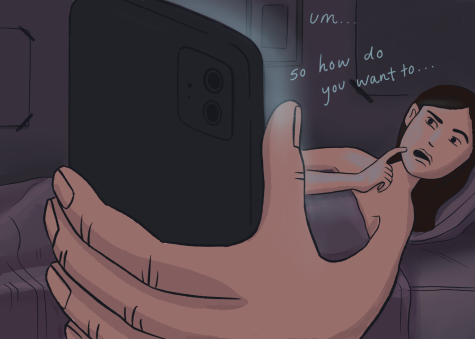 Masturbating alone is just not cutting it anymore. Sure, you know your body better than anybody else, but what is missing from the scene is the "somebody else."
You haven't seen your long-distance partner in weeks, and you had to cancel your last visit because their roommate contracted the coronavirus and they had to quarantine.
What is a person to do with a vibrator and no one else to wield it? Could phone sex be an option? What about sexting? How do you go about asking for that?
Experts weigh in on how to initiate an interest in phone sex or sexting:
First, introduce the idea, said Sylvia Mikucki-Enyart, relationship researcher and assistant professor at the University of Iowa in the Department of Communication Studies.
She said asking directly if your partner would like to try phone sex is great, but some people prefer to bring it up indirectly. This might include mentioning that you read an article about it, which gives your partner some agency to say whether or not they are interested.
Openly talking about sexual desire may make you and your partner feel nervous or vulnerable, so Mikucki-Enyart suggests creating opportunities for you and your partner to talk about if you both feel comfortable or what you would say if you do not feel comfortable and want to stop.
It is also important to regularly check in and talk about your level of comfort and interest, she said. Building trust between you and your partner can help quell fears about a lack of consent or privacy concerns.
"I'd definitely have the conversation with them around privacy [and] security, … making sure that there's nobody around," said Hollie Schmid, marriage and family therapist at Relationship Reality 312. "But if you're deciding to do that with a long-distance partner, I would imagine there's been some trust built within the relationship, so hopefully that would be a good foundation to then open up that conversation."
Alexandra H. Solomon, clinical psychologist at The Family Institute at Northwestern University, said the before and the after of sex are just as important as the during.
Talking about boundaries before sex is a major component in a conversation around consent, but discussing what sexts and images will be saved afterward, as well as how they will be saved, is another.
Solomon said "a toe in the water, rather than diving in head-first," or taking it slow, can ease some of the pressure for everyone involved to feel free, comfortable and expressive.
"It makes it harder to enjoy the moment if you haven't clarified boundaries ahead of time," Solomon said. "The aftercare is like 'How did that feel for you?' and you can refine what would feel good next time around. It's really normal that things that may feel fine to do in person may feel far more vulnerable to do screen-to-screen."