Asian film festival pop-up crosses cultures and local neighborhoods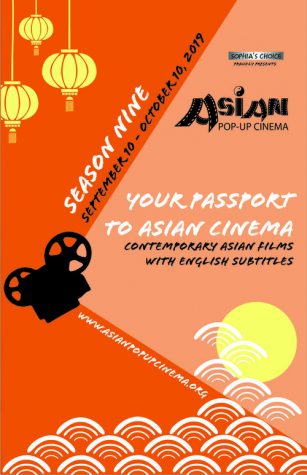 Chicagoans will be able to watch an "unconventional" film festival this fall as Asian films pop-up in different neighborhoods across the city, from the Alliance Française de Chicago to the Illinois Institute of Technology.
"It's a little bit unconventional compared to some of the traditional film festivals," said Sophia Wong Boccio, the founder, executive director and artistic director of the Asian Pop-Up Cinema. "Pop-up cinema gives us more freedom, more mobility and I'm really trying to make it more accessible to a bigger audience."
Founded in 2015, the event occurs twice a year in the spring and fall, and typically features about 17 films shown within a five-week span at different locations across the city. This fall's festival will run from Sept. 10 to Oct. 10, and will feature a range of genres, including thrillers, musicals, romances and period movies.
Six of the 17 films screened this year will be free to the public; and for the screenings which have a cost for admission ranging from $8–$15, there are also 20 free tickets reserved for students on a first-come, first-served basis, she said.
"I want to see all students coming to our screenings," she added. "It's easier for the American audience to relate to the stories."
Some of the screenings also offer other features for their audiences, such as "exclusive, intimate" Q&As with directors, guest speakers and actors.
A screening of the film "Shadow" on Sept. 15 at the Illinois Institute of Technology, 10 W. 35th St., is not only free, but will also offer mooncakes, which are Chinese pastries, served during the Mid-
Autumn Festival.
"Ten years ago we probably never saw any Asian films. Now we do have some at certain cinemas, but they are all very limited releases," Boccio said. "Seeing them on the big screen is definitely what the films were made for."
Many of the films include varying cultural influences which impact where they are shown in the city, which is why Boccio said she tries to screen films in neighborhoods where the content is geographically convenient for the target audience.
For instance, the Japanese film "Bento Harassment" about a mother trying to connect with her teenage daughter by putting notes in her bento box—a Japanese home-packed meal similar to the American lunch box—is being screened Sept. 27 at the Midwest Buddhist Temple, 435 W. Menomonee St., as Buddhism is one of the most popular religions in Japan.
A number of Asian films, including "Swing Kids," a South Korean film starring an African tap dancer, will be shown at IIT, Boccio said. And on Oct. 5 at the Chinese American Museum of Chicago, 238 W. 23rd St., the China-Hong Kong co-production "Office" will be screened.
In doing so, Boccio hopes to share Asian films with different cultural demographics of Chicago's ever-changing city, where there are currently over 100,000 Asian residents in the city, according to statistics provided by the U.S. Census Bureau.
"[The goal is to] bring more awareness of Asian culture.We're living in a global village, basically. We should be more receptive and respect each other's culture," Boccio said. "It's wrong to deprive the American public [from] watching Asian films."