As early voting opens in Illinois, Columbia students are more prepared than ever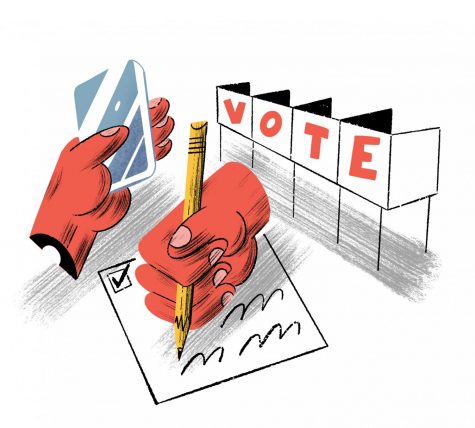 In less than two weeks, Illinoisans will cast their vote in the primary for the 2020 presidential election. For those worried about making time or eager to fill out a ballot, early voting officially opened this week.
More than 50 early voting locations opened Monday, March 2 across the city, many locations targeted at young voters including Chicago State University, University of Illinois at Chicago, Northeastern Illinois University and the University of Chicago.
"Early voting can be a valuable resource for students with busy schedules," said Sharon Bloyd Peshkin, an associate professor in the Communication Department and the organizer of a student voter registration drive at Columbia.
"If you're concerned that you might have to wait in a long line at a polling place, early voting can be a nice option," said Bloyd-Peshkin. Since early voting takes place over a longer period of time, she said, prospective voters are "more spread out."
One negative side effect, however, as evidenced by the several Democratic candidates who recently ended their campaigns, is that an early vote can sometimes be wasted.
"The hazard of early voting is that you may find that the person you voted for is no longer in the race by the time of the primary," said Bloyd-Peshkin.
Although students can choose between several different methods of voting, in the past many have scrambled to find last-minute information on voting due to a lack of awareness on how to register.
To combat this issue, Bloyd-Peshkin kick-started a program where she would register students to vote in classes, as reported Sept. 4, 2019, by the Chronicle.
With the help of Serene Arena, a graduate student in the Civic Media program, Bloyd-Peshkin visited first-year "Writing and Rhetoric" classes to guide students through the voter registration process for all states, not just limited to Illinois.
"With the help of Serene… I was able to reach 678 first-year students," said Bloyd-Peshkin. "Next year it's going to be expanding to all first-year students."
For Daijah Williams, a freshman illustration major, that initiative made a big difference. Now, Williams plans to vote in the 2020 Democratic primaries.
"The only reason why I'm registered is because we did it in my 'Writing and Rhetoric I' class last semester," Williams said.
Senior marketing major Alana Lindenfeld said while she would like to vote in the primaries, she has not yet registered to vote because she was too young to vote in the last election.
"I don't really think about [registering] unless someone comes up and asks me about it," she said.
Lindenfeld said although she plans to register in Illinois, she likes the idea of mailing in a ballot instead of traveling to a polling location because it is easier.
Chicago Board of Elections spokesperson Jim Allen said several states are moving toward having all ballots cast by mail.
"That's kind of the way of the future," he said.
He added that because young people move from place to place more often than older people, they face a continuous obstacle of re-registering to vote in new states.
People who have recently arrived in a state also feel less ownership over their new communities, while people who have lived there for a long time are more engaged and more likely to vote, Allen said.
Despite less engagement among recently relocated youth, Allen said people between 18 and 44 now make up a larger voting block than voters 45 and older.
"If and when they exercise their electoral muscle, they have immense power," Allen said.
Yoselyn Castro, a freshman journalism major, said voting is a "life skill" and wishes information about how to register was more readily available.
"I feel like this is stuff we should learn in high school," Castro said. "Tell us our resources and where we need to go to vote… so we can actually take advantage of this privilege that we're handed."
According to Bloyd-Peshkin, college students are passionate and care about elections but registering to vote is low on their "priority lists."
"Above all, voting is a kind of civic engagement that says, I want to have a voice in the system, and I want to move things in a direction that I think is better for my city or my county or my country or the world," said Bloyd-Peshkin. "I just can't think of any argument for not voting."
You can register to vote in Illinois in-person up until election day on Tuesday, March 17, or you can register by mail 28 days before the election or online 16 days before. To register, you must be an Illinois resident 30 days before the election, be 18 years or older and not be registered in another state. You'll also need photo identification, such as a state ID or driver's license, as well as proof of address, such as a bank statement. For more on registering to vote, visit www.vote.org.