Artists find solace and community through remote collaborative projects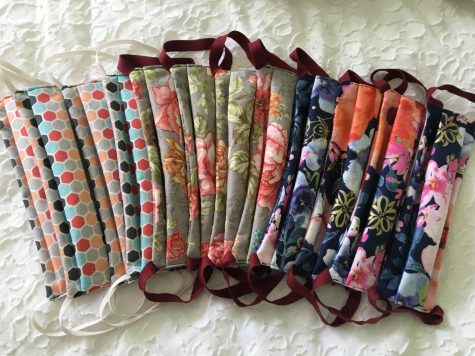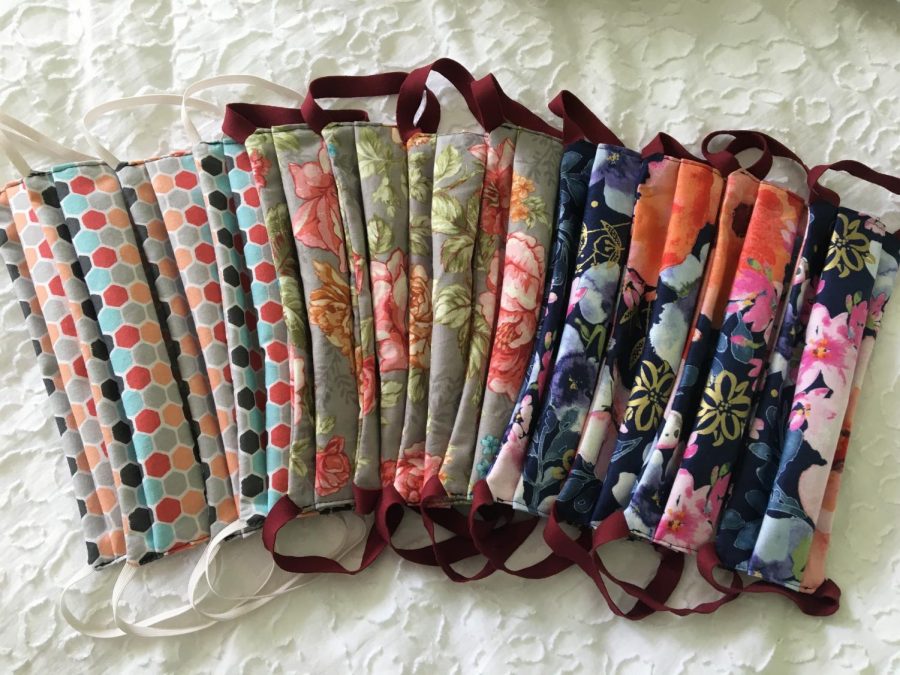 Desperate to keep her mind off the reality that she would have to wrap up her senior thesis online, Maria Varela found a new purpose—making masks for health care workers.
After seeing posts about mask shortages on Instagram, Varela—a senior fashion design major—spoke to a friend whose sister worked at Northwestern Memorial Hospital and realized the situation was worse than she knew.

Varela reached out to Colbey Reid, chair of the Fashion Studies Department, for help in what would become known as the #ColumbiaMakesMasks project.
Reid put Varela in contact with Fashion Studies Department adjunct instructor Julie Fehler, Associate Professor Justin LeBlanc and Assistant Professor Lauren Downing Peters. Together, they became a "little mask task force," producing face masks to send to health care workers on the front-lines of the coronavirus, or COVID-19, pandemic.
Amid nationwide shortages of surgical masks, some hospitals are now requiring health care workers to wear disposable N-95 masks for days at a time, although they are intended to be one-use only. Many hospital workers are wearing fabric masks over the N-95 mask to prolong its lifespan, Varela said.
"I feel like I get to leave a little mark at Columbia in my last two months of being here," Varela said. "But at the same time, to be totally honest, I don't want to do this. I don't want … to be part of a mask task-force. I don't want any of this; I want to go back to my studio. … I want to go work on my senior thesis."
After seeing Varela post about the project on Instagram, Bichoy Boutros—a junior fashion studies major—was eager to get involved. Having learned how to design medical-grade items in a Columbia fashion course, which allowed him to collaborate with Medline—an Illinois-based health care company—he had the knowledge needed to sew masks if given the correct materials.
"[In] situations like this, we all have to focus on the one thing that we know how to do really well … and figure out a way [to use that] to help the community," Boutros said. "[If we do that] we'll all be helping each other and [we] will overcome this thing."
The #ColumbiaMakesMasks project is not the only artist-led collaboration to have surfaced on social media in recent weeks as individuals find themselves constrained to their homes.
When Benjamin Cook, a painter and adjunct professor at the Art Academy of Cincinnati, heard his undergraduate seniors' thesis art shows would be canceled due to statewide lockdowns amid the coronavirus pandemic, he reminisced on the importance of his own BFA and MFA shows in past years.
"That can be a launching point for someone's career, so to take that away can really do some damage to a student or a young artist," Cook said.
Cook's artistic background incorporates image dissemination through digital platforms like Instagram, into his painting practice as a way to explore the blend of digital and physical spaces. In response to his students' distress, he used his experiences to create The Social Distance Gallery, an Instagram account devoted to displaying graduate students' galleries that would have otherwise gone unseen because of university shutdowns.
Cook is now displaying students' BFA and MFA shows from around the world.
"I've had hundreds of submissions," Cook said. "It's been a lot of work but really positive."
Among the hundreds of submissions were those from Claire Ashley and Mark Jeffery, both professors at the School of the Art Institute of Chicago who have been working with Cook to ensure their students' senior thesis work is displayed.
While there is a loss that comes with the cancellation of gallery openings, Ashley said the new platform presents novel opportunities. She said displaying the work online provides a wider platform for people to see work in more public ways.
A similar sentiment inspired Kirstin Dunlap, a School of the Art Institute senior and printmaker, to create the "Quarant-Zine," a collaborative magazine of art created by artists nationwide during self-isolation. Dunlap has the ability to digitally print the magazine in the comfort of her home and posted a call for entries on her personal social media.
"Although [the coronavirus] has shut down my screen printing process, it really has forced more into my digital media [and] digital illustrations," Dunlap said. "That's … why I decided to start this 'Quarant-Zine' project—to not only test myself and really work my own abilities but also provide a space for other artists who don't have [a platform]."
Due to the volume of entries, which surprised Dunlap, she is now considering creating multiple issues, which she will distribute after Illinois' stay-at-home mandate ends. For her, the project has become an outlet to connect with others and stay creatively engaged.
"I don't typically have much opportunity to collaborate with others so it's actually been really fun," Dunlap said. "It's inspirational to see the things that they're turning over to me as what they experienced as a way of a recess for being creative during this time."