Arlo Parks and MICHELLE bring a feeling of community to Lincoln Hall on their Chicago tour stop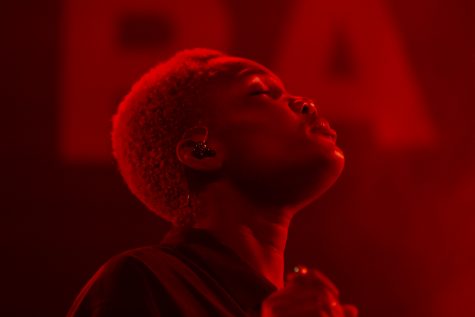 Indie/pop artist Arlo Parks and her opening act, MICHELLE, created what felt like a room full of friends during their recent performance at Lincoln Hall as part of the "Collapsed in Sunbeams" tour.
The young and predominantly queer and POC artists captured a crowd of all ages and backgrounds on Saturday, Oct. 2 at Lincoln Hall, 2424 N. Lincoln Ave., one of Chicago's popular music venues.
MICHELLE, a six-member indie/pop group from Brooklyn on their first tour, opened the show by energizing the audience with spunky, dancing-while-no-one-is-watching choreography. Each band member sported outfits in their unique styles, coinciding with their individual vocals, which together create an ethereal blend of sounds.
MICHELLE played songs such as "FYO," which stands for "F*** Your Opinion," along with "THE BOTTOM," "UNBOUND" and their new single "SYNCOPATE," which incorporates a '70s influence, as opposed to their usual '80s synth flair.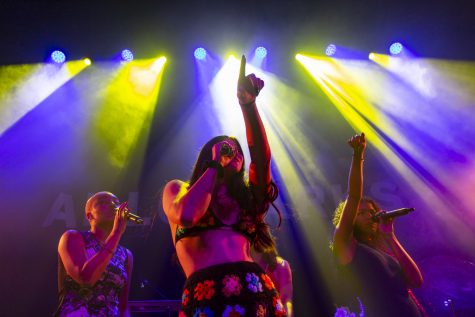 Prior to the show, bandmates Sofia D'Angelo, Layla Ku, Emma Lee, Jamee Lockard, Julian Kaufman and Charlie Kilgore spoke with the Chronicle via Zoom from their colorful studio space in Brooklyn, sitting in front of the wall they painted together.
The artists shared a behind-the-scenes peek into their creative process, saying while they all inspire each other, they do not write songs together. Instead, their writing is done in small groups to avoid pandemonium.
The six met in their hometown of Brooklyn under different circumstances, now coming together as one entity — MICHELLE.
"In this way, we get to go through it together, rather than being a solo artist and having to navigate the industry on our own, which I would have been really intimidated by," D'Angelo said. "And so I'm really grateful to have this community of people who have become my family."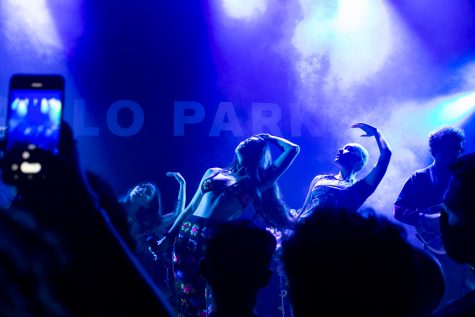 Lockard said their debut album, "Heatwave," is inspired by summer in New York City from a local's perspective, and they are releasing a new album next year, titled "After Dinner We Talk Dreams."
"We live on a dying planet, so there's not a lot of time for you to do what you want to do," Ku said. "And I think if you're learning and growing and blossoming as a person and you feel fulfilled, that's reason enough to do something."
After MICHELLE's energetic Lincoln Hall set, headliner Arlo Parks took the stage.
Anaïs Oluwatoyin Estelle Marinho, known by her stage name Arlo Parks, is a singer-songwriter from London, and the "Collapsed in Sunbeams" tour was her first time visiting Chicago. Her first full-length album was released earlier this year, collecting more than 2 million monthly listeners on Spotify.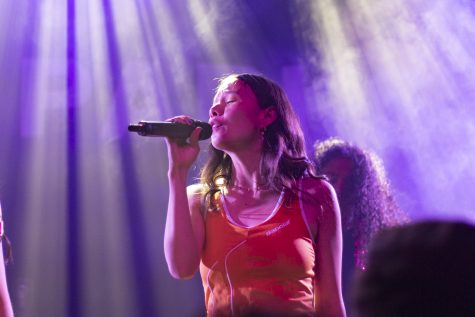 Parks' angelic vocals struck an emotional chord with the crowd during "Black Dog," a song about mental health. Before the song, she told everyone in the audience to remember that moment of community and encouraged people to reach out for help if they are in a dark place.
Parks did a live reading of her poem "Collapsed in Sunbeams" and later exited the stage after performing "Super Sad Generation." What would have been a rather melancholic ending to the show became an uplifting one when she reappeared on stage for her last song, titled "Hope," leaving the audience with exactly that through the lyrics, "You're not alone like you think you are."
Sophia Minello, a junior advertising major, attended the concert on Saturday and took photos for her arts publication, Sunlight Magazine. Minello has photographed concerts for five years and recently started seeing live music again.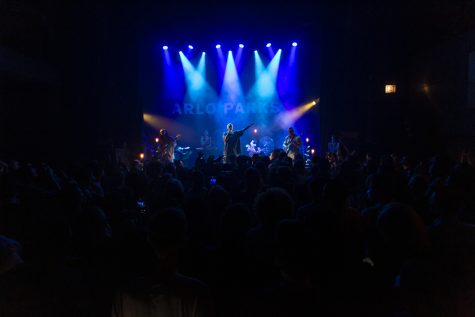 Prior to COVID-19, Minello also worked in hospitality for the musical venues Schubas and Lincoln Hall.
"These venues have a special place in my heart, so I always love seeing shows here," she said.
Minello said her favorite song by Arlo Parks is "Sophie," found on her chill playlist.
Leila Manthi, a junior exploratory student at Columbia, has listened to Arlo Parks for a year but was not able to attend the concert. Manthi said Arlo Parks is enjoyable for any mood, recalling a specific time when she was hiking by herself in the suburbs listening to her favorite song, "Eugene."
"It's really hard to find artists who I relate to in terms of identity," Manthi said. "And knowing [Arlo Parks is] Black and bi — it's just cool, as a queer Black person knowing that there's someone who makes good music that I vibe with, and I can relate to the subject matter."