Anticipation for Spring 2020: Course registration opens Nov. 4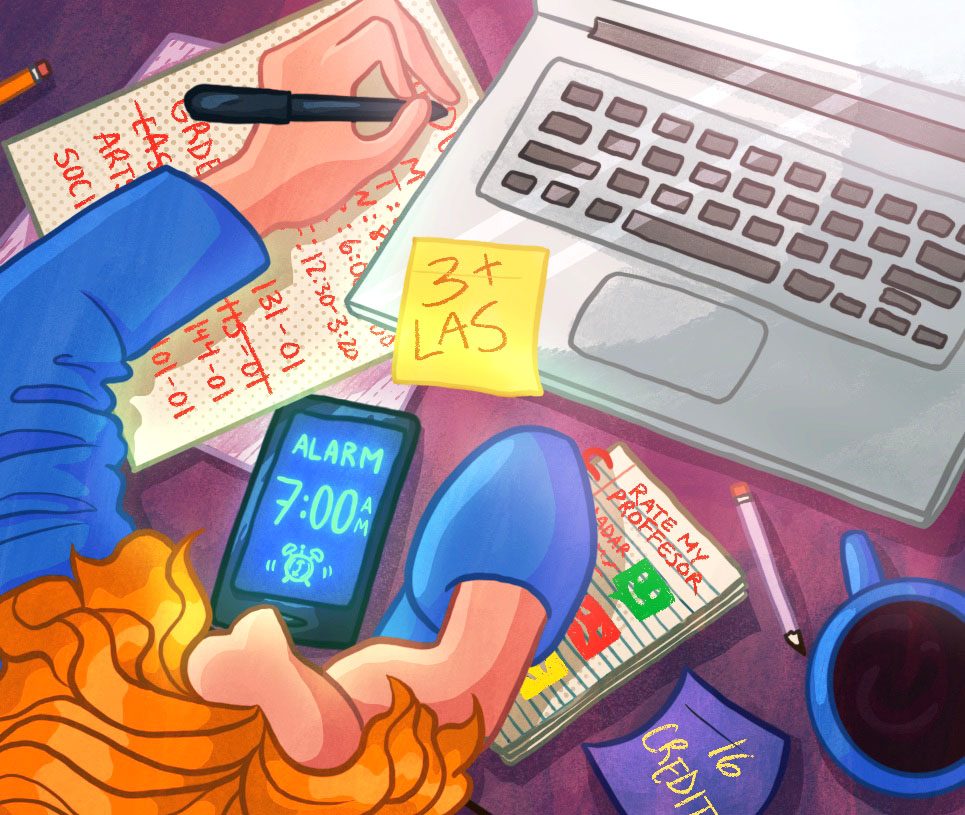 Every Columbia student knows the drill of waking up at 7 a.m. during registration week, frantically typing in course codes at the perfect time before all the slots are filled in their desired classes with the best professor.
Columbia's Spring 2020 course catalog is now available online and registration officially opens Monday at 7 a.m.
Registration dates and times are based on credits a student has, and those with senior standing are the first to have their course selection opened Nov. 4—with junior, sophomore and first-year students following, said Brian Marth, associate provost for Academic Services.
"When your registration day comes is when about 500 other people have to register, too, so you're all competing for the same thing," said Becky Sass, assistant director for Academic Advising.
Sophomore filmmaking major Chris Jones said he knows all too well about oversleeping and not getting into a class he was hoping for.
Last semester, Jones wanted to take a screenwriting class, but by the time he woke up on his registration day, it was already filled. Instead, he took "Producing I" to fill the credit, even though it was not in his four year plan.
After taking the course, however, Jones connected with a script supervisor from NBC's drama series "Chicago Med" and scored an internship.
"It did set me back a bit, but it did open up a new path," he said.
Though the week of registration is a very busy time for the College Advising Center, the third floor of 623 S. Wabash Ave., students are strongly encouraged to visit their academic adviser to help plan out their schedule for future semesters, Sass said.
Sometimes students think they know what classes they should take next, Sass said, but are too focused on the now rather than the impact those classes have on the rest of their time at Columbia.
She encourages students to put a priority on their major because some majors have sequences that have classes that are only offered once a year, she said.
Walk-in appointments are available for students during the week of registration if students are not able to set a formal appointment with their academic adviser ahead of time. Information about academic advisers can be found by signing into a MyColumbia account, navigating to "My Profile" and clicking on "Academic Program Information."
In addition to academic advisers in the College Advising Office, students also have faculty advisers in the departments where their major is housed.
Craig Sigele, academic manager for the Communication Department, said the difference between one's academic adviser and their faculty adviser or mentor is that academic advisers work through the College Advising Office and help with a student's entire schedule while a faculty adviser works specifically with a student's major or minor and career goals.
For students whose classes are already filled, Marth said if the class is absolutely necessary for the student to take, they can contact their academic or faculty adviser to learn their options.
Sometimes the major or department can add seats to the section, add another section or find an alternative option like a substitute course, he said.
Sigele said the departments use the previous semester's history of enrollment to know what courses need to be offered for the next semester.
Noorani Pirani, a 2018 music business management alumnus, said he was able to graduate in 3 1/2 because he had credits from another school and strategically planned out his schedule.
After having struggles of his own with registration, Pirani suggests students research the course codes for their classes; create a plan A, B and C in case a course is full; and wake up 15 minutes before the assigned registration time.
Sass said it is okay to be "abstract" choosing classes because there are many that do not require prerequisites and could lead them into an area in which they had not considered.
"This is the time. If you've ever wanted to take a drawing class, take the drawing class," she said. "It all contributes to that overall 120 [credits] that you need to graduate."