Anime Midwest returns as cosplayers and vendors reconnect with the anime community in-person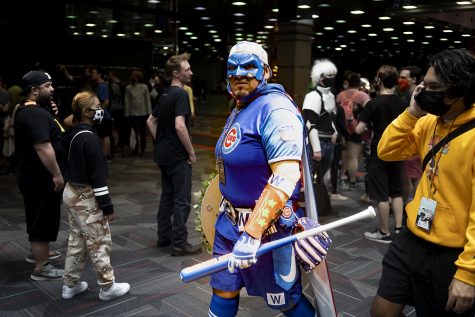 Anime fans from across the country gathered together for three days to buy merchandise, visit panels with famous guests, play games and geek out.
Anime Midwest is an annual three-day convention with more than 15,000 visitors hosted at the Hyatt Regency O'Hare in the Donald E. Stephens Convention Center in Rosemont, 9300 W. Bryn Mawr Ave. The convention was canceled last year due to COVID-19.
"We felt very sad about [last year's cancellation] as a group; we always took this up as an opportunity as a family to bond," said Joshua Harder, 21-year-old science major at Elgin Community College. "I always come here with me and my sisters, and we do a plethora of activities together, and it's always enjoyable."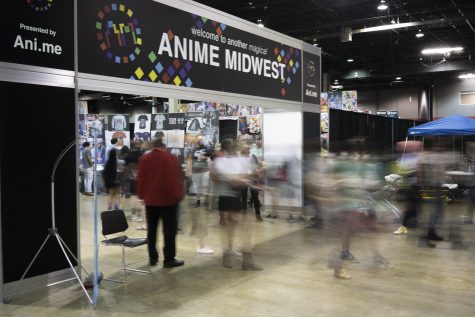 Harder and his sisters are from Carpentersville, Illinois, and he was cosplaying Hannes, a character from a popular anime "Attack on Titan." He said their parents watch some anime shows with them as well.
"It's a family thing, and [anime] brought us all together and has stories that anyone can relate to, especially family as a whole," Harder said.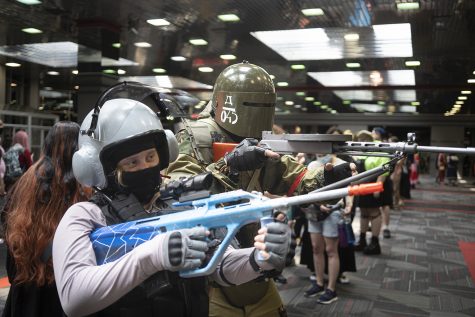 2020 was a difficult year for anime fans but also for many anime businesses and artists. The Chronicle spoke to a number of vendors who said they rely on conventions for a big portion of their profits.
One of the vendors at the Anime Midwest convention was Musetap Studios, an online print shop and gallery that creates prints with original art of characters from comics, games, anime, movies, etc. Christopher Bower, agent at Musetap Studios from Metropolis, Illinois, said they have had a presence at Anime Midwest for eight years.
Bower said the COVID-19 restrictions greatly affected their industry, and for more than a year Musetap Studios made almost no money, but now the crowds at conventions are bigger than ever before.
"I had a girl last week just cry because she was so excited about the art, and she had been a longtime fan of ours," Bower said. "It's been a really cool last couple of months."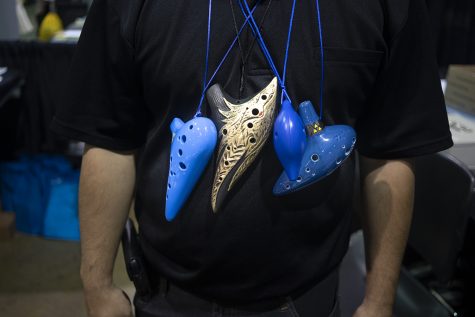 At the convention, you can meet all sorts of characters and sometimes even royalty. Libby Keppel, a 19-year-old old cosplayer from Minnesota, came to the convention as Princess Bubblegum from the cartoon show "Adventure Time." Keppel traveled to Rosemont with her cosplayer friends to visit Anime Midwest for all three days.
Anime Midwest required guests to wear masks, regardless of vaccination status, through the majority of events. According to its website, vaccinated guests were allowed to take off masks outside and during dances at their own risk.
"There's not much you can do about it; you want everybody to live and be safe," said Carol Newton, director of hospitality at Anime Midwest. "That's the key thing, conventions are fun; conventions are happy things, but in the end, it's people's safety."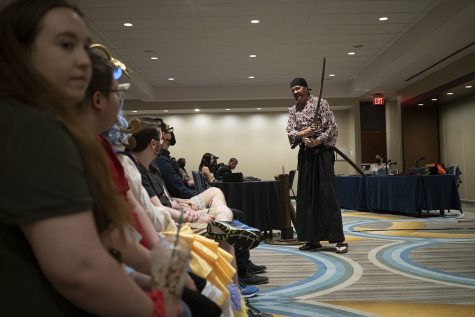 Many cosplayers had to adapt their cosplays to follow the mask guidelines, and Keppel was wearing a white face mask that is not typical for Princess Bubblegum.
"I don't think it's too big of a deal to just wear a simple mask, or some people can even wear a mask that matches the character," Keppel said. "I just chose a white one because it's simple, and it doesn't draw too much attention or take away from the costume."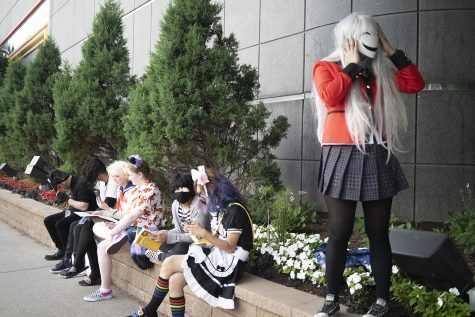 Usually, Anime Midwest serves an unlimited amount of ramen noodles and rice for every guest, but this year Anime Midwest had only a three-week notice that they were allowed to host the convention from the Hyatt hotel, and due to of a shortage of ramen noodles in the Chicago area, they could only serve snacks and soft drinks, Newton said.
Despite the added difficulties, Anime Midwest brought many people together and gave fans like the Harder family another unforgettable memory.
"It's nice to see [my sisters] have so much fun and develop a sense of community and social interactions that they've been deprived of over the course of this year because of COVID," Harder said.