An Unspoken Affair: 'Betrayal' uses ASL to tell the story of a love affair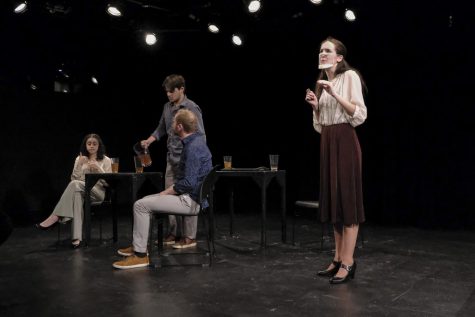 In the opening scene of the theatre production "Betrayal," Emma and Jerry, the main characters, begin a conversation in American Sign Language.
Emma, who is Deaf, shares her concerns with Jerry about the affair they have been having. The actor playing her, Kayla Casiano — a first-year acting major — is also Deaf.
"My character Emma, [is] very smart and brilliant, [she is] very private … and poised about the affair," Casiano said. "Also her character happens to be Deaf, just like me."
"Betrayal," written by British playwright Harold Pinter, tells the story of a lengthy love affair between characters Emma and Jerry. In the Theatre Department's adaptation, the pair must confront Emma's wife and Jerry's close friend, Bobbi, about the affair they've been having behind Bobbi's back for several years.

The production was performed at the Getz Theatre Center, 72 E. 11th St., in both ASL and English as each character had a second actor voicing their role in English. "Betrayal" was performed April 26-28 in a triple feature, called "Rocky Soil," as "365 Days, 365 Plays" and "Springtime" were performed alongside the production, which were also interpreted in ASL.
"Everyone in the cast and crew was just amazing and super nice and always took the time to make sure everyone was included," said Ally Longo, senior deaf studies major and "Betrayal" director.
Longo said this was the first time the Theatre Department had organized a program where a Deaf person is playing a Deaf character.
Casiano said in past shows she had taken part in she was concerned she would be the only performer who signed.
The production involved a mix of performers who range from Deaf adults, Children of Deaf Adults or "CODA" native signers and those who have never signed before. Casiano said this was her first time getting to perform with people who were familiar with signing and ASL.
"[On the set of the play] I noticed communication was easier because there were other people who knew the language and shared the same languages I did," Casiano said. "I was very, very grateful for that."
Sophomore ASL Interpretation major Jordan Brown, who played the signing actor for the character Jerry, said he hopes to see more accessible theatre in the future.
"For me as an interpreting student, it has been the closest thing to immersion I have experienced," Brown said. "I've also learned to trust my own translation skills."
Casiano said theatre productions wanting to become more accessible to Deaf performers should learn sign language as a first step. Casiano said performers should continue asking Deaf performers questions and have the willingness to learn from them as they are more than happy to teach others who have never worked with a Deaf actor before what to do.
"We're not dumb, we're capable of doing stuff as anybody else," Casiano said. "We can do almost anything, if not everything. Except for hearing, it's the only thing we cannot do."