Albert P. Weisman Award helps fund Columbia creatives' artistic endeavors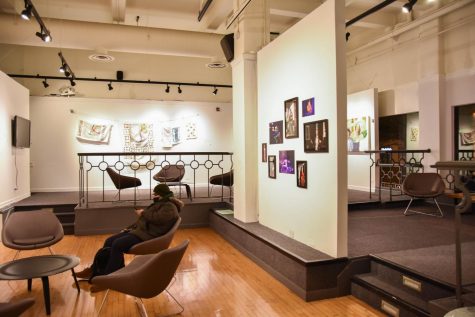 Erica McKeehen, a graduate student studying photography, was planning a photography project around burlesque shows and needed funding for transportation to and from these shows.
"I do a lot of going to these people's apartments to photograph them at home and interview them, but I also go to the venues where they're performing live, which could be anywhere from Pilsen to Michigan to Edgewater, so [funding] really helps with transportation," McKeehen said.
She turned to the Albert P. Weisman Award to achieve this.
Created in 1974, the Albert P. Weisman Award honors the late Columbia trustee and faculty member Albert P. Weisman. The award was made to support Columbia students at junior standing or higher or a graduate student who has completed at least one semester by the end of the fall term with an in-progress creative project. Since its creation, Dirk Matthews, senior director of alumni relations and an adjunct faculty member, said the award has given more than a million dollars to recipients.
"Funds are rare within the creative community, and I think by Columbia making this award available, [it] really forwards the creative spirit that the college is all about," said Jennifer Halperin, an internship and career adviser at the Career Center.
Matthews said the award was made with the goal of helping students with their external projects. There were 55 applicants for the 2021-22 application period, 15 of whom received the award, Matthews said.
From now through Jan. 27, the work of all 2022 Albert P. Weisman Award recipients will be showcased at the Hokin Gallery on the first floor of the 623 S. Wabash Ave. building.
K. R. Fowler, a 2022 graduate who studied art and art history, is using the Weisman Award funds for their painting titled "Queer Iconography for Modern Apostasy." The painting is 25 feet long, 9 feet tall and separated into three parts that "depict various iconography reinterpreted through a feminist and queer lens," Fowler said.
The award helped them to purchase the materials needed to bring the paintings to life.
"It helped me in that I probably wouldn't have been able to buy a 25-foot-long canvas on my own, not out of my own pocket, at least," Fowler said. "It sort of helped me take the first steps in these projects that I had always wanted to do, but didn't really see how I could do them."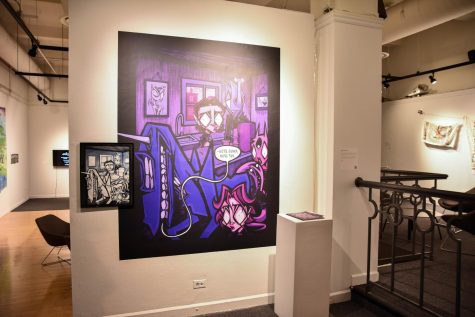 Sylvie Harris, a 2022 MFA photography graduate, applied for the award for use in pursuing her project called "Domestic Lineage." She said the textile-based project is about domestic work and the labors that are a part of this work.
"I'm creating these larger textile objects that have a space in the home that often represent domestic objects, but then show a lot of repetitive movement, like folding sheets," Harris said.
Harris said that the award helped her remain focused on the project due to being required to submit a project proposal.
"It's easy to let an idea fall on the wayside, but when you have to put up a show or something like that, you can't really let an idea fall to the wayside," Harris said. "It helps you push through more difficult creative moments."
Adele Henning, a senior illustration major, created a short graphic novel titled "LORA."
"This is by far, I think, the prettiest book and most professional-looking book I've been able to self-publish because of the funding that the budget gave me," Henning said.
Holland Sersen, a senior music technology student, created prototypes for an interactive learning tool for those looking to learn more about making music with technology.
"It really helped me with being able to rapid-fire make prototypes without having to worry about having enough money to afford getting the next prototype out," Sersen said.
The Albert P. Weisman Award application for this year is open now through Dec. 20, 2022, and recipients can receive up to a $2,000 stipend.