After college announces possible masking change, Columbia community weighs in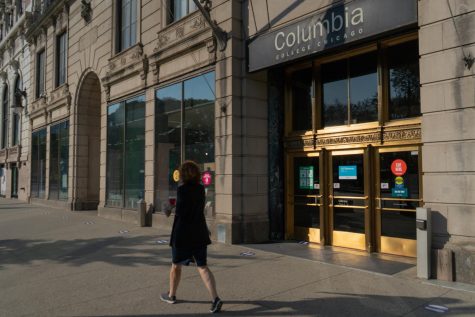 Terri Griffith, an adjunct instructor in the Humanities, History and Social Science Department, said she has "mixed feelings" about Columbia potentially moving to mask optional guidelines in classrooms next week.
On the one hand, I want to be safe and to keep my students and myself safe, not just from COVID-19, but all the other viruses we encounter everyday," Griffith said. "But also, I find it harder to know my students when we are all wearing masks."
Griffith said she will probably go maskless if the requirement is dropped, but it will be done with "some anxiety."
The college plans to drop the masking requirement for classroom or instructional settings on Monday if COVID levels for the campus and city continue to remain low. An announcement is expected on Friday.
The change would go into effect on Monday of next week.
Until then, masking will continue to be required in classrooms, except where there are "provost-approved" exemptions. Campus spaces outside of classrooms and instructional settings are currently optional.
This would mark the first time since the pandemic started in early 2020 that students and faculty could be in the classroom without masking-up.
Peter Cook, chair and associate professor in the American Sign Language Department, said making masks optional will lessen the obstacles when communicating in ASL.
"Without question, removing the mask [will lessen] the obstacles for communicating in ASL where signers are able to see the facial grammars on faces while conversing in ASL," Cook said. I am sure our students are happy about this; this will help them to enhance their signing experience in our program."
But Cook said he personally will remain cautious, particularly given the ongoing health risks for older people. "We need to be more mindful about interacting in a large gathering for a prolonged period," he said.
Gabi Pelayo, a senior creative writing major and voiceover minor, said she thinks it will be nice to have masking optional.
"Columbia seems to understand that some students really [want to] take the masks off, yet they still prioritize health and safety," Pelayo said. "The cases have been fairly low and I think it's time we apply the option to classrooms as well."
Similarly to Griffith, Ari Brown, a senior musical theatre major, said her initial reaction was a mix of "it's about time" and "this is a terrible idea."
Brown said she understands the desire to lift the mandate, but she does not trust her peers enough to not come to campus while sick, to get tested regularly.
"This is my last semester at Columbia and COVID already took away about three years of the experience I was anticipating and investing money [and] time into," Brown said. "The last thing I need is for my final semester to be affected as well."