Where did the class Facebook groups go?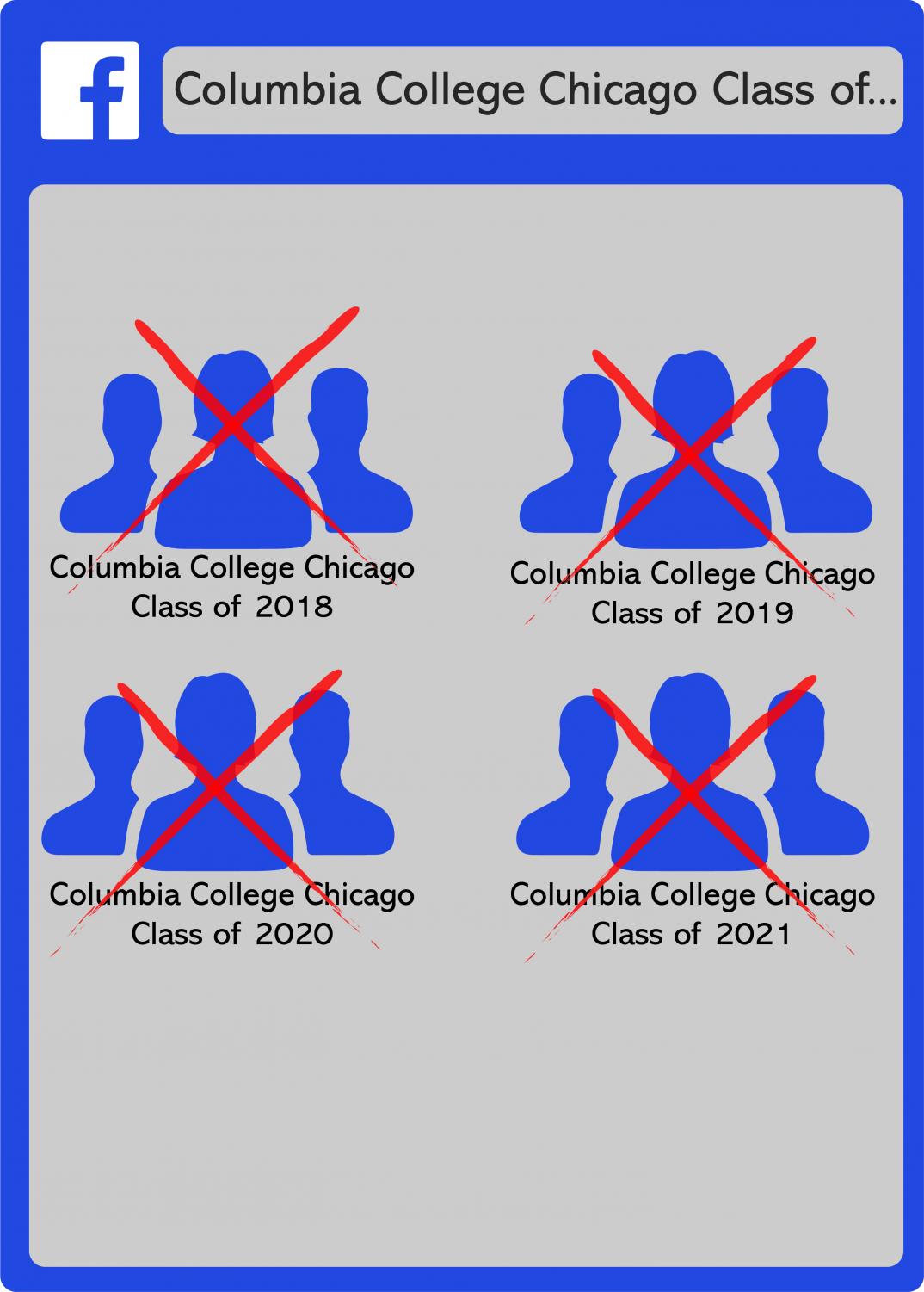 Columbia College Class Facebook groups used by students to voice opinions, advertise work and seek assistance recently vanished from the social media platform without explanation, leading many to wonder what caused their removal.
The Facebook group for Columbia College Chicago Class of 2022, with nearly 1,700 members, was the only group that was not terminated.
Robert Morvay, a junior theatre major, said he has organized new groups to take the place of the four that were removed: classes of 2018, 2019, 2020 and 2021.
Morvay, who is also the social media manager for The Black Sheep, said he did so to unite the Columbia community while also being able to share his own comedic content.
He and other Black Sheep writers initially thought they had been banned from the groups only to learn the groups have been removed, he said.
"I have absolutely no idea [why they were removed] and that was a big curiosity for me," Morvay said. "No one knows the reason why."
College spokeswoman Anjali Julka confirmed in an April 17 email statement to The Chronicle that the class Facebook pages were not taken down by the college, which has no affiliation with the groups.
Julka added that the Admissions Office runs a separate Columbia College Chicago Class of 2022 page, which has just under 1,000 members.
Morvay said the Facebook groups were a way for students to get their content seen and provided a sense of community in a college with a sprawling city campus.
"[With] one of these groups, I found my roommates that I currently live with, and it's just a good place of early socialization, especially [for] freshman coming in or even people coming in as transfers as I did," Morvay said.
He said there have not been many new students joining the reconstituted groups because it has been hard to notify students of the groups' existence.
Colin Hanner, national campus editor for The Black Sheep in Chicago, said the removal of the class Facebook groups is not only unique to Columbia.
Hanner said class groups at University of Wisconsin-UV Madison, University of Delaware, University of North Carolina at Chapel Hill, University of Tennessee at Knoxville, Syracuse University and Western Michigan's disappeared all within 24 hours of Columbia's.
A spokesperson from UNC at Chapel Hill declined to comment because the college was not affiliated with the class groups that were shut down.
"Communities online are important so people in real local communities are able to connect with each other over the internet. That helps create a community, so without those, you lose a sense of [it]," Hanner said. "You see a breakdown of students interacting with each other when you lose those groups."
Facebook did not respond to request for comment on the removal of the groups as of press time.
Morvay echoed Hanner's statement and said a centralized online place is needed at an institution like Columbia, with its city location.
"Without a place for students to vent, to talk about their classes, living experiences, ways of getting around and to ask questions to one another it severely diminishes the community aspect of Columbia that really needs to be stronger," Morvay said.