AEMMP records partners with global distribution company, takes label to a 'higher level'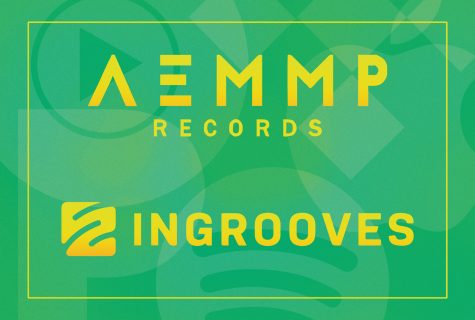 Columbia's student-run record label AEMMP Records has partnered with a global distribution company, bringing in revenue for the label and expanding its audience.
"There is a deeper relationship that is going to benefit the artists [and] Columbia students," said Alexander Fruchter, an assistant professor of instruction in the Business and Entrepreneurship Department. "Those students that partner with AEMMP will get a more powerful push, more tools and the students that are taking the class [will] understand how record labels run. This is going to take their experience up by a thousand."
Fruchter has been pushing for a partnership with a distributing company since the music industry's shift toward digital distribution arose during the 2014-15 school year, introducing new avenues for listening to music. Fruchter said the industry "caught up" with platforms like Spotify and iTunes.
He said Ingrooves, a global distribution company owned by Universal Music Group that AEMMP partnered with last month, works closely with its artists and labels, shares revenue with the label and offers a more hands-on, one-on-one experience.
Before partnering with Ingrooves, AEMMP did not have a presence on most streaming services, except for Spotify and SoundCloud, despite working with known artists like Taylor Bennett, Musa Reems and Saba. Now, the label will be able to display artists' music on all platforms including Apple Music, Pandora and Tidal. In addition to global digital distribution, the partnership will also benefit AEMMP through physical distribution and marketing.
Fruchter said students will learn a variety of things from Ingrooves representatives, including social media strategies, storytelling and financial skills, such as negotiating distribution agreements and understanding royalty reports and how they can be used to help forecast earnings.
The AEMMP label has been at Columbia since 1982 as a semester-based course and is the longest running student-run record label in the U.S. Each semester, students in the course take part in label operations by developing a budget, finding and signing artists, creating and releasing new master recordings, marketing, hosting events and managing distribution and partnerships.
AEMMP is also the only student-run label to have a partnership with a global distribution company, according to senior audio design and production major Mohit Sengupta.
Sengupta took the AEMMP course during the spring semester and plans to return in the fall. He said while the label was already a professional avenue to the music industry, it is now more "serious" with the partnership.
Sengupta was an A&R—artists and repertoire—leader last semester and was hands-on in connecting artists with the label, which he plans to continue doing in the fall semester. In this role he pushed himself to take on multiple artists and create compilation projects with a handful of people for the "sake of diversity."
He said while it will be a lot of work to transition into the partnership with Ingrooves, it is a "big deal" for the label and provides important experience.
"I hope [Columbia's] student body supports the artists," Sengupta said.
Armand Rome, known as MUGEN! the Human, was brought onto the label last semester when Sengupta pitched his work to the class. He said he plans to continue working with the label and releasing music.
"As an artist, to have that resource, to have that ability to release something at a potentially higher level … that's what we work for," said Rome, a sophomore music business management major.
He said the new partnership is a "crazy opportunity" not many people get to have, and he is already inspired to create more music.
Brett Zera, a junior communication major, was part of AEMMP during the spring semester and said discussion about the partnership with Ingrooves began on day one of class.
Zera, who managed artists signed to the label, said the partnership enhances outreach and makes the label feel more "real." While he will not be taking the class again in the fall, he said being part of the label as it profits from streaming music was the only experience he did not get from the course.
"If you want to work in the music industry and you go to Columbia, I don't know why you wouldn't want to take this class," Zera said. "I don't think there is a better way to prepare you."