Student receives state award for academic achievement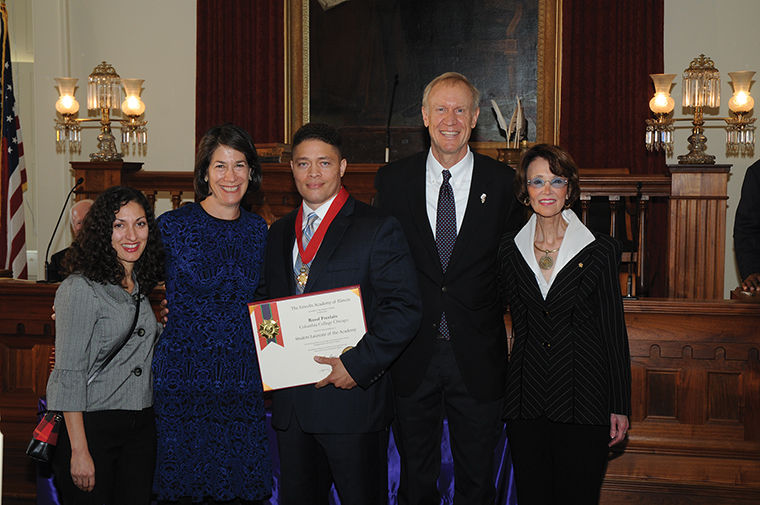 The Lincoln Academy of Illinois, a nonprofit group that recognizes individuals who have made exceptional accomplishments in the state, has inducted senior audio arts & acoustics major Rasul Freelain as a 2016 student laureate.
Every year, the LAI gives the award to students from colleges throughout Illinois who displayed exceptional academic achievement, according the LAI website.
Along with the title, Freelain received a $1,000 scholarship, a medal and a plaque at the convocation ceremony Nov. 12 in Springfield, Illinois. Gov. Bruce Rauner and his wife Diana Rauner presented the awards at the ceremony and stayed to speak with students afterwards, according to Julie Kellner, executive                      director of LAI.
"The nomination alone was an honor; it was very unexpected and very humbling," Freelain said. "If it had just been left at that, I would have been OK with that because it is a recognition that you are working hard and your work is not going unnoticed."
Freelain's nomination for the award was sent to the LAI by associate chair of the Audio Arts & Acoustics Department Benj Kanters and former chair of the Audio Arts & Acoustics Department Pantelis Vassilakis. The two faculty members recognized Freelain's efforts in the classroom and knew of his extracurricular involvement in Beyond a Mammogram, a nonprofit organization dedicated to spreading breast cancer awareness, which Freelain said he and his wife Ontisar founded. The organization provides breast health lectures in schools, churches and other venues, Freelain said.
Kellner said the students receiving the award usually have the highest GPA among their colleagues and participate in an array of extracurricular events.
"In the times that we live in, it is so important, and it is such an honor to be able to recognize Illinoisans who have dedicated their lives to the betterment of humanity," Kellner said. "These student laureates are the perfect example of the next generation who will be able to do that."
Ben Sutherland, an associate professor in the Audio Arts & Acoustics Department and Freelain's professor in his  "Introduction to Audio" course, said it was clear Freelain was putting forth effort, that he was serious about his studies and engaged in classroom activities.
"We really pride ourselves in teaching the underlying concepts and foundation to empower the students," Sutherland said. "Rasul is a model student in terms of taking those foundations and concepts and understanding that is what we are doing."
Sutherland said regardless of the field Freelain decides to enter, he "[has] a solid head on his shoulders."
Freelain said he is interested in pursuing a career as a college professor after graduating from Columbia.
"I think most people work hard and their hard work probably goes unnoticed because we tend to focus on things that are sensational or spectacular or controversial," Freelain said. "If you are just a normal good person, taking care of your day-to-day business, being positive and helpful, sometimes  goes under the radar."