'Admissions' urges self-examination amid college admissions scandals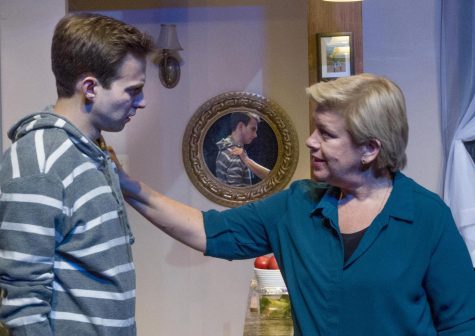 As head of admissions at Hillcrest Boarding School, Sherri Mason's job is to bring more diversity to the predominantly white student population. Her son Charlie dreams of attending Yale, but when he learns his application has been deferred, he believes it is because the school wants to increase its diversity quota.
"Admissions" uses comedy to approach touchy topics, such as race, gender and politics. The play will run until May 12 at Theater Wit, 1229 W. Belmont Ave., and student tickets can be purchased online or at the box office for $15. Theater Wit Artistic Director Jeremy Wechsler said the goal of "Admissions" is self-examination.
"It's very hard to approach these taboo topics without the edge of humor," Wechsler said, "especially in a play like 'Admissions,' where we're really encouraging a white, progressive audience to turn their eyes against themselves."
Kyle Curry, who plays Charlie, said the show features relatable characters anyone is able to recognize.
"It's funny because [the comedy is] true and the characters are real," Curry said. "The play is so much about tension, and the audience feels [uncomfortable] about the things they're discussing. When a joke is served up to them, they just want to laugh so much to feel a little less tense."
During the first few weeks of rehearsal, the Hollywood admissions scandals broke. Famous parents, such as Lori Loughlin, have been accused of rigging college entrance exams and bribing university officials to allow their children to attend prestigious schools.
In the play, the characters are not bribing anyone but they are doing some questionable things for admissions, including calling in friends at universities. The admissions scandal proved to be a "kind of tip-off that this can reach toxic levels of whiteness," Wechsler said.
One of the challenges the production team faced was casting. The play is written primarily for a white cast, but Wechsler said he was concerned about excluding people of color.
"This play is about some of the soft racism on the white, progressive side," Wechsler said. "Racism is white people's problem to solve. We're the ones chiefly doing it. I'm not sure we should get let off the hook by offloading the moral responsibility for this conversation onto characters of color
in particular."
Meighan Gerachis, who plays Sherri Mason, said she heard from several people they were happy there were no characters of color featured in the production to assume the responsibility of educating the white characters.
"People of color who have been [to the show have] said, 'I'm so glad [there] wasn't some magical character who was going to answer for all people of color against the massive monolith of white privilege,'" Gerachis said.
All of the characters have good intentions with what they try to accomplish, but everyone is a little hypocritical, Curry said.
"The play does a nice job of interrogating institutional racism as a larger topic through the lens of admissions," Curry said. "It asks a lot of questions and doesn't pretend to have the answers."