Ad Club's creative panel gives a glimpse into life after college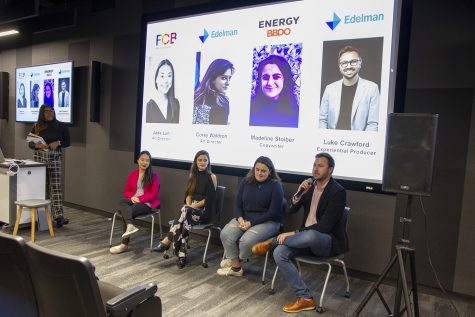 From stories of mini champagne bottles in gift baskets to working pro bono on a campaign for the HIV prevention pill PrEP, Columbia's chapter of the American Advertising Federation's first creative panel of the school year gave students a glimpse into the possibilities of their future careers.
With the panel comprised of four Columbia alumni, the Ad Club student organization hosted the panel Wednesday, Nov. 20 at the 1104 S. Wabash Ave. building, where the panelists explained to students what they could expect post-graduation.
"I genuinely hope that all of the students who participated and came to the panel learned a lot more about the creative industry and what their lives can look like after graduating from Columbia," said junior advertising major and Ad Club President Derian Silva. "While we are here, we are very engaged with our classes and might not consider the outside world until we get closer to graduation."
With jobs including junior copywriter, art director and experiential producer, attendees heard a variety of stories and were given advice on networking and keeping in contact within such a small industry.
"The quote I am kind of repping this year is, 'It is not who you know, but it is who knows you,'" said Jade Lun, 2015 art direction alumna.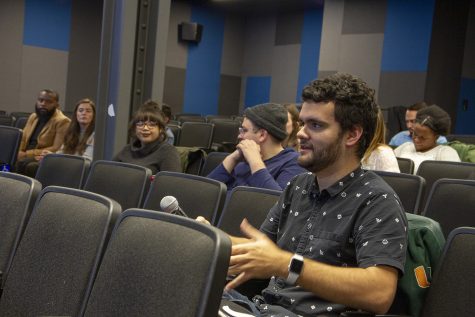 Lun, art director for FCB Global, a marketing communications company, has been in the advertising industry for four years and was invited back to the college to review student's portfolios. There was a lot of work to be done on those student portfolios, she said, and panels like this are places to help give insight and inspire graduating classes.
"It is [about] how you represent yourself and your brand that is most important," Lun said.
Corey Waldron, 2015 commercial photography major and creative advertising alumna, works for Edelman—a public relations and marketing firm— as an art director but spoke about graduating from Columbia in December. Trying to make sure recruiters knew who she was, she sent out gift baskets.
Luke Crawford, 2015 arts management and public relations alumnus and experiential producer at Edelman, told students they should find a way to be passionate about a project, even if they are feeling the complete opposite.
"You are going to be working late hours either way, so find something you like about it," Crawford said.
Lun recounted her experience with a PrEP, or pre-exposure prophylaxis, awareness campaign while freelancing at Leo Burnett, a global advertising agency. Lun reached out to her creative director with the idea to add a heater to a bus shelter, highlight one photo and create a collage for this campaign.
Silva said the panel brought real-life expectations for Ad Club, and it was a great platform for Columbia alumni in the professional field to debrief students.
"Columbia has a lot of great things available to students, and sometimes it would be cool to stop and look at the walls of posters [around the school]," Silva said. "The turnout was great, it is interactive. Everyone is asking questions. They're participating. I would love to see a lot more of that because we are a community."