Actor Phil Tyler: Making TV shows during pandemic 'made me a better artist'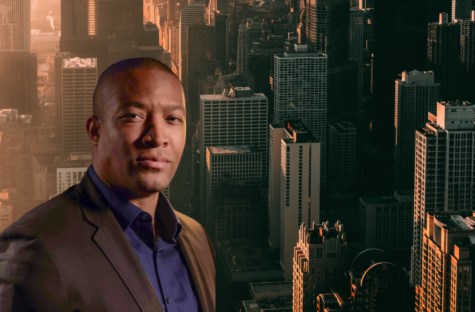 Editor's note: This article is one in a series of stories from the Communication Department's award-winning Echo magazine,  featured this summer on the Chronicle site.
_____________________________________
For actor and director Phil Tyler, working during the COVID-19 pandemic has been just another obstacle that he has adjusted to and drawn lessons from. 
Film and television has been one of the hardest industries hit by the pandemic, and with movie theaters shut down and production of TV shows delayed, creators are navigating the changes in the entertainment business. 
Ampere Analysis projected that the pandemic had delayed at least 60% of scripted television programming worldwide, and according to the Motion Picture Association, U.S. box office sales were down 80% in 2020. 
Jennifer Rudnicke, a casting director at Paskal Rudnicke Casting, says all auditions are done on Zoom or self-taped. 
"However, our prep remains the same. We are still sifting through all submissions, reaching out to actors that are out of town or not represented," she says. 
Tyler has coped with those same auditioning challenges, as he's found new roles to play.
What is the biggest way your career as an actor has been impacted by the pandemic?
For me personally, the workflow has been limited because you have to make sure everyone is being safe and doing what they need to. Even with big productions being as safe as they can be, sometimes things happen and you have to shut down and make sure that everyone is safe. 
It's harder. You have to be more focused and determined because during these times there's a lot of me time. So if you don't have self-discipline and peace of mind and know what you're focused on, then you can lose yourself in the moment. 
It's harder, but I think it's actually made me a better artist and helped me to focus where I need to, to be a better actor, director and creator. 
How has auditioning changed since the pandemic? 
If you're an actor, your job is to go in that room and make that casting director, casting associate, whoever is in the room, a fan of yours. A fan of your work, a fan of who you are, and build that rapport. 
You have to make sure that the work that you put into it comes across so that they see that you actually did the work, you studied the character, you studied the show and how this character fits in the ensemble. You take the time to study the director, the producers that created whatever project you are auditioning for. 
Could you walk me through a day on set in the times of COVID-19? 
Before you even get to set you have to, in the world of COVID, make sure you're tested. You fill out a quarantine questionnaire to make sure you've been doing everything that you need to be doing for your own personal safety, before even asking you to take a test. Even if they say, 'Hey you're the one that we want,' if you don't pass the questionnaire, you don't pass the COVID test, then you don't get that job even if you were the top choice.
Some productions have you do the COVID test on your own, other productions, especially the bigger productions like, at Cinespace Studios with 'Chicago P.D.,' 'Chicago Fire,' all those Dick Wolf shows, they make sure that you're tested every day. 
When you are on set you have to wear a mask; all the crew and the cast are safe-distancing. The only time that you remove your mask is just before we are about to call action. We have someone who is a safety liaison that comes and takes the mask and makes sure that they are safe, so when they give you the mask back it's not contaminated or anything like that. 
Every production that I've been on has been on point in making sure that it's safe for us and we can get to work and do what we love. 
Do you see any positives in the crew sizes being smaller now? 
Everything works faster, in my experience, because everyone is making sure safety is at the front of every production. Everybody is more [efficient] and on top of things and self-aware, which is great, but at the same time, of course, we would like things to go back to where they were. 
Do you foresee any of the changes happening now changing the industry as a whole in the future? 
It already has. Think about how we view things, right? There are so many endless streaming platforms, and a lot of these platforms are restricting theatrical releases and just putting it on their platform or they are releasing it on the same day that it is released in the theater. The box office has been hurting. It was just the other weekend, I believe, 'Tom and Jerry' was at the top of the box office at $4 million, and that's something that's like OK, yes, change has already hit, and we just have to be prepared for that. 
What advice would you give to people who are trying to break into the business during this unusual time? 
Do not stop. Don't get discouraged. It doesn't matter what [the industry] looks like. The only thing that matters is where your mindset is and how determined you are to get where you want to be. Regardless of what it looks like, regardless of the obstacles. If anything, use this time to fine-tune your craft. Use this time to get to know [yourself] and how far you want to go with your dreams and your passions and your desires and how to get there. 
Now is the time to map out [your career]. If you are an aspiring actor, there's YouTube, there's TikTok. People are getting discovered on TikTok, so you know there's no excuse as to why you can't showcase what makes you uniquely you and the passion you have for this art.
_____________________________________
The 2021 issue of Echo will be available this summer on newsstands across campus, and PDFs of all issues are available online.