Members vote on program additions, discuss internship changes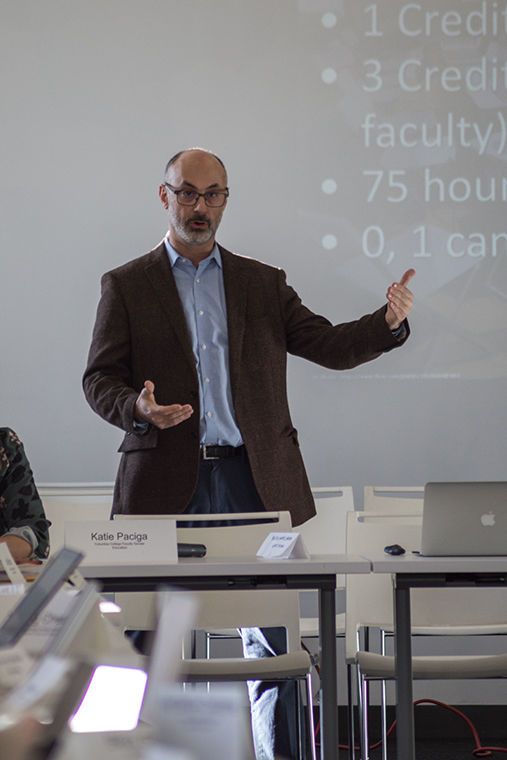 Faculty Senate members voted to push new academic programs forward for final approval and discussed changes the way internships are taken for credit during their Dec. 8 meeting.
New programs approved at the meeting include graduate degrees in user experience design from Interactive Arts and Media, Civic Media from Communication and a Master of Fine Arts from the School of Fine Arts.
Faculty also okayed offering bachelor of arts degrees in English as well as a minor in social media and digital strategy. The vote was unanimous, and now Senior Vice President and Provost Stan Wearden will consider approving these measures.
Erik Friedman, associate dean of Career Development and Industry Relations, gave a presentation on proposed changes to internship management. Friedman said every department currently has a different process of awarding credits for internships, which points to a need for a uniform procedure.
"Internships are an exploration tool. A student may be in a major and never did an internship and worked in that industry," Friedman said. "If all of a sudden they do it and don't like it, and [they are] a senior, it's a little too late. We want students to explore different aspects of what they're interested in to find the right match."
The recommendation includes a requirement that students have a cumulative 2.0 GPA and 30 credit hours completed—instead of a 3.0 GPA and 60 hours—in order to seek internships, as reported Nov. 17 by The Chronicle. This will allow students to apply for internships as early as sophomore year, so they have time to assess their career path, Friedman said.
The change will also allow students time to explore internships outside their major, he added.
The proposal also contemplates enrollment in a new 3-credit course to be taught concurrently with the internship for students who have completed at least 75 credit hours, according to Friedman. An on-campus internship program is still being developed, Friedman said.
Chamille Weddington, associate professor of Instruction in the Business and Entrepreneurship Department, asked Friedman about employers satisfying the U.S. Department of Labor's standards for internships.
Friedman assured those present that internships will meet federal standards differentiating internships from jobs because students will receive guidance and education from employers while gaining insight into their future fields.
Friedman said overall, there are a lot of great internship opportunities that students are not necessarily taking advantage of.
"We need your support to help encourage students looking for those internships that they're going to be able to connect with us [and] connect with those positions. Then it's a triangle between all of us," Friedman said.
In other business, Ava Chaterjee, associate professor in the Humanities, History and Social Sciences Department, brought up an email from the provost about merit-based increases, pointing out that problems that could result from using student evaluations as a determining factor.
"There's always the danger you don't get a lot of people who actually fill out those," she added. "Then, there's the other danger for the ones who do decide to complete it [and] are the angry ones, so I would like to have some discussion around that."
Joan Giroux, associate professor in the Art and Art History Department, suggested ways to provide incentive for students to fill out course evaluations, as students feel too preoccupied with finals to fill them out.
"My students suggested they just do it after finals and can't access their grades until they fill it out," Giroux said.