Students bring alumna's brand 'to the next level'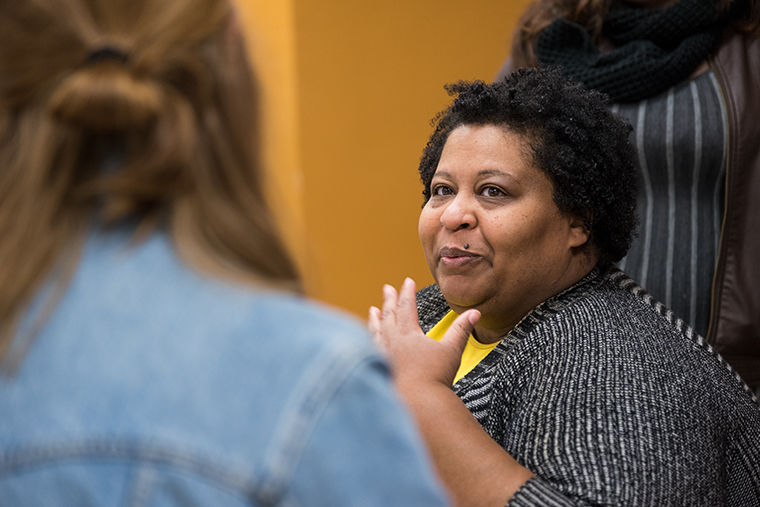 Several Columbia seniors worked hard over the semester to rebrand comedian and 1999 alumna Erica Watson as a semester project for their "Graphic Design Practicum" course.
Watson, an on-air contributor for Windy City Live and The Jam, said she first applied for the opportunity to have students rebrand her image when she saw a post on the Columbia alumni Facebook page over the summer. Watson said she needed an update because she thought her current promotional materials did not represent her correctly.
"It was time for me to be able to say, 'This is what the Erica Watson brand is, this is what it looks like, and this is who she is,'" Watson said.
Students who worked on the project as a team included senior graphic design major Brian Lancaster-Mayzure, senior graphic design major Haley Fischer and junior graphic design major Cecsily Bianchi.
The three students created a website, logos for her personal and business brands, social media avatars, email templates, a poster for her tour and business cards. They are also creating an electronic press kit on Watson's website for potential employers.
"I had hired people before to do graphic design work for me, and students at Columbia have been probably the most polished and professional graphic designers I have ever worked with in my career," Watson said.
Watson said she was not sure the students would be able to design everything she needed, but they tackled the tasks assigned without any problems.
Fischer said Watson granted them the creative freedom to design what they wanted as long as they understood the message she wanted to communicate.
Throughout the course, Lancaster-Mayzure said, they learned a lot about project collaboration in order to create the designs.
"Our goal we set for ourselves is that we want this to propel her to the next level," Lancaster-Mayzure said. "She showed us some of her peer group's websites and it's nowhere near this."
Watson said these kinds of courses at Columbia help propel students into the working industry after college.
"It's important students get real hands-on practicum experience while they're pursuing their degrees," Watson said. "Being a part of this made me even more proud to say I'm a Columbia College graduate."