King, queen crowned at Blood Ball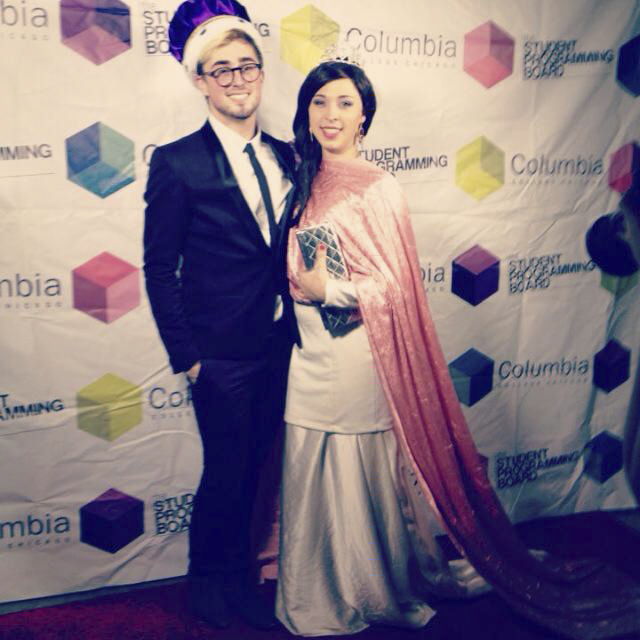 A new king and queen came to power March 7 at Columbia's Blood Ball, an annual dance honoring Columbia's original founder.
This year's Blood Ball royalty featured sophomore theater majors Sasha Markgraf, crowned queen, and Chase Ingrande, crowned king. The Blood Ball took place in the Conaway Center, 1104 S. Wabash Ave.
Ingrande and Markgraf won after posting videos announcing their candidacy before Feb. 10 on the Blood Ball website. Candidates who ran for the royal court then canvassed for votes in an online poll. Winners were announced at the dance.
Essentially the college's version of a prom, Blood Ball is held to commemorate Mary Blood, the woman who founded the college in 1890 and served as its president when it was originally named Columbia School of Oratory. She worked at the college until her death in 1927.
Ingrande, a Las Vegas native who moved to San Diego when he was 12 to attend a private art boarding school, was a nominee last year but did not get enough votes to win. A member of Droppin' $cience, the college's improv team, Ingrande is involved in the college's new comedy studies program and said he loves the art of improv. In his spare time, Ingrande paints and auditions for acting roles across the city.
"Improvising has been super huge for me since coming to Co- lumbia," Ingrande said. "I had improvised a little in high school but coming here has opened a whole new world."
Markgraf, a native of Burbank, Calif., was also in the running last year but he was unable to finish the competition because of controversy. First attending the college as a dance major, Markgraf switched to theater after torn tendons forced him to undergo knee surgery. After his surgery, he focused his studies on costume design.
The Chronicle sat down with Ingrande and Markgraf to discuss Columbia, the Blood Ball and why they ran for king and queen.
THE CHRONICLE: Do you think it is important for students to know about the college's origins? What do you think Mary Blood would think about Columbia now?
SASHA MARKGRAF: If Mary Blood was here now, she would probably be very impressed that the school she created is so diverse now and overwhelmingly amazing. People feel so welcome. It's great to look back and say, "Look at what you did and look at what you created."
CHASE INGRANDE: I think it's important because I didn't know who she was. When I first heard about Blood Ball I thought it was some weird name Columbia decided to [use]. I thought, "what a cool way to recognize our school as an entire unit." Everyone coming together and having fun is a great way to ac- knowledge who she was.
CC: Why did you run for Blood Ball king and queen?
CI: I have a kind of obsessive need to win things in general, even when things aren't a big deal. I love competition. I was prom king in high school. When I found out Columbia had a kind of prom I was like, "Oh my god, I have to win." I ran last year as a freshman and I was extremely close to winning. This year I stepped up my game and made a better video.
SM: I didn't want to run for king, but that's the normal thing to do if you're a guy. I'm an openly gay male. I wanted to get out there and want- ed to show that just because I'm a guy doesn't mean I can't be queen, and I wanted to show that just because I'm a guy, I don't have to dress like a guy. I thought the dress should go with the red carpet look and see what the reactions were. I made the entire outfit from scratch, and I thought showing what I am capable of doing was important.
CC: What influenced your decision to attend Columbia? How does Columbia's environment compare to your high school?
CI: It's night and day. For four years [in high school] I was surrounded by trees and mountains. It was so quiet. I was only allowed to leave campus on weekends. It was completely cut off, but I was surrounded by people constantly creating art. It was hard not to get inspired. But coming [to Columbia], it was hard at first. It was a wake-up call that life isn't up in the mountains if you want to be an artist or a performer. Chicago is very crowded and un- comfortable at times, but I love it here. If I want to do what I want to do, this is the place to do it.
SM: I wanted to get away from the normal California life and home. I wanted to break free from staying at home and become more independent. My parents met in Chicago, so I wanted to live here and see what it's like. [I'm] not too fond of the winters, though. Columbia's a very diverse and open-minded school. I didn't want a cookie-cutter college education. I wanted some- thing more free-willed. I think if I had gone to a [traditional college], I probably wouldn't have gotten to experience the open-mindedness of the faculty and students. Columbia is more open to you following your dreams.
CC: Sasha, what inspired your dress design?
SM: I wanted to go off the designs from the Oscars and see the flowiness. There were fuller-figured gowns, but my figure doesn't go with full. I looked at what Jennifer Lawrence wore because she's a very iconic person right now with fashion. I also looked at Audrey Hepburn and wanted to fuse the old look with the new look.
CC: What message do you hope attendees took away from the festivities?
SM: I wanted to make a point of proving to myself and others that if you don't at first succeed, try again. I wanted to prove that I can win this to prove how diverse [the college is]—you had two gay guys win. I felt more open about who I was, and it opened me up to a whole new world and put it out there that you can strive for what you want. Everyone was a great contender. What separated me was that everyone else was female and I wasn't. We all had our own quirkiness.
CI: It just shows how different of a school we are. Seeing a guy win and another guy win dressed as a girl, it's just so Columbia. I wouldn't expect anything less. You should expect the weirdest things to hap- pen here. It may come as a shock to some people, but here, it flies over people's heads.