Columbia adds Arc to upcoming housing, drops two dorms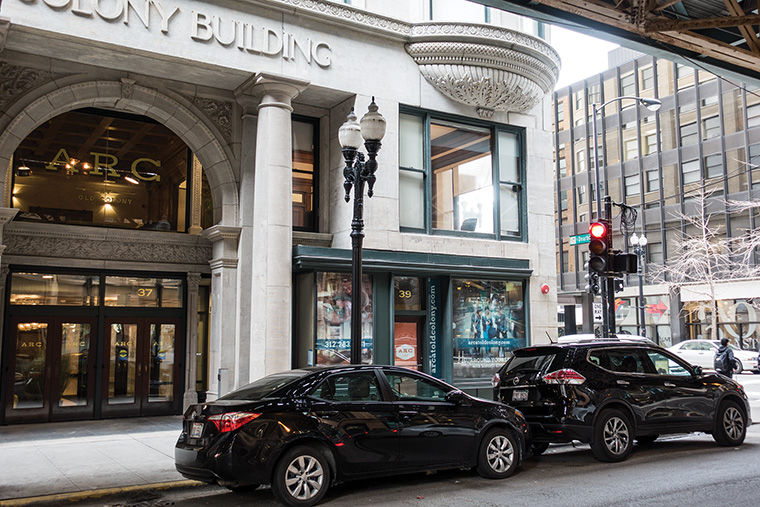 Columbia's housing options for the 2017–2018 academic year will feature a new residence to replace the two buildings that will be taken off the portfolio starting in Fall 2017, according to a Feb. 24 email to students.
The dorm buildings at 777 S. State St. and The Flats, 829 S. Wabash, will no longer be Columbia student housing options.
Students who will be 20 years old by the start of the next academic year will be eligible to reside at the Arc at Old Colony building, 37 W. Van Buren St., joining the college's other three residence buildings: The Dwight, 642 S. Clark St.; the Residence Center, 731 S. Plymouth Court; and the University Center, 525 S. State St. According to Mary Oakes, director of Residence Life, Columbia took the opportunity find a new residence building after the leases for 777 S. State and The Flats expired.
"We felt it was necessary to do our due diligence in acquiring spaces for the next academic year to see what it is we could get for our students that was most affordable as well as a good fit for our portfolio for the college," Oakes said. "In doing that, we were able to find Arc as an option for our students."
Oakes said Arc's amenities made it a good fit for Columbia students. The building provides a 24-hour fitness center, community areas and individual study spaces, according to Arc's website.
"When I first walked in, it was like this good feeling of 'Wow, this is a really nice reserved building where you can get stuff done,'" Oakes said. "We really look forward to utilizing those spaces as best as we can to promote community in the building itself for our students."
Oakes said the age requirement was put in place to help older students focus on graduation and acclimate them to what life will be like post-graduation.
"Sometimes for students that are 20 and over, they have a different focus to be able to get focused on their studies so they can graduate and become successful artists," Oakes said. "It's like a step beyond residence living, an interim step between going into the real world apartments but with still that residence hall community component to it, and that's what I like about it."
Oakes added Columbia's use of this building will include the same policies and regulations as other Columbia dorms, including Columbia's dry campus policy and housing prices. Students who rented apartments in the Arc previously were not under the dry policy.
Oakes said current Arc residents will be finishing up their leases before Columbia begins using the building, and any current residents who are also Columbia students are invited to apply to continue living there through the college.
According to the Residence Life website, apartment options for Arc include a shared bedroom in a shared apartment for $5,119 per semester, and a private bedroom in a shared apartment for $6,913 per semester.
According to Columbia's Student Financial Services website, for the 2016- 2017 academic year, 777 S. State offered double occupancy in a shared apartment for $4,985 per semester and a small shared bedroom in a shared apartment for $4,730 per semester. The Flats offered a single studio apartment for $7,428 per semester and double occupancy in a shared apartment for $4,985 per semester.
"We're always looking for a best financial sound component for [students'] housing, so it's always important to get a good price as well as amenities conducive to a living and learning environment," Oakes said.
Bob Flannery, chief operating officer at CA Ventures, a real estate investment holding company that currently owns the Arc building, said it is the perfect fit for Columbia.
"The aesthetic of the Columbia student is one that appreciates history, art and culture and Arc has all of that," Flannery said. "It's actually a great mirror of Columbia, a college that has a focus on arts, culture and history but also wants to position itself as contemporary at its core."
Michael Arnold, a sophomore design major, who lives at 777 S. State and is eligible to stay at Arc next year, said he is looking into applying for housing at the building, but is unsure of how having fewer dorm buildings will affect the other three residence buildings the college offers.
"Other spaces are going to end up crowded," Arnold said. "The [University Center] is shared by multiple other schools, Plymouth isn't the biggest space either, [and] The Dwight always gets packed. There's not too many other spaces, so what does that mean for other students?"
Chloe Graham, a 2016 business & entrepreneurship alumna, said she lived at Arc during her last year of college, which was the building's first year open as an apartment building, and enjoyed her experience there. Graham said she does think it is a good steppingstone to post-graduation living.
"The [building's] amenities are really nice, everything is included, and it's really spacious depending on the room you get," Graham said. "It gives a more apartment feel, it's more official [and] more free than the rest of the dorms."
Oakes said Arc allows the college to best serve its students.
"This new building allows us an opportunity to look at how it is that we're serving our students," Oakes said. "It's something the college was doing for a while to shop around and get the best for our students."