Professor explores Chicago with adult coloring book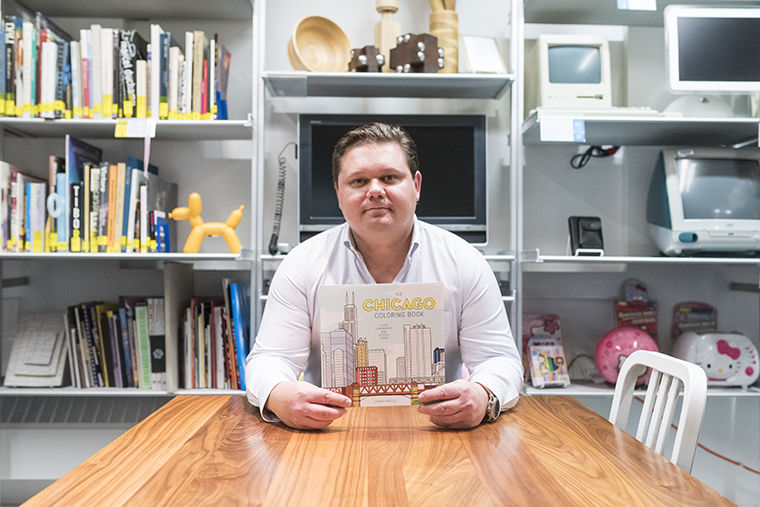 A Columbia faculty member's new adult coloring book was designed to bring Chicago's historic architecture and landmarks to life by venturing into a new art form.
Chris Arnold, an associate professor in the Design Department, began creating "The Chicago Coloring Book: Iconic Landmarks and Hidden Gems" at the end of May with Agate Publishing Inc.
Trying to transform familiar locations into designs and finding new gems in the city, Arnold said he looked at the city both as a local artist and as a tourist.
Arnold said he was thrilled to be part of this project and transform Chicago into art that can be enjoyed by a wide audience.
"I love the idea that the book is something special for the city," Arnold said. "I felt really honored that I was able to do this as an illustrator."
Arnold is an illustrator and fine artist, but said this is the first coloring book he has created. He added he had to let go of architecture rules and think more artistically to create a successful design.
"There isn't necessarily a rule to this," Arnold said. "Once I started purging that idea out of my mind, I started to realize it's really important to give [the user] a very nice guide through line work and movement and try to give them a sense of location, as opposed to these complete works of art."
"The Chicago Coloring Book" was published Nov. 8 and is available for purchase at book retailers and online.
Doug Seibold, president of Agate Publishing Inc., said "The Chicago Coloring Book" is also the company's first venture into the realm of coloring books. He added that the book is part of its Midway Books imprint, a section of publishing completely devoted to Midwestern topics and authors.
"['The Chicago Coloring Book'] was our attempt to do something within our Midway imprint, [that] would be Chicago-focused, [and] we hoped would take advantage of one of the biggest phenomenon in the publishing industry over the past two years," Seibold said, referring to adult coloring books.
Morgan Krehbiel, design and production manager at Agate Publishing Inc., who was in charge of finding an illustrator for this project, said she hand-selected Arnold for the job after viewing his online portfolio.
"I wanted something that was really clear and defined," Krehbiel said. "As soon as I saw Chris' work, I knew I wanted to work with him. It was just like the heavens opened up. [I thought], 'This is exactly what I want.'"
Krehbiel added that the first piece of artwork she saw of Arnold's was a drawing of  New York City's skyline. She said his art had everything she was looking for—strong line work that clearly depicted the subject.
From iconic landmarks including the Cloud Gate sculpture, commonly known as "The Bean," and the Willis Tower, to signature foods like Chicago-style hot dogs and deep-dish pizza, Arnold said he tried to encapsulate all that makes Chicago great.
"What I didn't know until I got into the project was how much I really connected with the city and how important the city is to me personally and how important the city is to both the person that visits here and a person that's lived here their whole life," Arnold said. "My hope is that this book helps those kinds of people connect with their city in ways they didn't know [before.]"