'Death by Dying' passes on to Top 150 Podcasts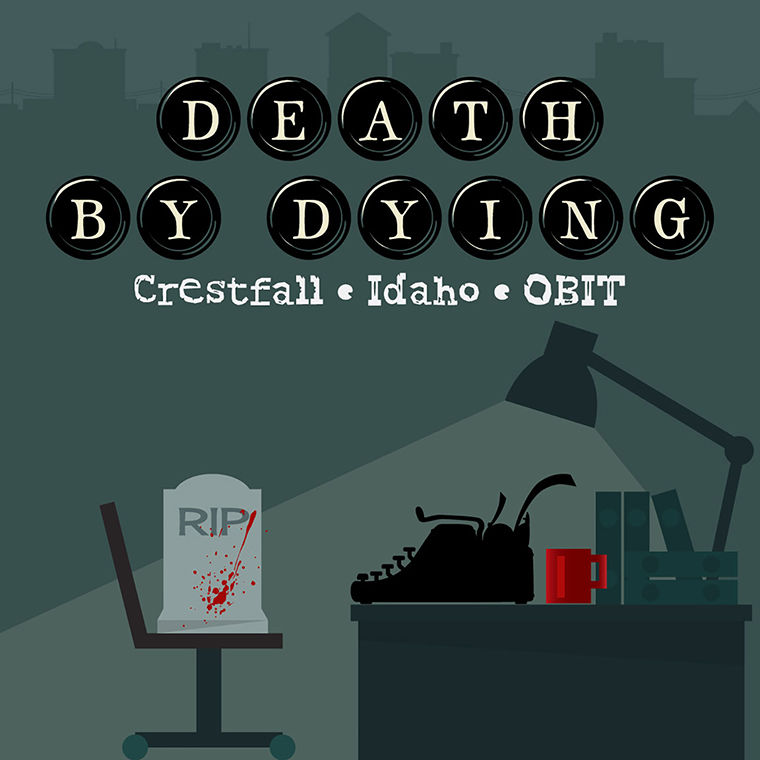 Martin was a good person. He volunteered at the local church and enjoyed chocolate chip pancakes, and after he died, his soul inhabited a bicycle.
Martin's story may seem outlandish, but in the town of Crestfall, Idaho, it is not uncommon.
The tales of Crestfall are chronicled in the podcast "Death by Dying," which is produced by senior cinema art and science major Evan Gulock, along with Niko Gerentes, 2018 interdisciplinary arts alumnus and  casting director, and Josh Giordan, creative producer  and 2018 cinema art and science alumnus.
"Death by Dying" follows an obituary writer, voiced by Gulock, as he investigates deaths around the town.
"On his journey, he encounters murderous farmers, man-eating cats, haunted bicycles and a healthy dose of ominous shadows," reads the description on Apple Podcasts.
George Zarr, associate professor in the Communication Department, said he was impressed by the creativity of the script.
He remembers when Gerentes was presenting a piece of the podcast to a class of "Introduction to Radio" students.
"I told him later you got it, you got it," he said.
There are five episodes and one additional live episode in the first season, which debuted in October 2018. A longer second season is slated to be released in May 2019.
"Death by Dying" recently cracked the Top 150 in Performing Arts podcasts on iTunes and has around 10,000 downloads. Gulock said Apple Podcasts does not state exactly how many listeners or subscribers they have.
"I seriously started tearing up [when I found out]," Gerentes said. "Imagine creating something … and you see it on the shelf at Costco or Target."
The podcast is almost entirely Columbia made, with the trio using on-campus studios and a majority of the voice actors coming from Columbia, including three professors.
Gulock and Giordan were writing partners in "Radio Podcasting" at Columbia when "Death by Dying" started. Gulock said he did not want to complete the assignment, because it called for only one episode; instead, he preferred a series.
"It was humorous [that] I was in a class full of people who only listened to NPR, and I was presenting a story that had bird people, murder mystery and a giant cannon from the Civil War that gets [shot] off every time someone dies," Gulock said. "We got anonymous feedback every time, … and one person said, 'I prefer my fiction in books.'"
After hearing the podcast, Matthew Cunningham, WCRX faculty advisor and professor of the podcasting class, emailed Gerentes and asked him if he wanted to be part of it.
"I don't know what it was, but I was just drawn to it," Gerentes said. "[I thought], 'I don't really understand what I'm listening to, but I want to buy it, I'm in.'"
Originally, the podcast was not supposed to be funny or whimsical, but the comedy aspect naturally bled into the whole process of creating the first episode, Gulock said.
"The line between humor and horror comes back to emotion," Gulock said. "Something we highlight in the show, even in its most absurd moments, is our characters have genuine human emotion invested."
In the first season, the trio would rewrite the script to bring in that emotional element, even if they thought the episode was already funny, Giordan said.
"Even if the world is obscure, the people are very human," Giordan said. "That's what the first season was about—how do you handle grief?"
He added that they were able to reflect on what it is like to deal with death and mourning by just changing a few lines.
"That's what I love about it," Gerentes said. "Everybody has experienced these emotions before."