'A sterling example of what journalism should be': Ida B. Wells wins Pulitzer Prize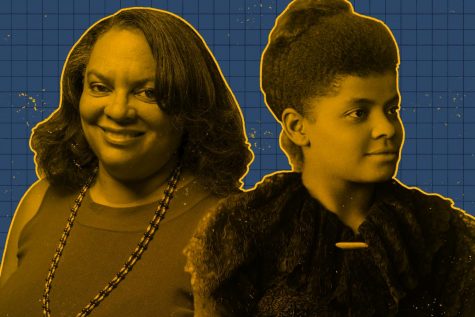 For Michelle Duster, great-granddaughter of legendary activist and journalist Ida B. Wells, the recent award of a posthumous Pulitzer Prize is another vindication of her great-grandmother's contribution to the country, even if it comes 137 years after she refused to exit a "whites only" train.
"For her to get the recognition at this point in time is just a testament of how impactful her work was in order for it to be relevant many years later," said Duster, an adjunct faculty member in the Business and Entrepreneurship Department. "It is exciting that people today feel impacted by her work."

On Monday, May 4, Wells was awarded the most prestigious award available for journalists: a Pulitzer Prize special citation. Nearly 90 years after her death in 1931, Wells was recognized for her "outstanding and courageous reporting on the horrific and vicious violence against African Americans during the era of lynching."
The Pulitzer Prize board also awarded $50,000 "in support of her mission," and recipients of the fund will be announced at a later date.

Duster, president of the Ida B. Wells Memorial Foundation, and her family have fought to keep Wells' name alive over the years. As recently as last February, Chicago honored the activist by renaming a street after her,

Born to enslaved parents, Wells was freed by the Emancipation Proclamation during the American Civil War and in the early 1880s moved to Memphis to live with relatives. In 1884, she refused to leave a train car to move to a "colored only" car and wrote about the injustice. She went on to write more about race and politics, putting her own life at risk.
Wells' career as an investigative journalist began with an editorial campaign in 1892 in Memphis after her friend Thomas Moss and two other black men were lynched for opening a grocery store that competed with a white-owned grocery store in the area.
Wells began interviewing people associated with lynchings and wrote unbound books, known as pamphlets, on her findings. When her newspaper office, The Memphis Free Speech and Headlight, was burned down, she moved to Chicago.
Wells' journalism and activism continues to inspire burgeoning reporters, including those at Columbia where two courses have been taught focusing on Wells.
Lillian Williams, a former associate professor in the Communication Department, instructed a 2018 J-term course on Wells' legacy.
"When she saw a problem, and she saw a big one, she said 'I am going to do something about that,'" Williams said. "She is a sterling example of what journalism should be."
Coursework ranged from analyzing Wells' writings on lynchings to studying her time in England in 1894 for the column "Ida From Abroad." Williams also asked Duster to speak with the class about her great-grandmother's legacy.
"It really inspired students to look at how they could also make contributions," Williams said. "[Wells] was an investigative reporter before that whole genre became categorized in newsrooms. She was before her time."
Duster said she hopes more universities will offer courses and programs about Wells.
Duster and Wells' other descendants hope to keep her legacy alive through a second-edition autobiography coming out Wednesday, May 13, leadership programs and scholarships, Duster said. The autobiography includes a forward by sociologist Eve Ewing and an afterward written by Duster.
Duster is currently working on a biography about Wells also, which is scheduled for release next year. With all the information she has on her great-grandmother, Duster said her biggest challenge has been figuring out what to focus on and how to make this biography different.
"Learning how she managed to navigate that kind of difficult working environment can be helpful," Duster said. "I still think that people can be inspired by how she stood very strongly in her convictions, and she was not manipulated or moved by criticism. She seemed to not care [about] how many people got mad at her."