A Chronicle guide to what first-time renters should know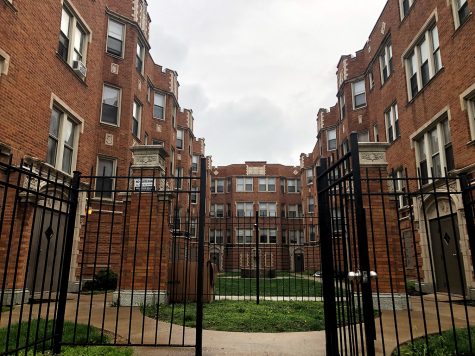 As the school year comes to a close, leases for apartments are ending and first-time renters have a chance to find a place that is both accommodating and affordable.
"The pandemic has turned a lot of things upside down and has kind of shaken the market right now," said Jay Koziarz, editor at Urbanize Chicago. "For someone who wants to take the time to search, you could probably find a deal."
According to data reported by Apartment List, Chicago rent prices are down 10.2% from where they were the same time last year and are more affordable than many similarly-sized cities across the country such as San Francisco and New York.
The median rent price for a one-bedroom apartment is $1,131 per month and $1,247 for a two-bedroom.
Whether you have thought about it before or not, renting an apartment in the city can be intimidating, with factors to consider like finding roommates, picking a neighborhood and sifting through a list of units, while also figuring out your rights as a renter.
The Chronicle talked with experts around the city to compile a list of advice to help first-time renters find a new home before next semester.
Finding an apartment
Choosing the right apartment to live in can be a balancing act between finding a place near one of the Chicago Transit Authority's train lines or being close to newer developments in trendier neighborhoods like Logan Square, Koziarz said.
First-time renters can check online reviews of the apartments on Google and Yelp, but Koziarz said no amount of reviews can give people the same feeling as experiencing the unit and neighborhood in person.
"I recommend walking around the block … and getting a feel of what the area is like, especially if you're new to the neighborhood," Koziarz said.
He also said another factor to consider is for people to find an apartment comfortable enough to work from since this last year has evolved the home space into an extended workplace.
Know your rights
Outside of finding an apartment, another issue first-time renters run into is figuring out their rights and knowing what to research before committing to a lease agreement.
"If there's some really great unit and somebody says, 'I'm gonna rent it to you for $800,' … pay attention to your inner sense of these things," said Michelle Gilbert, legal and policy director at Lawyers' Committee for Better Housing, a Chicago non-profit law firm that focuses primarily on low- and moderate-income renters. "If it sounds too good to be true, it probably is."
Gilbert, who has spent 35 years as an attorney fighting for tenant rights, said, for the most part, Chicago's Residential Landlord and Tenant Ordinance is good because it prohibits landlords from having leases that require tenants to give up certain contractual agreements.
Some of these agreements can include giving up any notice of termination or a confession of judgment, otherwise known as a written agreement where the tenant agrees to any judgment against them and would allow a landlord to file a court order against the tenant without them knowing.
However, an issue with the ordinance is that it does not cover owner-occupied properties where there are six or fewer units, which Gilbert said first-time renters should keep in mind when making their final decision.
Gilbert said another factor to consider is making sure everyone living in the apartment is on the lease agreement, because if someone decides to leave, the other roommate who stays will be liable for everything including rent.
"You want to be on the actual lease because … you don't want to be in a situation where a person can try to put you out," she said. "You want to know who the landlord is and [ensure] that the landlord knows who you are."
Gilbert also said to look out for landlords who charge more than $25 to $35 for a credit check since some can charge upwards of $100 for a credit report.
Resources to use
Once people have an apartment in mind, Gilbert said it is useful to look up the building's address on the City of Chicago's Department of Building Permit and Inspection Records website and find out what repairs and inspections the building has had in the last 10 years or so.
She said the Cook County Property Tax Portal is a good tool to learn if the landlord's taxes are paid in full and whether or not the building is being foreclosed. Any lawsuits against the property owner are also noted as "lis pendens," and information on who owns the property is listed under "Documents, Deeds & Liens" on the tax portal site.
While searching for an apartment can sometimes be as easy as finding a "for rent" sign in a window, more times than not, it becomes a challenge of finding a unit that is both fairly priced and has ample space.
Koziarz said websites like Domu can help lighten the load by automatically narrowing preferences for certain types of apartments or policies, and other sites like HotPads verify landlords before they list apartments and offer users the ability to get alerts on specific listings, especially newer ones.
"We're coming out of the pandemic, and we're starting to reopen and do things outside of our homes, but I think this past year we've all had to be in our spaces," Koziarz said. "It's that much more important that you get a space where you are spending your time there and also doing your work."