A.C. Smith and Chuck Smith talk about 'Gem of the Ocean,' time at Columbia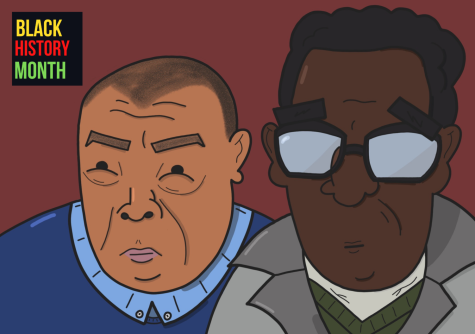 The Goodman Theatre's resident director Chuck Smith and actor A.C. Smith both stumbled into acting careers with no previous intentions of doing so. Years after the start of their theatre careers, the former Columbia professor and Columbia alum now find themselves involved in the theatre's second production of August Wilson's "Gem of the Ocean."
"Gem of the Ocean" marks the first of 10 plays in playwright August Wilson's Pittsburgh Cycle and is set in 1904 in Pittsburgh's Hill District. When a man by the name of Citizen Barlow arrives from Alabama in search of a new life, he lands on the doorstep of Aunt Ester, the play's 285-year-old matriarch. The audience then follows Barlow on a journey to spiritual awakening.
"Gem of the Ocean" is showing at the Goodman Theatre at 170 N. Dearborn St., until Feb. 27. Proof of vaccination and face coverings are required in the theatre.
A.C. Smith, a 1986 Columbia alum from the theatre program, plays the role of Eli, one of Aunt Ester's caretakers.
A.C. Smith said theatre was not something he planned to pursue. Smith said when he started as a business major at another school before coming to Columbia, he took a humanities course that included improv exercises.
A.C. Smith said he was considered one of the best at the exercises in the class. After inquiring about schools that offered acting, his professor recommended Columbia.
"I chose Columbia and since then, I never looked back," A.C. Smith said.
Chuck Smith was fresh out of the Marines and working as a mail carrier when he connected with friends working in a theatre group at the former Michael Reese Hospital in Bronzeville. They told him they were looking for an actor for an upcoming show.
"They needed an actor my size … because the previous actor dropped out and they didn't have time to find new costumes … so they were looking for me," Chuck Smith said. "So I went down there and to make a long story short, I walked into a theatre and never walked out."
Chuck Smith was also a professor in Columbia's Theatre Department from 1984 until 2007.
During A.C. Smith's senior year at Columbia, he and Chuck worked together on a production of "A Soldier's Play," in which Chuck said A.C. was "fantastic." Since then, they have worked together in other plays, such as the Goodman's 2015 production of August Wilson's "Two Trains Running."
Chuck Smith said it is exciting to be directing "Gem of the Ocean" now after being a dramaturge and working with playwright Wilson in the original production of the play, but added that a lot has changed since its premiere on April 28, 2003.
In "Gem of the Ocean," A.C. Smith's character, Eli, was also an Underground Railroad worker along with the character Solly Two Kings. A.C. Smith described Eli as a "tough guy" and someone who helps the people in the town in need.
A.C. Smith said "Gem of the Ocean" is not the first Pittsburgh Cycle play that he has acted in, and he enjoys them all.
In addition to "Gem of the Ocean," Chuck Smith has also directed four other plays in the Pittsburgh Cycle, including "Ma Rainey's Black Bottom," in which he worked with August Wilson; "Two Trains Running"; "Piano Lesson"; and "Jitney."
"I just love August Wilson," A.C. Smith said. "I'll do [the plays] anytime, anyplace, top to bottom, side to side."