Republican governor candidates confident about leading Democratic state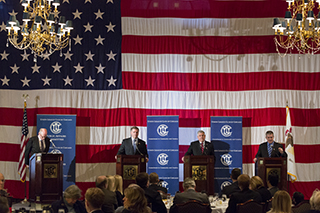 Three Republican governor hopefuls expressed confidence during a Jan. 22 candidate forum that a GOP candidate will assume Democratic Gov. Pat Quinn's position in the 2014 election.
Republican candidates Bill Brady, Kirk Dillard and Dan Rutherford gathered at the Republican Gubernatorial Candidate Forum at the Union League Club of Chicago, 65 W. Jackson Blvd., to debate lowering taxes and pension reform, in addition to discussing how a Republican can lead alongside Illinois' mostly Democratic lawmakers.
Bruce Rauner, the perceived frontrunner, was absent for the second forum that week, giving his opponents a chance to speak against the rookie candidate who has been accused of trying to buy the election by touting his wealth and relying on television ads to appeal to voters.
In October, Rauner pledged to take on Democratic House Speaker Michael Madigan.
While Rauner has vowed to challenge Democratic politicians, his competitors seized the forum as an opportunity to assert their willingness to work with the state's Democratic leaders.
"Ronald Reagan and Tip O'Neill were adamant partisans, but they were able to work together and help make America a better place, and I believe I have the capacity to do the same thing," Rutherford said.
Dillard said his service in former Gov. Jim Egar's administration provided valuable experience.
"I have the bipartisan chops and the proven track record as a state senator and a chief of staff and as a legislative director to work with a Chicago-led legislature successfully," Dillard said.
Brady also lauded his experience collaborating with Democrats on pension reform, stating that he was the sole Republican to work with them.
"[I] convinced them that we needed meaningful pension reform and put forth a program that's going to save us $160 billion in the next 30 years," Brady said.
Brady said he promises to emphasize fairness over the corruption of former Illinois leaders.
"We need a good governor in Illinois," Brady said. "We need a governor who can represent all of Illinois, and we need someone who's got the fortitude and the plan and the vision to move our state forward."
Dillard also said Illinois' political structure needs to change, beginning with lowering taxes.
"We must have a top-to-bottom comprehensive overhaul of our archaic tax structure in Illinois," Dillard said. "Not only is it archaic, it is unfair and it is too high."
Brady agreed that the state's tax structure should be reevaluated, criticizing the 67 percent income tax hike that went into effect during Quinn's time in office.
"As Governor of this state, I'll not only make sure that income tax falls off, but I think we need to put us on a path that moves us from the dark ages of taxation to a path that moves us to the forefront," Brady said.
Dillard said he thinks a constitutional amendment should be made to help balance the state budget rather than continually raising taxes.
"If you want one gamechanger in state government, with my experience, we need a constitutional amendment to balance the state budget," Dillard said. "I want a thorough, comprehensive discussion on tax reform and tax fairness."
Addressing the possibility of the pension reform bill being overturned, Brady said he believes the bill will be accepted, adding that he thinks too many governors have underfunded pensions.
Rutherford said if elected governor, he would work with citizens to gauge their opinions on matters such as pension reform and would take a hands-on approach to addressing such concerns rather than passing the problems on to his employees as he claims past governors have done.
"There's all kinds of things we can talk about from A to Z—and that goes from abortion to zebra muscles—and I'll have to deal with those as your governor," Rutherford said.
The Republican candidates will run against Quinn, who is seeking re-election for a second term, and Tio Hardiman, a progressive activist who created the Violence Interrupters, a Chicago violence prevention program and former director of Ceasefire, a Chicago Project for Violence Prevention initiative.
The four Republican candidates are set to participate in a 60-minute forum on March 4, which will be co-sponsored by NBC 5 Chicago and the University of Chicago's Institute of Politics and Harris School of Public Policy, assuming none of the candidates are absent.