College reports leaders' pay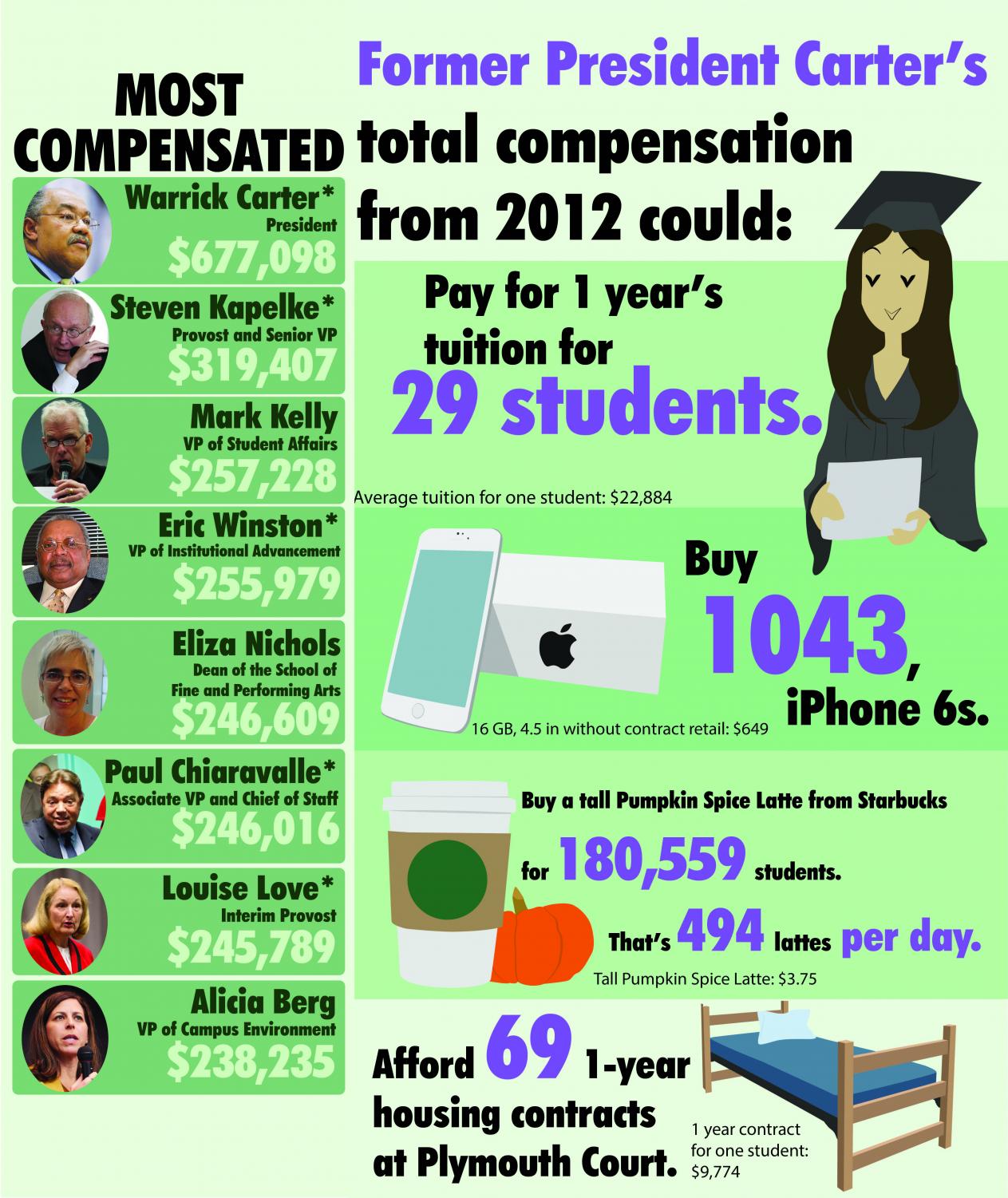 Even as tuition continued to increase, former President Warrick L. Carter and 13 other members of Columbia's administration collected total compensation of more than $200,000 in 2012, according to the college's most recent Form 990, an annual tax audit that nonprofits are required to submit to the Internal Revenue Service.
Form 990s are released by the IRS 18 months after they are filed, which means the latest version of the college's public financial records are from the 2012–2013 academic year, Carter's last year at the college before current President Kwang-Wu Kim took office, according to Matthew Jaehrling, associate vice president of Business Affairs and controller.
In addition to disclosing administrators' compensation, the Form 990 also reported that the college's endowment rose to $127.32 million that year, a 13.34 percent increase from 2011–2012.
Despite repeated attempts by The Chronicle, Anne-Marie St. Germaine, interim vice president of Communications and Marketing, did not respond to requests for information regarding the compensation of Kim and current top administrators.
The latest Form 990s include many administrators who are no longer with the college and omit some current top administrators, who were hired after Kim's assumption of duties, including newly appointed Senior Vice President and Provost Stan Wearden, CFO and Vice President of Business Affairs Michelle Gates and Vice President of Development Jon Stern.
Carter cost the college $677,098, which included $333,027 in base salary, a 1.12 percent decrease from the prior year's salary of $336,820, as well as $163,524 in retirement contributions and $154,643 in nontaxable benefits. Nontaxable benefits include costs associated with items such as insurance. In total, Carter was paid 5.54 percent less in 2012 than in 2011.
Factoring in retirement, deferred compensation and nontaxable benefits, aside from Carter, most of the top 10 highest paid administrators saw an increase in total compensation compared to the year prior.
The only two administrators still at the college saw an increase. Mark Kelly, vice president of Student Success, had an increase in his total compensation to  $254,415, a 1.11 percent increase from the year prior. Alicia Berg, vice president of Campus Environment, also received an increase in her total compensation of $238,235, a 1.09 percent increase.
Eliza Nichols, former dean of the School of Fine and Performing Arts, notched an increase when she received $246,609 compared to $243,175 the previous year, as did Eric Winston, former vice president of Institutional Advancement, who also saw an increase when he received $255,979 compared to $254,591. Paul Chiaravalle, former associate vice president and chief of staff, received $246,016 compared to $237,086 and Louise Love, former interim provost, saw an increase from $231,187 to $245,789.
Steven Kapelke, former senior vice president and provost, also saw an increase to $319,407 from $314,249. Annice Kelly, former vice president of Legal Affairs and General Counsel, saw an increase from $233,384 to $235,236.
Kapelke left the college prior to the beginning of the 2012–2013 academic year but was still listed among the highest compensated employees.
Representatives from the college did not respond to requests for an explanation of why Kapelke was paid in 2012.
According to the form, the college's total revenue declined by 3.36 percent to $256.92 million in 2012. Jaehrling said the main factor in the decline was the decrease in the number of students enrolled at the college, which resulted in lower tuition dollar revenue. Jaehrling said revenue comes from not only tuition dollars, but also housing fees, external donations, fundraising and interest on investments.
In addition to there being less revenue, the college's expenses increased approximately 1 percent from $244.59 million in 2011 to $247 million in 2012, according to the 2012 Form 990 document. Jaehrling said salaries to staff, faculty and administrators make up approximately 55 percent of the college's total expenditures, which he said is common for most colleges and universities.
Although Jaehrling could not confirm whether the college is anticipating a drop in revenue again next year, he said it is possible because of the consistent decline in enrollment.
"Based on the fact that student enrollment is down, I would speculate that overall revenue would be down," Jaehrling said. "There's other sources, too. There's housing, [and] investment income, so they could offset any potential decreases and could theoretically end up flat."
When compared to other colleges that specialize in art and media education, Columbia has a relatively small endowment and pays its administrators less on average.
DePaul University's endowment stood at $384.74 million in 2012, according to the college's most recent Form 990. DePaul's total revenue was $727.36 million, which is $470.44 million more than Columbia. DePaul's total expenses were $663.83 million in 2012, which is $416.81 million more than Columbia. DePaul had 9,379 employees in calendar year 2012, 4,672 more employees than Columbia, which had 4,707 employees.
Roosevelt University did not respond to requests for its most recent Form 990, as of press time.
The Ringling College of Art and Design in Sarasota, Florida, compensated its president, Larry R. Thompson, less than Columbia did at $604,371, according to its 2012–2013 Form 990. Ringling has an endowment of $36.11 million.
Emerson College in Boston, pays its president, Lee Pelton, more than Columbia did at $817,175, according to its 2012–2013 Form 990. Emerson has an endowment similar to Columbia's at $127.95 million.
Despite loss in revenue, St. Germaine said in a meeting that the college has plans to rectify it.
Editor's Note: Neither former provost Steven Kapelke nor former general counsel Annice Kelly filed wrongful termination suits against the college. Additionally, Kelly did not leave the college prior to the beginning of the 2012-13 academic year.
Patricia Bergeson, vice president of Legal Affair and General Counsel, declined to comment on when or why Kelly left the college, citing privacy laws and college policies that restrict the release of such information.
The Chronicle submitted several inquiries to the office of Marketing and Communications prior to publication regarding the presence of Kapelke and Kelly's placement on the list, but did not receive a response as of press time. 
The Chronicle deeply regrets these errors.