'The Beach' splashes onto Navy Pier
While the cold months may be here, Navy Pier has introduced a free escape.
"The Beach Chicago," which opened Jan. 19, is a free interactive public art installation designed to emulate being at a beach, according to Erika Taylor, director of production and operations for Navy Pier.
Featured in the piece are 1 million translucent balls made from recycled plastic. To add to the beach atmosphere, the exhibit also includes lounge chairs, lifeguards, umbrellas and inflatables, Taylor said.
"We want people to come down and dip [their] toes in, relax [and] close [their] eyes," Taylor said. "It really is an immersive art experience." 
The pier's 18,000 square foot Aon Grand Ballroom will be transformed to a beach setting. She added that they partnered with EXPO Chicago to bring "The Beach" to the pier, Taylor said.
"The Beach" was designed by New York-based collaborative design practice Snarkitecture. The installation is designed to be social media-friendly, and Taylor encouraged attendees to share their photos with #TheBeachChicago.
"The environment is entirely monochromatic," said co-founder of Snarkitecture Alex Mustonen. "It's an all-white environment. There's this dramatic color shift that happens and, because it's indoors, the materials are shifted." 
The exhibit was first introduced in 2015 at the National Building Museum in Washington, D.C., and has since traveled internationally, Mustonen said.
"This is the first time it's returning back to the U.S., which we're really excited about," Mustonen said. "It's very intuitive when you come in. It's a playful, child-like environment."
Snarkitecture's goal is to combine the disciplines of art and architecture, Mustonen said. The studio works on a wide range of project types and disciplines for temporary installations and permanent spaces, he added.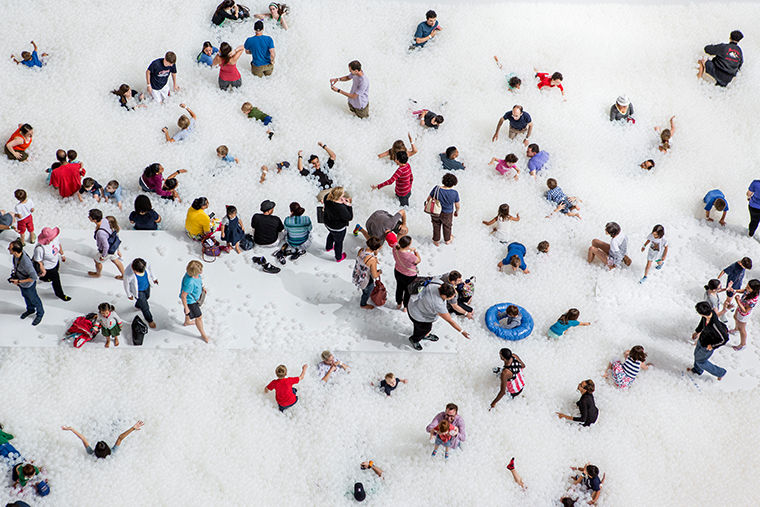 In addition to "The Beach" exhibit, Navy Pier's partners are incorporating beach-themed additions. Restaurants at the pier, including Bubba Gump Shrimp Co., Harry Caray's Tavern and Jimmy Buffett's Margaritaville, will offer beach-themed food and cocktails, according to a Jan. 9 Navy Pier press release. 
"It's a great escape from the winter blues … [and] gives you something to do during these dreary months of January and February when there's not a lot going on around the city," Taylor said. "We wanted to give people another activity to do to get over the hump between the holidays and the start of spring and summer, everyone's favorite time in the city."
Since becoming a nonprofit, the pier has hosted many free exhibits, Taylor said. It also features events such as plays and ballets.
"[We] want to stress that this is a free thing for people to come [to]," Taylor said. "You don't have to spend any money when you come here, but, obviously, there are many other things that you can do while taking part [in] this wonderful art installation."
Junior photography major Broderick Baumann said he has never been to Navy Pier but is interested in visiting" TheBeach."
"Part of the reason I haven't been there is because it seems like a tourist trap, sort of like a commercial nightmare," Baumann said. "But if we're getting art involved, then I'm there."