Columbia provost candidate in the hot seat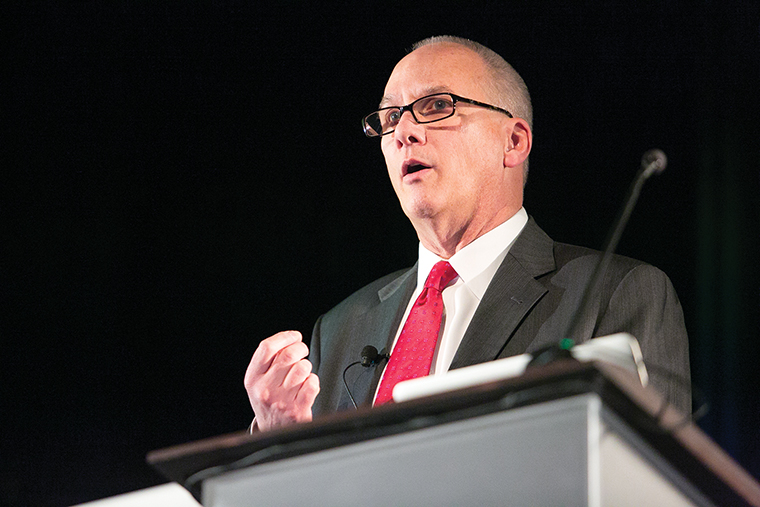 Stan Wearden, Columbia provost finalist and dean of the College of Communication and Information at Kent State University, proposed ideas for improved online classes, less emphasis on school rankings and revisiting the college's mission statement during his Feb. 11 presentation in the Getz Theatre at the 11th Street Campus Building, 72 E. 11th St.
Approximately 250 faculty, staff, and students assembled for Wearden's 30-minute presentation followed by a Q-and-A session. A reception was also held at the Conoway Center, 1104 S. Wabash Ave., after the talk.
Wearden, who has been at Kent State since 1984, is one of two unanimously chosen candidates for the provost position at Columbia.
In his speech, Wearden reacted with gusto at the opportunity to suggest improvements for Columbia, unlike contending candidate Chris McCord, who in his presentation Feb. 4, opted-out of tailoring his plans to Columbia because of a potential to seem "presumptuous."
"What we as educators need to recognize is that higher education needs to embrace the constancy of change," Wearden said. "We need to stay ahead and anticipate [changes] as much as possible. We need to prepare students for the future that is emerging."
Wearden said higher education has noticed a shift in  the demography of students coming in.
"The demographics of students are changing and students are not the same 18–22-year-old middle-class white kids we [higher education] are accustomed to dealing with," Wearden said. "We know students are becoming much more diverse in a lot of different ways and they are coming to colleges and universities often less prepared. I'm going to make a political statement here, a lot of children are being left behind by No Child  Left Behind."
Wearden addressed rising college costs and said educators have a moral obligation to ensure affordable education.
"We've got people whose parents are largely putting them through school who are middle-class parents, and working class parents" Wearden said. "These are the people that are paving our roads and serve as our nurses when we are in hospitals, grow our food and build our houses. These people are the heart and soul of the heartland of our country and they're taking out second mortgages. Their children are working two to three part-time jobs just so they can afford an education because they believe in it, which means that we have a moral obligation to spend every single penny wisely and strategically in terms of making sure that it serves the educational mission."
President Kwang-Wu Kim said it was evident in Wearden's presentation that he spent a lot of time  thinking about Columbia and the provost position. Kim added that Wearden was proficient in turning his experience into ideas that could benefit the college.
One of Wearden's proposals dealt with creating a stronger revenue stream for the college through additional online courses. He said Columbia should incorporate the new trend, particularly in the college's masters programs.
"People who enter master's programs are highly motivated, and usually already working, yet  often bound because of their jobs," Wearden said. "They can be highly successful in an online environment; it could be an effective way of reaching working professionals."
Kim said he liked Wearden's experience with using technology to teach and said he would like to speak to Wearden about new learning and teaching technologies that would not necessarily be online.
Wearden also suggested that Columbia could consider re-visiting its mission statement to ensure that it is still fulfilling what its mission states.
"It is always worth revisiting the mission statement," Kim said. "There are certain core things that I wouldn't change though. There is a part  in our mission statement  about helping young people to author the culture of our time … The mission statement itself is not as changeable as how the college will implement that mission."
Alexis Kowalsky, academic coordinator for the Art + Design Department, said she thought Wearden's presentation was encouraging, but some of her questions for the candidate went unanswered.
"I liked his emphasis on technology in the classroom and I know a lot of people are apprehensive about online classes," Kowalsky said. "I think it's an avenue that is worth exploring."
Sheila Baldwin, associate professor in the English Department, said Wearden did his research on the college, but she is still unsure whether he is the right person for the position. She said public interviews are generally "dog and pony shows," but Wearden seemed authentic.
"I thought he was very thorough," Baldwin said. "It appeared as though he pushed the limits on the kind of information that he unearthed about the college."
Faculty will answer questionnaires about the provost finalists, which Kim and the search committee will review before he decides who the next provost will be, Kim said.
"I see a tremendous amount of positive energy and a lot of belief in the institution itself," Wearden said. "I think there is huge potential here. I know there are problems here that need to be addressed and there's a need for leadership … but I think this is an institution that is ready for something really great."