$3 million from Munger race helps other candidates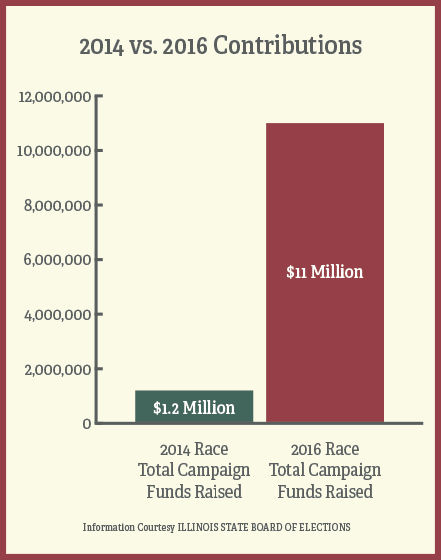 As control over the state comptroller office becomes a partisan battle, funding allocated to the campaigns reflects competition between the "super wealthy" and "organized labor," according to local political experts.
More than $11 million has flooded the Illinois comptroller race between Republican incumbent Leslie Munger and Democratic challenger and current Chicago city clerk, Susana Mendoza, according to data from the Illinois State Board of Elections. The funds are an unexpected jump from the 2014 race, when candidates raised a total of $1.2 million.
Dick Simpson, a former city alderman and current political science professor at the University of Illinois at Chicago,  said he thinks Gov. Bruce Rauner told donors to direct funds to Munger's campaign because Munger can also redirect the contributions to competitive state legislative races.
Illinois State Board of Elections records show Munger's committee, Citizens for Leslie Munger, has transferred $3 million to the Illinois Republican Party, who can repurpose it. Mendoza's last two quarterly reports show nearly $20,000 in transfers.
The state comptroller's office is responsible for maintaining the state's accounts including the distribution of vendor payments.
"[A comptroller] can make decisions that make life easier for the governor," said David Yepsen, former director of the Paul Simon Public Policy Institute who conducted the organization's latest poll. "Because [they] decide who gets paid and when."
Yepsen said the amount of money in this election is caused by the "proxy war" between Rauner and the Illinois Democrats. 
According to data from Illinois State Board of Elections, Munger's committee has raised more than $8.6 million. Kenneth Griffin, founder and CEO of Citadel and richest man in Illinois, made two donations to Munger's campaign that total $5 million. The incumbent has also received $1 million from Rauner's political committee, Citizens for Rauner, and $2 million from Richard Uihlein, owner of Uline, a packing and shipping corporation that operates across North America.
Mendoza's campaign committee, Friends for Susana Mendoza, has raised more than $2.4 million, according to Illinois State Board of Elections records. The Democratic Party of Illinois directed $600,000 in total toward her campaign, with the rest largely from union and labor organizations, such as $150,000 from Construction & General Laborers' District Council of Chicago & Vicinity and $125,000 from Laborers' Political League Education fund.
"This election is a battle of the super wealthy versus organized labor," said Chris Mooney, director of the Institute of Government and Public Affairs at the University of Illinois at Urbana-Champaign.
Mooney said support from the comptroller is important to Rauner because the governor has to manage the budget, and the comptroller can make discretionary decisions to help the governor, such as putting state legislators' checks on hold to help the governor press for legislation. This may have caused the uptick in fundraising.
He added that the result of this election is also important to Democratic Illinois House Speaker Michael Madigan because the comptroller crafts the story of whom to blame the state's financial crisis on during press conferences.
At the Oct. 25 comptroller debate aired on public access television, Mendoza said Munger did not properly distribute state checks and said she prioritized bonuses to Rauner and his allies while avoiding social service payments.
However, Munger said, as a comptroller, she does not know whether the checks are for bonuses or pay.
Both candidates accused the other of being in the pocket for their respective party's state leader.
Rauner appointed Munger to office in January 2015 to replace interim officeholder Jerry Stermer, whom former Gov. Pat Quinn appointed after Judy Baar Topinka unexpectedly died in December 2014 at 70 years old.
Mooney said Rauner probably wanted to appoint Munger to a full four-year term, but Illinois Democrats passed legislation that limited her term to two years and required a special election for the remaining two years to keep the governor in check.
According to state law, contribution limits are removed when an individual or independent expenditure committee directs more than $250,000 to a particular candidate. This is the reason each campaign has been able to raise large amounts.
Munger's husband, John Munger, who is an attorney for Jansson Munger McKinley & Sharpe in Lake Forest, contributed $260,000 to Munger's committee on Sept. 23, according to Illinois State Board of Elections data. Less than a week later, Griffin, who in June gave Munger's campaign $5,400, the prior individual contribution limit, donated $3 million to Munger and an additional $2 million in October.
Regulating campaign contributions is a difficult task, according to Yepsen, because there are numerous avenues around the law.
Money in politics is like water on a flat roof," Yepsen said. "It will find a way through."