Alumnus inspires graduating seniors to hold on to passion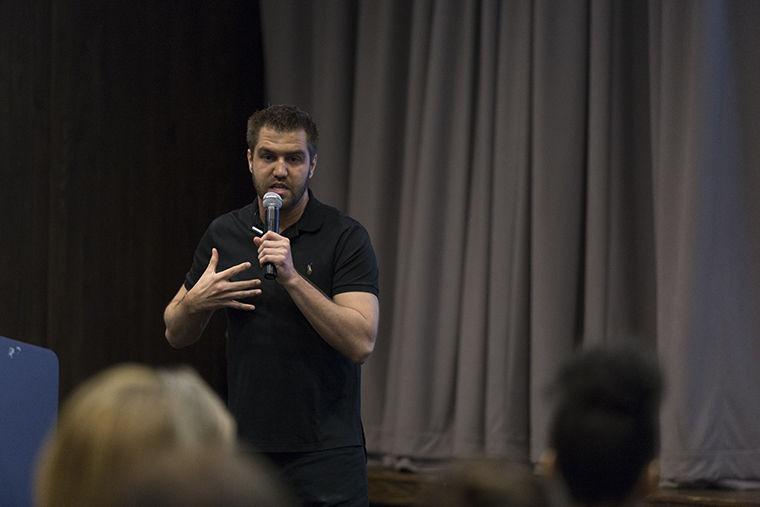 In a speech for Columbia's Public Relations Student Society of America chapter, 2012 marketing and radio alumnus Bill Coon told students to not forget what they love to do and to keep pursing that in any way they can.
In his speech, titled Pursuing Your Passion Post Graduation at Immersion at an April 19 public relations portfolio review, Coon said during his time at Columbia he not only had to survive his second heart transplant since birth and a kidney transplant, but he also published his book "Swim," a collection of journal entries written during his 70 days in the hospital waiting for available organs.
"[Many] graduating seniors can be pessimistic about the future," said Khanh Nguyen, president of PRSSA and sophomore business and entrepreneurship student. "It is a great opportunity to bring in someone to motivate and light that fire."
Despite his setbacks, Coon said with persistence he was able to share his story first through self-publishing. Receiving more than 200 rejection letters in pursuit of having his book published, he grew to be resilient.
"You're going to be [told no] a lot in the coming month; the more you put yourselves out there, the more resilience you build hearing it over and over again," Coon said. "It's that one yes that you're meant to go to and you will thrive."
At the end of his book, Coon invites anyone who is sick and going through similar situations to contact him, which he said people did, both nationally and internationally. From Wisconsin to the Philippines, people thanked him. He said it is that deep connection and conversation after his speeches that he loves the most.
Breaking the speech up into three anecdotes illustrating his advice, in "The Passenger," he shares a story of a man he crossed paths with on the CTA as a reminder to be mindful of people who supported your journey toward success. Having lost all his wealth and spending years with regret, that night his niece just graduating college treated him to dinner as a gesture of appreciation for his generosity towards her as a child. Being acknowledged for having a positive effect on someone reminded him of who he was was and made his night and year.
"A lot of us really don't value the people who are there for you when you're struggling," said Yuliana Cordova, a sophomore business and entrpreneurship major who attended Coon's discussion. "[The story] made me feel very emotional and thankful for my [family and friends]."
His last cautionary tale becomes an announcement of Coon quitting his job to pursue his passion of speaking full-time. Having gigs already lined up, he is ready to dive in. Noticing so many people living their lives being comfortable with being miserable, he reminds students to always be learning and growing.
"It's easier to be miserable than it is to take the chance and take a shot and believe in yourself," Coon said. "Down the road if you find yourself waking up saying to yourself 'goddammit' every single morning? Get out."