Partnership with 1871 advertises opportunities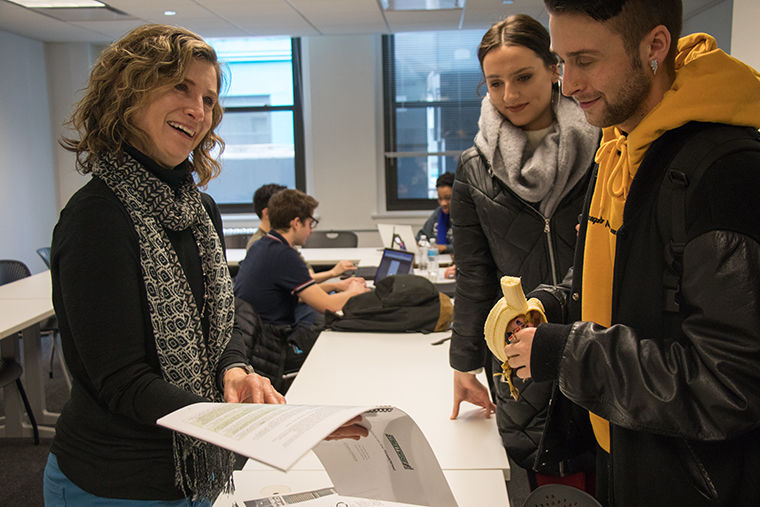 Columbia and technology center 1871 have partnered for an advertising and public relations course designed to provide students with professional experience and samples for their portfolios.
1871, located at 222 W. Merchandise Mart Plaza, was founded in 2012 to support Chicago's digital startup community and now hosts more than 400 digital startups.
Kevin Christophersen, associate professor in the Communication Department, said the partnership began in fall 2017 when the department's "Agency" course had to rethink how it secured clients because of funding cuts. Christophersen said he reached out to 1871 in August 2017.
"I thought [1871] could be our clients in general," Christophersen said. "Then we started talking to them and [they were] like, 'Why don't we supply you guys with our clients for startups?'"
Anne Marie Mitchell, associate chair and professor in the Communication Department, said they were able to expand this semester so the class is a combination of two courses: "Agency" and "PR Campaigns."
Both Christophersen and Mitchell teach the class to incorporate aspects of each course to give students professional experiences, Christophersen said.
"This gives students a chance to do real work in real time for real clients, which is our promise as a college," Mitchell said. "Our promise is always to make sure our students are ready to hit the ground running and have all that real portfolio work, so it has already been such a huge success this semester."
Mitchell said 40 students are currently enrolled in the 3-credit semester-long course, in which students meet with clients and develop strategies for them as a combined advertising and public relations team.
Kendall McDermott, a junior advertising major, said she was excited to take the course after her adviser recommended it.
"Getting experience working with the client and working in client services has been really valuable because we don't [usually] get that opportunity," McDermott said. "Going back and forth with the client, making sure they're happy and managing the project has been a great learning experience."
McDermott said the class is in the early stages of working with company Javaya, a craft coffee online marketplace, which has allowed students to interview customers about the product as well as assist the company with public relations outreach.
Mitchell said during the first two weeks of the course, all eight start-up companies from 1871 came to campus to familiarize students with their businesses. Students are also able to travel to 1871 every Thursday or work on their assignments on campus.
"They work as an integrated team, so the PR people can support the ad executions and vice versa," Mitchell said. "It's truly interdisciplinary, truly an exciting cross training opportunity,  just like how it works in the real world."