More than a color: How fashion plays a role in political movements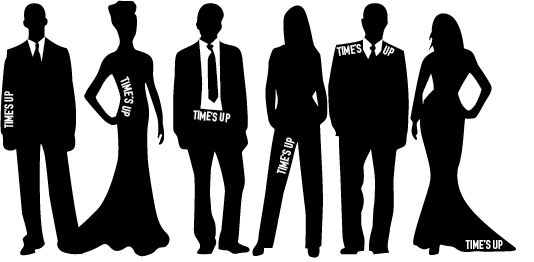 For decades, the color black in fashion has been associated with many different eras and moods. Since Coco Chanel created the Little Black Dress in 1926, black has been associated with elegance as well as seduction. Before that, it was linked to mourning, witches and the austere dress of certain religious sects. Now it's the color for protesting sexual harassment and abuse.
 Celebrities flooded the Golden Globes red carpet Jan. 7 to show solidarity with Times Up, a nationwide organization Io address inequality and sexual misconduct. Inspired by the Me Too movement, which enveloped social media while survivors shared their experiences of sexual misconduct, tagging the stories with #MeToo.
Times Up was created by more than 300 women in the entertainment industry to provide legal support with a donation fund for individuals who have experienced sexual misconduct in the workplace. Many celebrities like Timothée Chalamet and Rebecca Hall have donated their salaries made from their work on movies with accused offenders. With the help of celebrity donations and the National Women's Law Center, Times Up is able to assist victims of sexual misconduct in the workplace.
 The red carpet—iconic for its fashion statements and "Who are you wearing?" questions—became a place to share thoughts and ideas about why stars are wearing black. Many actresses including Meryl Streep, Emma Watson and Shailene Woodley brought activists as their plus one. Michelle Williams even brought Me Too movement founder Tarana Burke. 
"This moment is so powerful because we're seeing … a collaboration between these two worlds that people don't put together, and would most likely have us pitted against each other," Burke said during a red carpet interview with E! News. 
The movement's momentum at the Golden Globes inspired those at Capital Hill. House Democratic women plan to wear black for President Donald Trump's first State of the Union speech Jan. 30 and are encouraging others in Congress to follow their example. 
 "This is a culture change that is sweeping the country, and Congress is embracing it," Rep. Jackie Speier, D-California, said in a Jan. 9 CNN article. 
This is not the first time women in Congress have worn a color to make a statement. In February 2017, female representatives wore white, the color of suffragettes, to Trump's joint address to Congress to fight for equal rights. 
Fashion is meant to be symbolic, whether about identity or political issues. A shirt, hat or color can make a statement and send a message about important issues in the world.
While some thought wearing black trivialized sexual harassment, it did its job by focusing attention on this issue. Now, the next step is thinking of avenues to resolve these issues. One example of taking action is Debra Messing's red carpet interview with E! News during the Golden Globes. Not only did she wear black in solidarity of Times Up, but she also used her influence to express her frustration about E!'s pay inequality. Taking simple actions like Messing's can help propel the movement into making a difference.